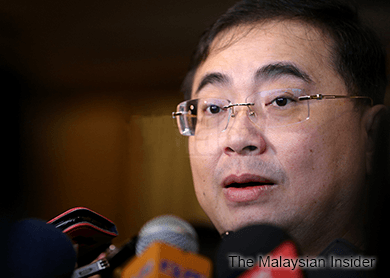 (Apr 24): Putrajaya has abolished the RM35 fee for the renewal of foreign workers' permits through e-government services provider MyEG following criticism over the charge.
Quoting Minister in the Prime Minister's Department Datuk Dr Wee Ka Siong, The Star reported today that the fee would be abolished from May 2 onwards and the cost absorbed by Putrajaya.
He said that the matter had been raised by Home Minister Datuk Seri Ahmad Zahid Hamidi and approved on Tuesday.
"It (the abolition) was unanimously endorsed (by Cabinet members), tailored to what the industry wants," he was quoted as saying by the English-language daily in Kuala Lumpur.
Wee said that the government would pay MyEG the service fee from the RM125 in levy collected from employers.
"Now, employers will not have to pay additional charges (to get their workers' permits approved)," the minister was reported as saying.
He said over-the-counter renewals of workers' permits would also continue.
Wee defended paying the RM35 fee to MyEG, saying that "MyEG provides a full set of services, including the collection of employers' thumb prints and the printing of worker permit stickers".
"This will solve the whole issue faced by the industry," he was quoted as saying.
Putrajaya appointed MyEG beginning January 5 this year to take charge of renewing foreign workers' permits.
Many, including opposition politicians, raised concerns over Putrajaya's decision to outsource the renewal of foreign workers' permits to the private firm, saying it would threaten the country's security and sovereignty because of the biometric data involved.
Among the complaints was the RM35 fee, which was defended by the Home Ministry as the company had to bear the operational and management costs of the services, including online applications, registration of employers' identification and password, personal bonds for foreign workers with problems, fees for the door-to-door delivery of the permits, as well as biometric verifications.
The company said in a January 12 statement that its role went beyond renewing permits. Among others, it said, it authorised employers of foreign workers and updated and analysed the database of legal foreign workers.
In January, the Malaysia Competition Commission said it had begun a probe into the private firm following complaints of it monopolising online renewal of permits for foreign workers.
Earlier in the month, Deputy Home Minister Datuk Seri Dr Wan Junaidi Tuanku Wan Jaafar announced that Putrajaya was looking into setting up an agency to manage the renewal of foreign workers' permits and break the monopoly held by MyEG.
He said however that the move had not yet been implemented.
"Now the government is looking at another alternative to MyEG under Mampu... by the government. But it has not been implemented yet," he said. – The Malaysian Insider