This article first appeared in City & Country, The Edge Malaysia Weekly, on November 28, 2022 - December 04, 2022.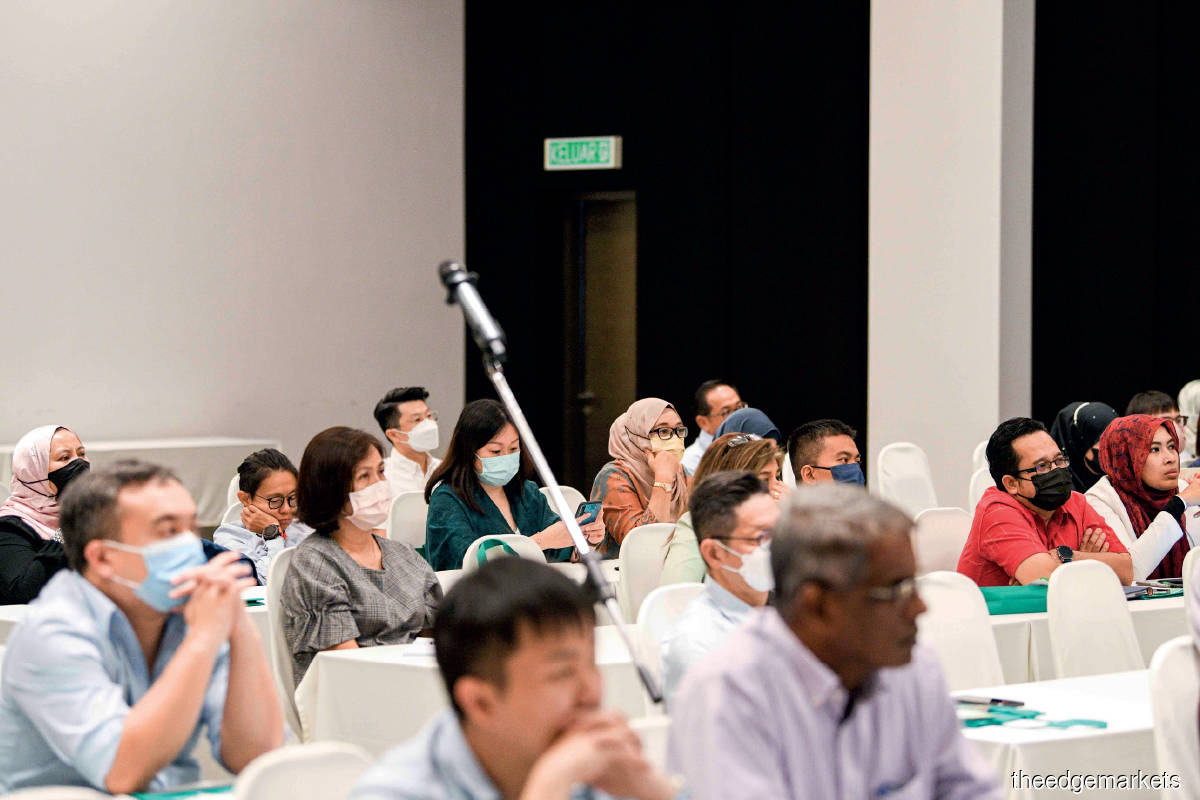 Higher and more adequate environmental, social and governance (ESG) and Task Force on Climate-related Financial Disclosures (TCFD) reporting standards are required from the Malaysian real estate industry due to increased interest from capital providers, said the speakers at the GRESB 2022 Regional Insights (Malaysia) event held on Nov 15 at Wisma Rehda. Previously known as the Global Real Estate Sustainability Benchmark, the organisation is now known as GRESB.
Organised by GRESB and co-hosted by its local partners Zerin Habitat Sdn Bhd and GreenRE Sdn Bhd, the event brought together participants from all over Malaysia to provide industry insights with a focus on participant and regulatory perspectives, looking at how industry players can benefit from the GRESB platform, the significance of ESG and TCFD, and ways to improve reporting and scores.
The panellists comprised GRESB business development director (Asia) Trey Archer, Zerin Habitat executive director Rohendran Chelliah, Sime Darby Property Bhd head of safety and sustainability Mohd Razif Mohd Yusoff, Bursa Malaysia chief regulatory officer Julian Hashim and Arup climate and sustainability leader (Southeast Asia) Devni Acharya.
GRESB reporting
Archer kicked off the conference by introducing GRESB and its role in the real estate industry. "GRESB assesses and benchmarks ESG performance of real assets, as well as provides standardised and validated data to capital markets. We collect, validate, score and independently benchmark ESG data to provide business intelligence, engagement tools and regulatory reporting solutions."
According to him, companies and investors have to go through a systematic assessment comprising several stages, including validation that requires supporting data and documents, objective scoring that is done by GRESB, and peer benchmarking, where they will be able to compare their scores with those of their peers and competitors in the market.
GRESB is becoming a go-to ESG reporting platform in many countries, including Malaysia, as the real estate industry has a bad carbon footprint, said Archer, pointing out that the industry contributes more than 40% of global emissions. Of these emissions, about 70% are produced by building operations, while the remaining 30% comes from construction.
"Another reason is that many foreign investors are planning to make more investments in the Malaysian real estate market. Some of them go through us [by sharing] their interest to connect with particular [investment] managers, view their reports and assess potential investment opportunities," he said.
On GRESB's findings on regional participation in ESG reporting, Archer said there has been an increase from last year. "Globally, every region saw an increase in 2022 from 2021. There has been a 20% increase from last year, which had 1,520 entities in GRESB compared with 1,854 this year.
"Europe is still the leader. However, regions like Asia and North America are starting to catch up.
"Participation in Asia has grown by 21% with 15 new participating entities. Southeast Asia has increased to 40 entities in 2022 from 35 in 2021. This is more than a 14% increase.
"Malaysia has increased to five entities in 2022 from two last year. So, that's a growth of 2.5 times, which positions it as one of the fastest-growing regions. It is important to note that Malaysia started from a lower base but I'm confident that as the years go on, we'll be able to put the country on the board, competing with the likes of Hong Kong and Singapore."
Significance of ESG, TCFD
In a segment called ESG and TCFD: The Fundamentals, Devni highlighted the essentials of ESG and TCFD reporting as well as such trends in Malaysia.
"The way we do business is always evolving and mainly because the risk landscape around us is changing. Every year, the World Economic Forum asks leaders what they think are the prevailing risks they are facing as a business. In 2012, the majority of the risks revolved around economic and societal issues. Ten years later in 2022, the risks revolve more around environmental issues."
In explaining the key factors of ESG, she said, "ESG is a term first coined by the financial industry and was embedded in the UN (United Nations) Principles for Responsible Investment in 2006. That was when ESG really started to take off as a concept.
"Financial institutions started to embed ESG policies in their lending, investment and underwriting practices. To ensure the standard of these policies, financial institutions sought out ESG criteria and ratings used by investors to gauge their companies. Non-financial companies use ESG to communicate performance to financial and other stakeholders.
"Financial firms practise integration into corporate policies, investment strategy (thematic investment), investment appraisal, valuation and asset management for sustainable strategies. Their ESG reporting centres around communication of [strategy and] corporate and investment performance after implementing the strategy. Non-financial firms, on the other hand, plan for addressing risks and capturing opportunities across focus [areas and] sustainability topics identified through a materiality assessment, with ESG reporting that communicates [the strategy and] corporate performance after implementing the strategy."
Devni shared a few ESG trends, including mandatory sustainability reporting plus TCFD, ESG-themed funds that focus on green and climate funding, the Shared Prosperity Vision 2030, which focuses on the economic roadmap published recently, and the Malaysian Code on Corporate Governance 2021.
She also elaborated on TCFD, which comprises governance, strategy, risk management and metrics, and target components. "Climate-related risks refer to the potential negative impacts of climate change on companies. For TCFD, the risks are divided into two categories — transition risk, which is related to the process of adjustment towards a low-carbon economy, and physical risk, which arises from the physical effects of climate change and environmental degradation. ESG and TCFD need embedding across the organisation to address the interdependent challenges that the sustainability transition brings with it."
Meanwhile, in his session, ESG as a Business Imperative, Rohendran explained how ESG policies can enable property developers and asset managers to attract tenants and capital providers, protect their assets against environmental vulnerability, attract diverse and socially conscious groups of employees, and give back to the communities in which they operate.
"ESG is not CSR and it is not something you do as a PR exercise. It is a business imperative. Increasingly, more companies, financial institutions, banks and investors are looking at companies beyond their financial projection. They are looking at their ESG policies as well. In that sense, ESG is a business imperative," he said.
Rohendran pointed out that a few aspects of ESG are essential to businesses, including lower cost of funds, lower operating costs, attracting a large pool of investors, leading to UN Sustainable Development Goals (SDGs) and stakeholder capitalism, as well as attracting and retaining the best talent, plus customers.
"Recent reports and news articles show that companies can use different ESG tools to get different scores, which becomes a problem in identifying the actual standard. This is where Previn (Previndran Singhe, managing director of Zerin Habitat) and I discovered that GRESB answers a lot of these concerns because it is transparent, objective and allows you to compare yourself with your peers in the industry," he said.
"Zerin Habitat, as a GRESB partner, works with Malaysian property developers to come up with customised solutions based on the company's unique priorities, challenges and business operations to achieve a high level of compliance with the GRESB Real Estate Scoring & Benchmarking. Participating in GRESB and benchmarking results will allow property developers to attract institutional investors and secure financial facilities with more attractive terms."
In clarifying why GRESB is a suitable platform for companies and investors alike, Rohendran pointed to the platform's alignment with worldwide ESG standards, which takes into account the management, performance and development components of a company. GRESB also incorporates the seven principles of TCFD's effective disclosures, including presenting relevant information that is specific and complete; balanced and understandable; consistent; comparable with other companies in a sector, industry or portfolio; reliable, verifiable and objective; and should be provided on a timely basis.
Providing his comments separately, Previndran said both GRESB and TCFD are important. "GRESB is important for financial institutions and investors, while TCFD is important for regulators. The good thing is that GRESB and TCFD are strongly aligned and we advise companies to do both as it does not involve double resources or data but instead integrate with each other."
Representing Bursa Malaysia, Julian spoke on the institution's Enhanced Sustainability Reporting Framework. "Bursa's framework is inherently flexible where public-listed companies (PLCs) conduct their own materiality assessment to identify and prioritise relevant sustainability matters. They then adopt practices and disclosures that are tailored to their respective circumstances. Since 2015, we have observed significant improvements in PLCs' sustainability-related practices as well as disclosures.
"However, we are lacking in some parts, such as improving comparability to facilitate benchmarking and decision-making, observing gaps when it comes to availability and quality of certain aspects of the disclosure, as well as the need to further enhance the sophistication of the practices and disclosures for critical themes such as climate change and human rights. In response, Bursa is undertaking a comprehensive review of the framework to enhance availability, quality and comparability of sustainability disclosures, and to satisfy the informational needs of PLCs' key stakeholders."
The revised framework will have enhanced disclosure requirements starting from 2023.
Sime Darby's Razif took the stage to share the company's ESG disclosure. "We faced a lot of trials and tribulations, trial and error, with efforts made to perfect policies, as well as a few light bulb moments for the team. In line with Sime Darby's purpose, to be a value multiplier for people, businesses, economies and the planet, we believe it is more important than ever to have effective ESG policies.
"Within 'environment', we look at the decarbonising of our operation and embodied carbon as well as nature-based solutions like planting trees. For 'social', we have a few key aspects that we focus on, including our staff's health and safety, foreign workers, our township communities and those in the periphery of our townships. In terms of 'governance', we have materiality assessment and disclosure, among others."
He added that external stakeholders assessed the company's ESG fundamental practices via disclosures that are aligned to frameworks such as the UN's Universal Declaration of Human Rights, SDGs, Bursa Malaysia Sustainability Framework, TCFD, Taskforce on Nature-related Financial Disclosures (TNFD) and Morgan Stanley Capital International (MSCI) ESG ratings.
"We do disclose our ESG practices and we take it seriously. What we do in our day-to-day ESG practice is where I found the disclosure helping me as a practitioner to guide the company towards better sustainability policies. We have taken the position that we want to be seen as a company that takes extra measures to be transparent about our ESG performance," said Razif.
This has allowed Sime Darby to receive an S&P Global Rating of 57 points, he said, adding that the company will strive to develop more effective policies and improve its reporting standards in the future.