This article first appeared in City & Country, The Edge Malaysia Weekly, on October 11, 2021 - October 17, 2021.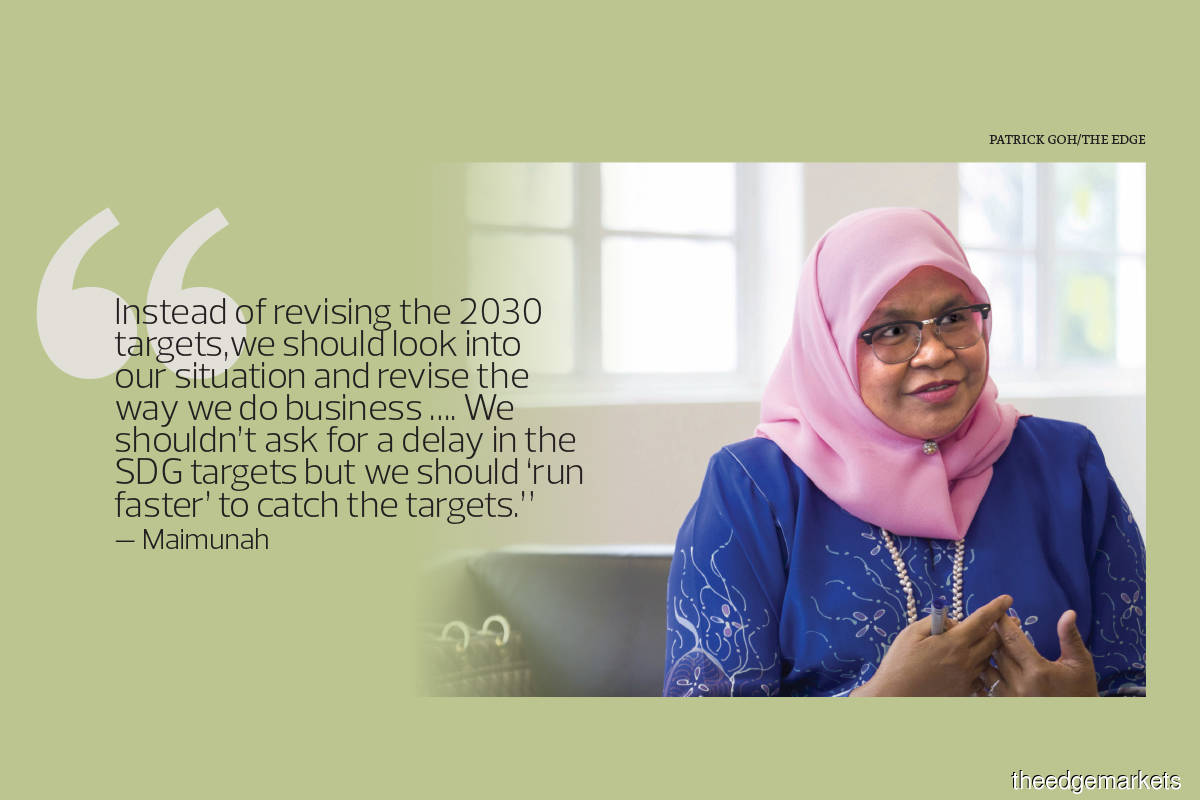 The pandemic has disrupted many plans worldwide, including the efforts by countries to achieve the United Nations' Sustainable Development Goals (SDG) by 2030. During a StarTalk session on Aug 25 after the soft-launch of the City Expo Malaysia 2021 (CEM2021), to be held from Nov 8 to Dec 8, the event's guest of honour and United Nations Human Settlements Programme (UN-Habitat) executive director Datuk Seri Maimunah Mohd Sharif talked about the challenges faced.
Via Zoom from Nairobi, Kenya, Maimunah fielded questions from moderator Datin Noraida Saludin, the president of the Malaysian Institute of Planners (MIP), and offered deeper insights into how the pandemic has affected efforts around the world to achieve the SDGs as well as her thoughts on what needs to be done to keep moving forward.
"Covid-19 is reversing the case of progress in poverty, healthcare and education. Into the five years of implementing the 2030 agenda for sustainable development, progress has been uneven.
"Even prior to Covid-19, the world was already not on track to delivering the SDGs by 2030. And now with the pandemic, many of our hard-earned development gains are lost with the devastating impact it has had, threatening the achievements already gained across all the 17 goals," said Maimunah.
Examples include the reversed progress for SDG 3: Good Health and Well-being, with 4.4 million people losing their lives to Covid-19; more than 255 million full-time jobs lost,  and about 1.6 billion people in the "informal economy" in Asia and Malaysia having their livelihood destroyed, which affects SDG 8: Decent Work and Economic Growth. Homelessness, which is part of SDG 11: Sustainable Cities and Communities, has also increased in both developed and developing countries. In addition, more than two billion people lack safe drinking water and 3.8 billion people lack managed sanitation, which involves SDG 6: Clean Water and Sanitation.
"Covid-19 is a wake-up call for all of us around the world. It also magnifies and shows proof of the deeply rooted problem of the failure of the system — especially insufficient social protection, weak public health, inadequate health coverage and structural inequalities, not only in cities but also in rural areas. Environmental degradation that is linked to climate change," she said.
With so much turmoil, should SDG targets be revised? She said: "Instead of revising the 2030 targets, we should look into our situation and revise the way we do business. If we revise the target, such as extending it beyond 2030, it will give more reason to delay the needs for transformative policies. We shouldn't ask for a delay in the SDG targets but we should 'run faster' to catch the targets."
Maimunah highlights that cities have to plan better to manage population growth, which is inevitable.
"It is estimated that 90% of [Covid-19] cases were in the cities. We have data from 1,500 cities in urban areas. What we learnt from these studies is the importance of proximity and network of connectivity — connectivity in a broader sense to enhance economies of scale and transform transport and public spaces, and looking at critical investment in basic services, including water sanitation, health services and planning."
A common misconception is the notion that high-density cities or living environments are bad. Maimunah said: "There are people who say high density is not good. But, from our studies, high density with proper planning [is good]. It is not the densely populated area that is the problem; overcrowding is the problem.
"You can say you have six units per acre, but in one house, there are 30 people. It has nothing to do with density. If there is high density but only three people in the unit, and there are proper public spaces and service connectivity — such as banking, education and health — [there will be no issue]. The problem is densely populated, overcrowded and unplanned areas in cities. This is one of the lessons learnt from the pandemic that is linked to planning."
Maimunah emphasises that 66% of the world's population will live in urban centres by 2050 and, from estimates, 75% of the infrastructure needed will not have been built yet. As such, it is important to look into "innovation, creativity and guidelines, whether it is planning, economics or social" and decide what needs to be built by 2050.
"It is enough of talking. It is time for action and seeing impact," she said.
Meanwhile, she points to encouraging news about innovative solutions for issues that cities face globally.
"Many innovations have emerged as countries and cities have responded to the pandemic, including in Malaysia. This is the chance to evaluate the efficiency and the reliability of the existing system, as well as emphasise plans and policies so we can encourage better sustainable and resilient solutions," she said.
"In the Philippines, for example, UN-Habitat, through the initiative of a reconstruction and shelter programme, is being supported by the government of Japan. UN-Habitat has supported the establishment of satellite food markets.
"In Cambodia, water spots were provided ... for clean water sanitation. In Finland, the government has provided free WiFi in cities to support better education measures during school closures.
"In Melbourne, they provided free online tools and learning support through the government website. In Hong Kong, they have used a mixed mode of delivery to enhance teaching and learning experiences. In New Zealand, they have taken action to provide flexible working hours, improving work-life balance, to support mental well-being and health during the lockdown."
She believes governments need to intervene more directly in handling the economic turbulence where there is no social support for the people to fall back on.
"We need to look at the new normal of the urban economy ... The government must intervene and cannot just leave it to the private sector to provide hope, health infrastructure, food and education," she said.
In regard to funding concerns, Maimunah said: "UN-Habitat started the Cities Investment Facility at the World Urban Forum in Abu Dhabi. This involves working with investment groups — the funds and philanthropies — to fast-track problem-solving, restructure markets and focus on targeted place-space existence.
"What we really need now is the willpower to move forward — it can be political will, it can be economic will — I will make it broader, not just willpower for the government, but willpower for us as an individual. It has to start with us."
In addition to personal change, Maimunah points out that, collectively, communities can soldier on together to make a positive change in the community.
"We need an integrated approach when looking into this aspect of urbanisation; holistic planning that is inclusive. Go back to the people.
"From integrated planning, we must also have integrated implementation. When you talk about integrated implementation, we also need integrated financing for the plan or proposal. Sometimes, we have the resources but, more often than not, some of the resources are wasted or overlapping. We can reduce the overlapping, reduce the leakages.
"We also must have integrated feedback. The feedback mechanism must be 360 degrees, not only from the people you know."
While the pandemic has thrown a spanner in the works, Maimunah believes it is time cities and governments assess where they are and plan accordingly with accurate data and information to achieve the SDGs for the benefit, security and well-being of communities and the nation.