This article first appeared in City & Country, The Edge Malaysia Weekly, on December 17, 2018 - December 23, 2018.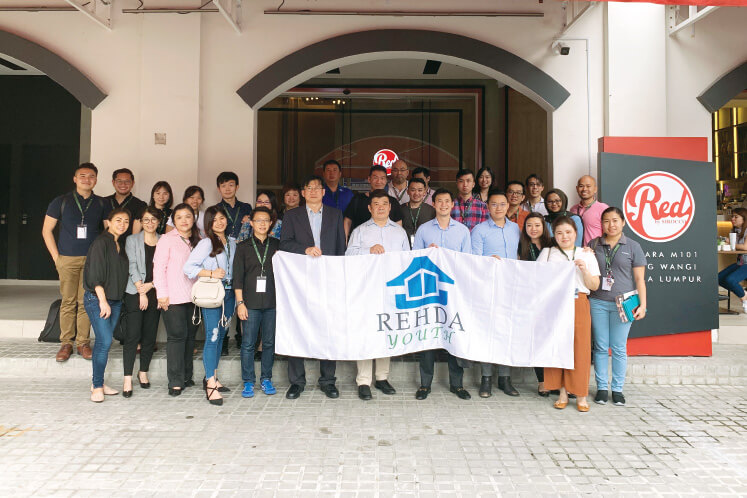 More than 40 partcipants joined Rehda Youth's first-ever hospitality study tour
Rehda Youth held its first-ever hospitality study tour on Dec 7, attracting more than 40 participants to the one-day outing. The three hotels they visited in the Klang Valley were Alila Bangsar, RED by Sirocco and W Kuala Lumpur.
The organising chairman of the youth chapter of the Real Estate and Housing Developers' Association (Rehda), Lam Shen Fei, said during the tour that the purpose of the trip was to study the marketing and branding strategies, and target markets of the different types of hotels in the Klang Valley.
"As more hotels come up, we need our members to understand the differences between a hotel and an Airbnb, and what are crucial for a hotel, such as the services, room design and fittings," he added.
"We chose these three hotels because they are unique and located in Bangsar, the heritage area and KLCC. They have different branding, giving us a refreshing perspective of what a hotel can be. Our participants were from Kuantan, Johor, Penang, Sarawak and Kuala Lumpur."
All three hotels are newcomers to the market. Alila Bangsar occupies the top five floors of a 43-storey block known as The Establishment, which is located opposite Menara UOA Bangsar and the Bangsar LRT station. It marks the Alila Hotels and Resorts group's debut in Peninsular Malaysia.
With 143 rooms measuring 409 to 2,713 sq ft, the hotel features event facilities, a covered outdoor swimming pool, gymnasium, butler station on every guestroom floor with free-flowing refreshments and chauffeur service to KL Sentral, Mid Valley City and Bangsar Village. Its dining outlets include Botanica + Co, Eatier, Pacific Standard, Lido and The Pool Bar.
The hotel's design revolves around sustainability, which means it features a lot of wood, trees and greenery. In terms of energy efficiency, it maintains an ideal temperature for all air-handling and fan-coil units in its daily operations, window tinting to reduce heat penetration, a cool temperature within the building and reducing the number of lifts in operation during off-peak hours.
Other initiatives include harvesting rainwater to water the plants in and around the hotel, and using natural chlorine generated from salt to chlorinate the swimming pool. In addition, a 3M filtration system ensures the drinking water is clean and clear.
RED by Sirocco Kuala Lumpur is located in Jalan Kamunting, next to the famous Yut Kee Restaurant, and is said to have the tallest mural in the city, according to the Malaysia Book of Records. The 87.1m artwork took Sabah graffiti artist Kenji Chai 21 days to complete.
As seven shoplots were demolished to make way for the four-star boutique hotel, it had to recreate their exterior on its façade as per DBKL requirements.
The first hotel by M101 Holdings Sdn Bhd, RED by Sirocco Kuala Lumpur focuses on relax, enjoy and dream, or RED. Its 143 rooms, measuring 400 to 482 sq ft, come with a balcony each, and were sold to the public with a leaseback option.
The hotel features meeting facilities, all-day dining, a swimming pool, gymnasium, spa and sky grand ballroom. It also has a fully automated parking system from Taiwan and can accommodate 150 cars.
The mechanical system provides parking for cars on multiple levels stacked vertically to maximise the number of bays while minimising land usage.
W Kuala Lumpur in Jalan Ampang, meanwhile, made its debut in Malaysia in August. Owned by Tropicana Corp Bhd, the 55-storey hotel-cum-residential tower sits on 1.3 acres and has a "jungle city" theme, which is reflected in its design and decorations.
While W Kuala Lumpur offers typical New York-inspired bold and playful luxury, its design revolves around local culture and the essence of Kuala Lumpur. For example, the flowing lines at the entrance to the hotel lobby depict the confluence of Sungai Gombak and Sungai Klang.
W Kuala Lumpur features 150 rooms and suites measuring 42 to 520 sq m and has made all of its public areas non-smoking. Its facilities include meeting places, a jogging/fitness trail, sauna, 24/7 fitness centre, swimming pool and spa.
All the rooms and suites boast the traditional and modern elements of a jungle city with traditional accents such as wau tassels.