This article first appeared in City & Country, The Edge Malaysia Weekly, on August 30, 2021 - September 05, 2021.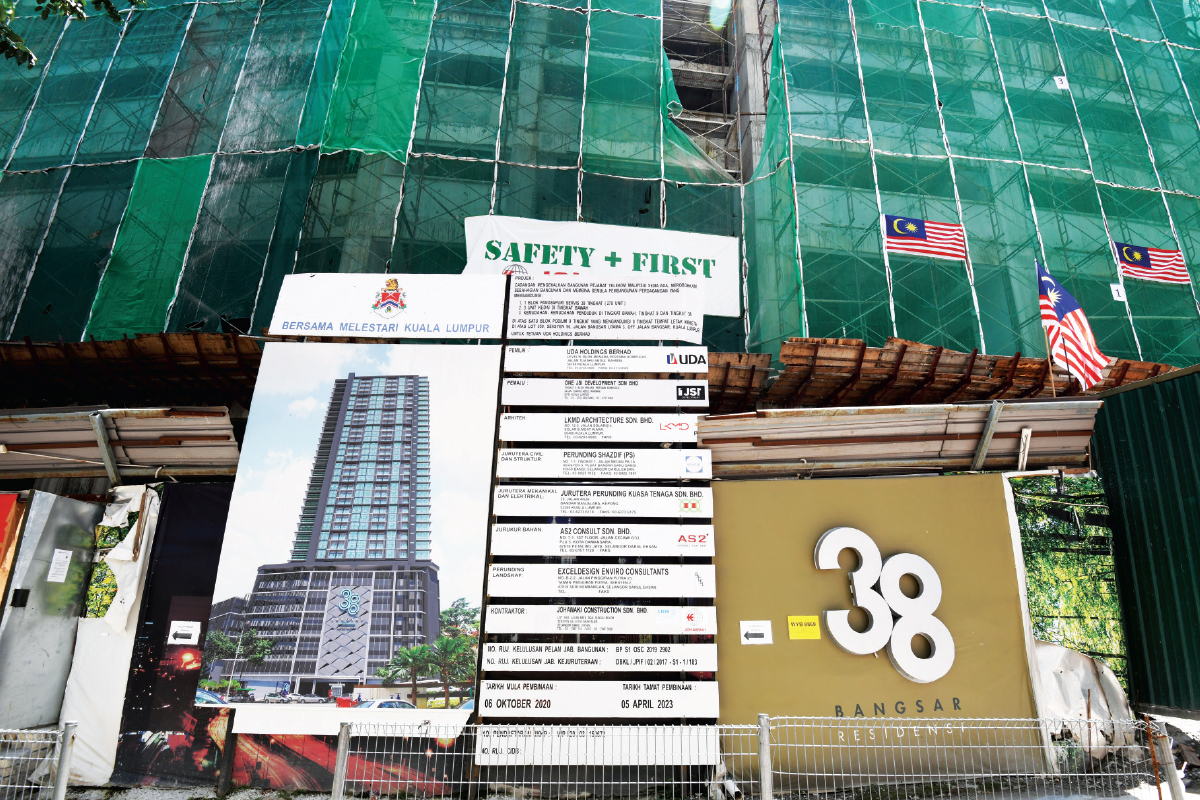 Sitting in the southwest of Kuala Lumpur, the neighbourhood of Bangsar has seen soaring demand since its establishment in the 1960s. Still, its rental market, which comprises mainly the affluent community and expatriates, has not been spared from the effects of the Covid-19 pandemic.
One particular sub-segment appears to have taken a hit. Savills Malaysia director of research and consultancy Amy Wong says: "The high-end high-rise segment in Bangsar is facing rental challenges because it caters for expats working in the oil and gas, finance and banking industries, all of which have struggled in recent years.
"Property owners were seen to be more willing to lower their asking rents to secure tenants. Thus, the gross rental yield for high-end high-rise residential properties in Bangsar fell slightly below 4.0% to 3.85% in 2Q2021," says Wong.
Metro Homes Realty Bhd executive director See Kok Loong concurs, saying: "The expatriate market [may not return anytime soon], owing to the Covid-19 situation, and the rental prices [in Bangsar] are relatively high compared with other areas."
Nonetheless, in the long term, the overall rental market in Bangsar is expected to trend upwards, say the consultants. One reason is its sought-after address, branding and association with affluence. "Bangsar attracts both investors and owner-occupiers, as well as those who are looking to upgrade to high-end real estate. For investors, the returns are high and vacancy rates are low," says See.
Another factor is its undeniably strategic location. Bangsar is about 4km away from the Kuala Lumpur city centre and is part of the Lembah Pantai parliamentary constituency, and comes under the administration of Dewan Bandaraya Kuala Lumpur (DBKL). It is located to the north and south of Pantai Dalam and Damansara respectively and is bounded by Jalan Bangsar and Jalan Pantai Baharu [to the south], Universiti Malaya [to the west], Jalan Damansara [to the north] and Bukit Persekutuan [to the east].
LaurelCap Sdn Bhd head of capital Lou Minn Yian says, "The land titles there are freehold. There is also a good road network to major highways such as the Federal Highway, Sprint Highway and Kerinchi Link."
In terms of connectivity, Bangsar LRT station on the Kelana Jaya Line is located on Jalan Bangsar, and near other LRT stations such as the Kerinchi, Universiti and Abdullah Hukum stations. It is connected via the Federal Highway, Sprint Expressway, New Pantai Expressway, New Klang Valley Expressway and Damansara-Puchong Expressway.
"Bangsar is close to all the desired amenities as well," notes See. The neighbourhood is jam-packed with hip, trendy cafés such as Lisette's Café & Bakery and VCR Bangsar, restaurants, bars and boutiques, and popular malls such as Bangsar Shopping Centre, Bangsar Village and Bangsar Village 2.
Bangsar is subdivided into the neighbourhood areas of Bangsar Baru, Bukit Bangsar, Bangsar Park, Bukit Bandaraya, Taman SA, Bangsar Utama, Lucky Garden, Pantai Hills and the areas off Jalan Bangsar. The residential suburb's main thoroughfare is Jalan Maarof, which is divided into the east and west sides. Bukit Bangsar, Bangsar Park, Taman SA, Bangsar Utama and half of Bukit Bandaraya are located on the east side whereas the other areas are on the west side.
Apart from the usual suspects of affluent and expatriate tenants, there appears to be another growing audience in the rental market of Bangsar. "Traditionally, Bangsar has been an address for wealthy families and expatriates — but the mushrooming of condominiums and studio apartments has allowed for local professionals to also rent a place in Bangsar," says Savills Malaysia's Wong.
Growing demand from professionals
The rental market in Bangsar has witnessed encouraging interest from young professional tenants. "Considering the proximity to one of Malaysia's most important transportation hubs such as KL Sentral and the ease of access to many workplaces in Bangsar and the vicinity, the target market (for rental) would include professionals, expatriates, working adults and families," says Wong.
"The Bangsar rental market is quite a mixed pot, owing to the variety of offerings available. It has a wide selection of residential properties, including linkhouses, bungalows, serviced apartments, luxury condominiums and even mansions. Luxury condos are among the most preferred property type for rental, owing to the abundance of choices for the [rental] category."
According to LaurelCap's Lou,  "Non-landed units recorded an average rent of RM2.80 psf per month and a yield of 4.6% whereas landed units fetched an average rent of RM2.40 psf per month and a yield of 3.9%."
Commercial units can fetch an average rent psf of RM5.50 psf per month, with yields of 5.5% to 6%, she adds. 
There are popular choices of rental property in Bangsar, notes Metro Homes' See. "Serai Bukit Bandaraya and One Merenung Bukit Bandaraya target families. As for [young professionals] or individuals who prefer smaller units, projects such as Gaya Bangsar and Nadi Bangsar are very popular because they are within walking distance of the LRT station."
Both newly completed and older high-rise residential developments in Bangsar are in demand, notes See. "The rental market in Bangsar leans more towards new developments, especially those that come with good security."
New developments are still cropping up in Bangsar despite land scarcity there and the sluggish market. "The southeastern part of Bangsar, particularly along Jalan Tanduk, Jalan Bangsar Utama and Jalan Abdullah, would be areas to keep an eye on. The trend of development is moving towards that direction," says Lou.
"An upcoming project in Bangsar is Mega Capital Development Sdn Bhd's 32-storey serviced apartment development comprising 172 units located on Jalan Abdullah. Another upcoming project is serviced apartment 38 Bangsar by UDA Holdings Bhd. The leasehold development is situated between Lorong Maarof and Jalan Bangsar Utama and will comprise 281 units with built-ups of 580 to 1,442 sq ft and prices from RM758,000 to RM1.9 million."
The rental market in Bangsar still has its obstacles. "Gross rental yields for high-end high-rise residential properties continued on a gradual decline. Owing to the continued closure of international borders, the rental market for high-end high-rise residential properties in prominent districts that are identified with expatriate populations took a hit in 2020," notes Savills Malaysia's Wong. "From 2019 to 2Q2021, the rental rate in Bangsar fell below RM3 psf, according to our analysis of selected high-rise developments in the Bangsar area."
Wong also points to the competition from other neighbouring areas. "The ease of train connectivity means that competition comes from other choices of rental units available along the train line. There are plenty of options for tenants."
See highlights the short-term challenges in the next one to two years. "Apart from the expatriates market's indefinite return because of the Covid-19 situation, and the high rental prices in Bangsar, there is competition from surrounding areas offering high-rise developments that will be completed soon, such as Pavilion Damansara Heights in Damansara Heights and KL Eco City in Kuala Lumpur."
Overall, the outlook for the rental market in Bangsar appears rather sanguine. "In the long term, the outlook remains positive because of land scarcity for new developments, the strong demand of its target market [of high-net-worth tenants], and its overall mature market," concludes See.