This article first appeared in City & Country, The Edge Malaysia Weekly, on July 19, 2021 - July 25, 2021.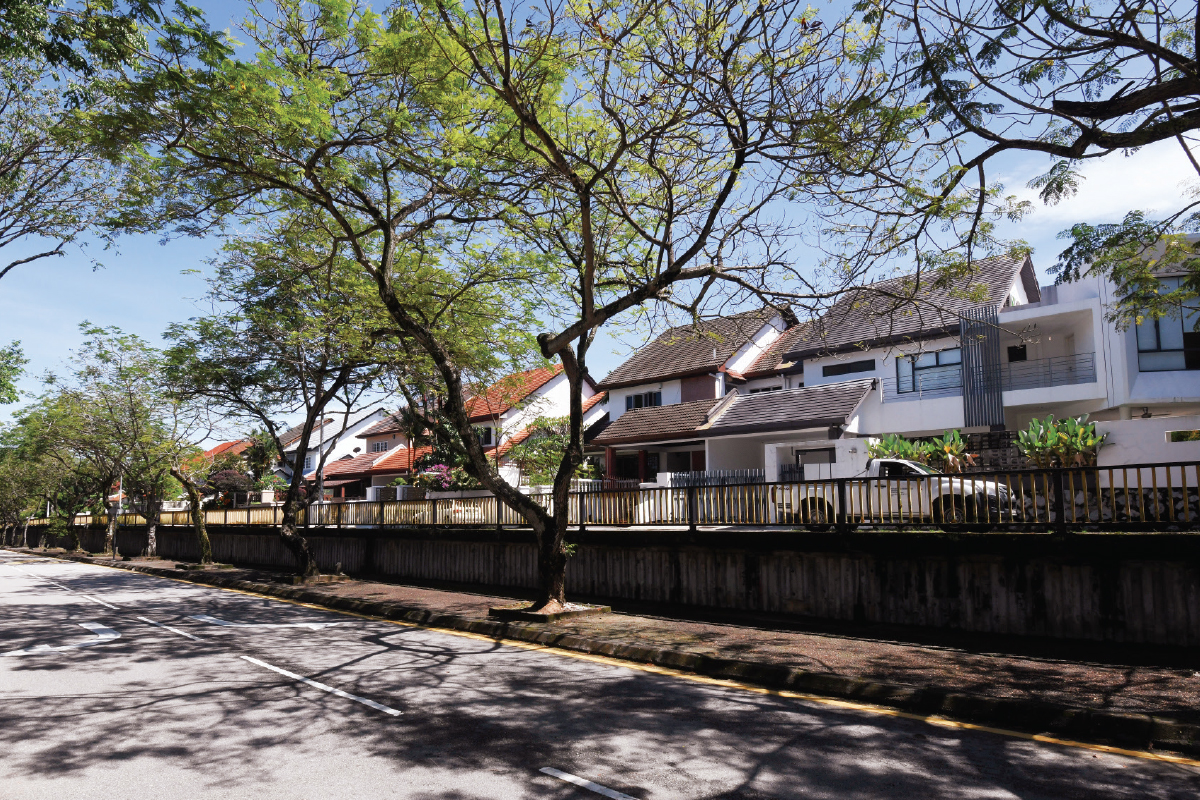 Developed close to 50 years ago, Taman Tun Dr Ismail in Kuala Lumpur is still considered a well-planned township complete with several vibrant neighbourhood commercial areas and public amenities. The latter includes parks like Taman Rimba Kiara and Bukit Kiara Federal Park (also known as the TTDI Park or Taman Lembah Kiara); schools such as SK Taman Tun Dr Ismail 1, SK Taman Tun Dr Ismail 2 and SMK Taman Tun Dr Ismail; a wet market; a community centre with a tennis court, library and multi-purpose hall; a prominent mosque; and a Hindu temple.
"Taman Tun Dr Ismail has [among] the best town planning, even by today's standards, as it is one of the very few areas in KL with wide roads, a road reserve concept, green areas of preservation and parks," says Metro Homes Realty Bhd executive director See Kok Loong.
Fondly known as Taman Tun or TTDI, the self-contained, upper-middle-class suburb is strategically located on the western fringe of KL that borders Selangor, placing it immediately adjacent to established suburbs in Petaling Jaya, namely Damansara Utama, Bandar Utama and Mutiara Damansara, which are situated on the other side of the Damansara-Puchong Expressway (LDP).
The former rubber estate spans 286 acres and was developed by a joint venture between the Urban Development Authority (UDA) and SEA Housing Corp Sdn Bhd in 1974. Today, the freehold township comprises mainly 1- and 2-storey terraced houses, townhouses, condominiums, shopoffices/shophouses and office towers.
Taman Tun's commercial offerings, which attract both locals and visitors to the neighbourhood, include a wide range of eateries, from coffee shops and mamak stalls to cafés and fine-dining establishments. There are also banks, clinics, pharmacies, convenience stores, grocers and many other service providers and offices.
Although the suburb is mainly owner-occupied, the rental market in Taman Tun remains appealing, given its strong fundamentals. "Demand in TTDI has always been stable as the area possesses some of the main criteria a tenant would look for in a place to live in, such as good accessibility to major highways, good amenities and great infrastructure in a good neighbourhood," says Metro REC Sdn Bhd head of agency Terence Yap.
In addition to the LDP, TTDI has easy access to the New Klang Valley Expressway (NKVE), Penchala Link and Jalan Damansara. The suburb is also served by the TTDI MRT Station, one of the stops on the Sungai Buloh-Kajang Line, and feeder buses that link the station to the rest of the neighbourhood.
"TTDI is considered an upper-class suburb and has a good profile of residents. The area is holding up pretty well despite the overall slow property market. Though we are seeing a slight drop in demand during the Covid-19 pandemic, we do not expect rental values to decline by much," says Yap.
Average asking rent for landed properties in Taman Tun ranges from RM1.20 to RM1.50 psf, depending on the condition of the property and the street it is in, he adds.
As for high-rise units, their average rent can range from RM1.60 to RM2 psf for developments that are 15 years and older, and from RM1.80 to RM2.50 psf for newer properties. "For example, newer high-rises such as  The Greens command rent of between RM3 and RM3.50 psf," says Yap.
Similarly, See observes a stable property market in TTDI with a slight decline this year. "TTDI is a mature market supported by amenities. The major issue affecting it right now is the Covid-19 pandemic. Once the lockdown is lifted, demand should return gradually."
According to See, the average rent for 2-storey terraced houses with built-ups of 2,200 to 2,500 sq ft ranges from RM2,800 to RM3,000 per month. "The yield for landed houses is at 2.2%," he says, adding that this type of property has changed hands at RM1.3 million to RM1.7 million.
As for high-rises, condominium units with built-ups of 1,800 sq ft at The Plaza are commanding monthly rents of RM3,800 to RM4,000, says See. "Transacted values at this property are RM1.2 million to RM1.3 million, giving a yield of 3.8%," he continues.
"With low interest rates to remain in the short to medium term, yields will remain low as capital values will still be relatively high. The rental market will be stable at the rates mentioned."
Meanwhile, Yap believes that properties in Taman Tun will continue to see good demand in the medium to long term. "This is due to a few reasons: landed properties there are generally well built and larger in size, the neighbourhood has good landscaping and infrastructure. it is an [upmarket] residential enclave with a lot of green areas such as Taman Rimba Kiara, and the area enjoys great connectivity and accessibility.
"Accessibility is one of its main appeals, as it is easily connected to other major parts of the Klang Valley. For example, to KL via Sprint, to PJ via the LDP and to Klang via the North-South Expressway (PLUS) — all within minutes' reach."
Yap notes that some landlords who were renting out rooms in TTDI prior to the pandemic were getting close to 100% occupancy. "We expect the same to resume in the medium to long term."
In general, properties in TTDI are mainly owner-occupied, with many having lived there for the last 20 to 30 years and reluctant to move to other areas, See observes. "Tenants in the area are usually local professionals with families or expatriates who have been in Malaysia for years who are looking for landed properties because they have pets such as dogs.
"Many of the tenants are newlyweds or those who are waiting for the construction of their property to be completed. As for the expatriates, they mainly like the environment in TTDI after having lived in Malaysia for years. They would initially stay in the city centre before moving to places like TTDI or Ampang after several years …  as these places are less congested and ideal for settling down for the long term," he says, adding that popular rental properties and areas are landed units near or within walking distance of the parks as well as those close to the commercial areas.
According to See, TTDI has a limited supply of properties and only a handful of newly constructed high-rises, whereas the landed properties are older. "Most of the properties in TTDI are well kept … In the long term, due to limited supply, we believe rental rates will move along with the capital value and will strengthen further."
Interesting fact
Taman Tun Dr Ismail is named after Tun Dr Ismail Abdul Rahman, while its roads are also named after prominent Malaysian leaders. These include Jalan Burhanuddin Helmi (named after Datuk Seri Dr Burhanuddin Muhammad Nur al-Hilmi), Persiaran Zaaba (Tan Sri Zainal Abidin Ahmad), Jalan Leong Yew Koh (Tun Leong Yew Koh), Jalan Abang Haji Openg (Tun Abang Openg Abang Sapiee) and Jalan Tun Mohd Fuad (Tun Muhammad Fuad Stephens).