This article first appeared in City & Country, The Edge Malaysia Weekly, on November 29, 2021 - December 05, 2021.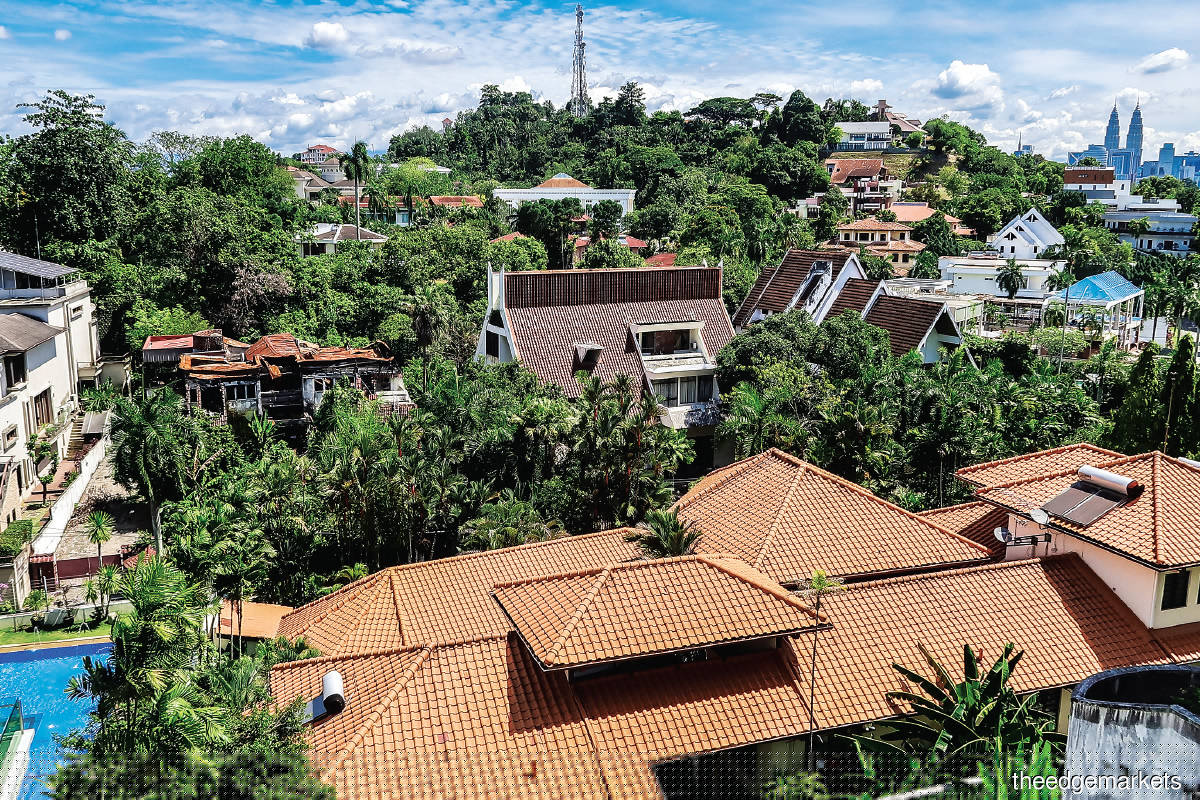 Formerly known as Kenny Hills, Bukit Tunku in Kuala Lumpur was renamed after Malaysia's first prime minister, the late Tunku Abdul Rahman, who used to reside there. The 360-acre neighbourhood dates back to the 1950s, during the time of British rule in Malaya. 
The original developer of the area was an Anglo-Thai corporation known as Ewart Land Development Company, according to Aegis Property director Shawn Fernandez.
The company partitioned off the land into residential lots and sold them. The individual owners were responsible for the respective design and build thereafter. The original structures of these homes have distinct colonial influences, depicting the times then.
"In later years, several plots of land in the area were redeveloped individually into condominiums as well as gated and guarded landed residential developments, such as The Sanctuary, Sri Bukit Tunku, Villa Bukit Tunku, Sri Tunku, Impian Bukit Tunku, and Tijani 1 and Tijani 2," says Shawn.
The area, which is bordered by Jalan Duta, Jalan Mahameru, Jalan Kuching, Taman Duta and Jalan Perhentian, has large plot sizes. This provides for a lot of privacy and exclusivity, and ownership is often confined to the very wealthy, as well as long-term investors who seek a quiet neighbourhood close to nature, notes Zerin Properties Sdn Bhd real estate agent Hans Fernandez.
"There is extensive greenery and foliage, and several plots have unobstructed views of the KL city skyline," Hans says, adding that in recent years, Bukit Tunku has become popular with cyclists, who take the long ride up to Mayor's Hill to enjoy views of KL from the top.
Residential and commercial rental markets
According to Hans, the demand for residential properties for rent in the area has dropped somewhat. Renters appear to prefer the more modern options with a wider range of amenities in Damansara Heights, Mont'Kiara or Bangsar. Well-refurbished or new detached homes in Bukit Tunku still enjoy strong demand, however, as do gated and guarded developments such as Tijani 1 and Tijani 2. Meanwhile, commercial properties have always been limited in number, with only The Stories being available, and thus will always be in demand.
"The vacancy rate of residential properties in the area is between 30% and 40%, mainly because several owners have purchased for long-term investment and some are in the process of building new houses on their plots. Tenants also rent because of their love for nature, greenery and [the area] being more secluded, whereas The Stories is fully tenanted post-refurbishment," says Hans.
Zerin Properties data shows that the monthly rents for residential homes range from RM15,000 to RM30,000, and annual yields are 1% to 2% for detached bungalows and up to 3% for gated and guarded homes. As for commercial properties, the rents are between RM7 and RM13 psf per month, with an estimated annual yield of 4%. There is little data for such properties, however, as they are owned by Selangor Properties Sdn Bhd.
One of the biggest challenges in Bukit Tunku, Shawn says, is abandoned or rundown properties, which have led to a negative perception of the area and are a hurdle to continued progress there. "In this case, the residents' association of Bukit Tunku has done a great job in trying to get properties spruced up and looking tidy but, ultimately, this is for the owners to decide to take action."
In addition, Hans notes that infrastructure such as lighting could be improved. "Perhaps Kuala Lumpur City Hall (DBKL) could offer an incentive for owners to redevelop their properties more quickly as well as provide better maintenance in the neighbourhood," he says.
Nonetheless, Hans believes rental demand in the area will remain positive. The commercial properties will always be in demand because of limited supply, whereas demand for the residential properties will improve as landowners redevelop and upgrade their properties, bringing a more modern and fresher look to the neighbourhood. Otherwise, the rental market will be selective.
Shawn says the mid- to long-term outlook for Bukit Tunku is excellent, with capital values having increased almost 100% in the last decade and expected to continue to climb. He adds: "Location, detailed attention to the quality of the home, and a thorough understanding of the luxury rental market are factors that will contribute to healthy rental demand of properties in the area."
Hans concludes: "Buyers will continue to buy as affluence expands, and tenants will rent as long as the older properties are substantially refurbished or modernised. We feel, however, that in the longer term, Bukit Tunku will move towards having a high percentage of owner-occupied homes and fewer tenanted properties."