This article first appeared in City & Country, The Edge Malaysia Weekly, on October 4, 2021 - October 10, 2021.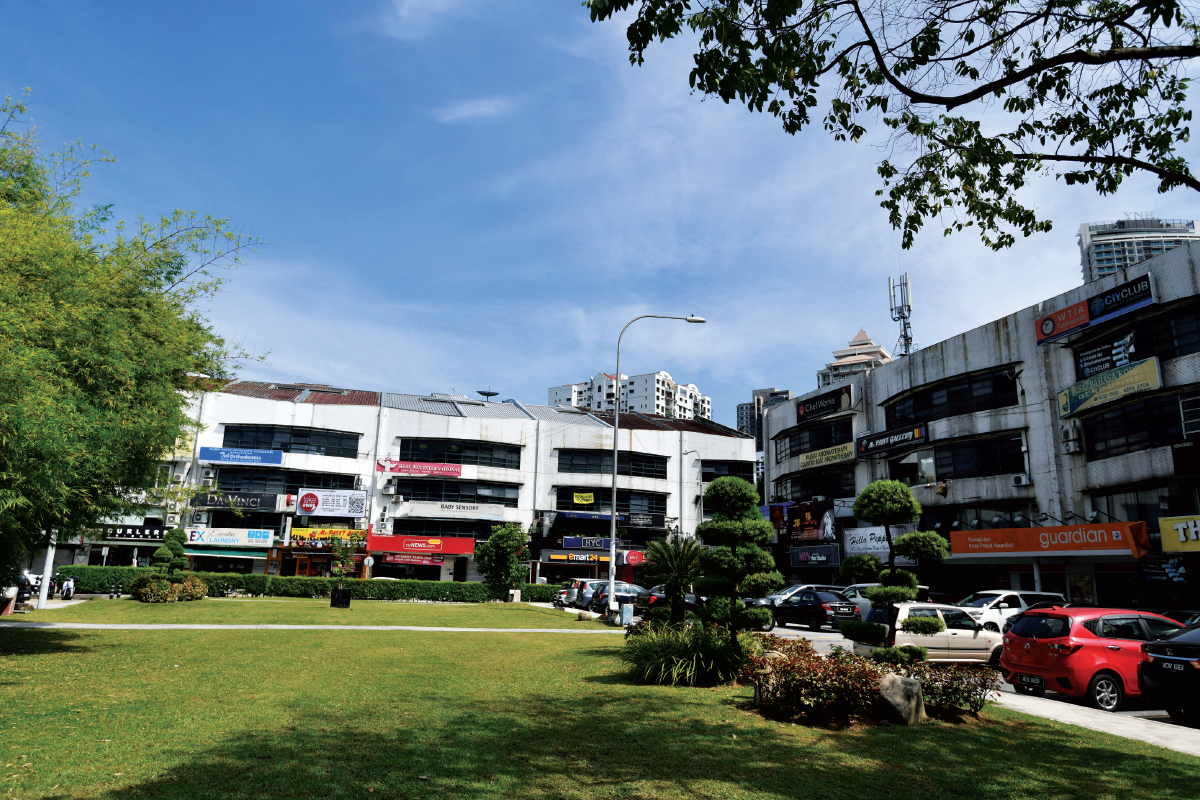 Midway between Kuala Lumpur and Petaling Jaya lies a residential and commercial enclave called Desa Sri Hartamas. 
Developed in the 1990s, it measures about 260 acres and is adjacent to Mont'Kiara, with its high-rises and upmarket shops. The property types in Desa Sri Hartamas are mainly landed, with some condominium developments and 4-storey shopoffices.
"MBF Property Services Sdn Bhd was appointed project manager by Sri Hartamas Development Sdn Bhd to develop Desa Sri Hartamas," says Metro Homes Realty Bhd executive director See Kok Loong. 
"Sri Hartamas Development was jointly set up by real estate tycoon Tan Sri Chong Kok Lim, who built Sungei Wang Plaza in 1977; Datuk Syed Kechik of Kumpulan Syed Kechik Sdn Bhd; and Datuk Wong Kee Tat of Kuala Lumpur Industries Holdings Bhd."
Laurelcap Sdn Bhd executive director Stanley Toh says that the rental property types in the area include "3- to 4-storey shopoffices, terraced houses and condominiums".
He notes that the residential tenants are mainly expatriates, young couples and families, whereas the commercial tenants include cafés, bars, restaurants, sundry shops, clinics and banks.
"The average gross yield for the shopoffices is 4% to 5% a year. Generally, the area is quite sought after and the occupancy rate in the commercial area is at least 90%," says Toh. "Owing to the Covid-19 pandemic, we are seeing a higher vacancy rate in the office and retail space. Yields are also slowly dropping. As yields for the shops are no longer attractive, investors will look at capital appreciation."
Similarly, See observes that the residential tenants comprise young professionals and expatriates. "The rates and yields at Desa Sri Hartamas are on a par with the overall market and very healthy, as the properties are good investments, owing to the capital appreciation. The market is also very stable."
He adds that the strategic location and scarcity of land, which limits new development, has kept property prices on an even keel.
For Toh, the demand for property in the area stems not only from its location but also its accessibility via highways such as the Penchala Link, DUKE, Kerinchi Link and the North Klang Valley Expressway (NKVE). Moreover, demand for property in the nearby neighbourhoods of Damansara Heights, Taman Tun Dr Ismail and Kenny Hills has a spillover effect on Desa Sri Hartamas. The commercial area also functions as a meeting point for those who work in the city centre before they return to their homes in Petaling Jaya.
"As such, the convergence of these highways and demand for housing in the surrounding neighbourhood are the major catalysts for the high take-up rate for the retail and offices in Desa Sri Hartamas," he says.
See concurs: "The 4-storey shopoffices are one of the rare upmarket shopoffices in KL besides Taman Tun and Bangsar. The design comes with wide frontage and a shared lift, which are considered good options for businesses."
In addition, he notes that there is demand for residential property in Desa Sri Hartamas because it offers landed property, as opposed to Mont'Kiara, which has mostly high-rise homes. 
See says 2-storey terraced houses with a land size of 1,650 sq ft and built-up area of 1,700 sq ft command rents of RM3,500 to RM4,000 per month, or yields of 3% to 3.2%. Condominiums such as Sunway Vivaldi, with built-ups of 2,500 sq ft, enjoy rents of between RM2.50 and RM2.80 psf per month, with yields of 4% to 4.8%.
For the 4-storey shopoffices with land measurement of 1,765 sq ft and built-up of 5,700 sq ft, the ground floor is rented at RM7 psf, and the subsequent floors at about RM1.50 psf. The yields are between 4% and 4.2%. For serviced apartments at The Signature, with built-ups of 450 sq ft, the rental is RM4 psf with yields of between 4.5% and 4.8%. Bungalows in Kiara Hills, with a land size of 6,800 sq ft and built-up of 4,800 sq ft, can be rented from RM8,500 to RM9,000, with yields of 1.8% to 2.2%.
Both consultants agree that a main challenge to renting out commercial property in Desa Sri Hartamas is the high rental rates, among others.
"For tenants, it is getting the correct spot, as many of the choice lots are either not available or the rental price is too high. For landlords, there is competition stemming from other commercial areas such as Solaris Mont'Kiara, Publika, Bangsar's Jalan Telawi and Bangsar South," says Toh.
Likewise, See observes that landlords are asking for high rents and traffic can be an issue. "Desa Sri Hartamas faces daily traffic jams at the traffic lights and the entire route is usually jammed up during peak hours."
Still, See's appears optimistic. "The outlook for the area should be stable and good in the mid-term, owing to the strategic location and mainly freehold title, with some Malay reserve development."
Toh says: "For the short term, the pandemic will continue to put a damper on the rental market in Desa Sri Hartamas. For the long term, prices will continue to be stable or probably return to pre-Covid levels as pressure mounts from other competing commercial areas.
"In addition, changes in consumer patterns as a result of the pandemic may have an adverse effect on rental rates, as people are accustomed to the new normal, which has resulted in the need for less space in both the office and retail sectors."