This article first appeared in City & Country, The Edge Malaysia Weekly, on July 25, 2022 - July 31, 2022.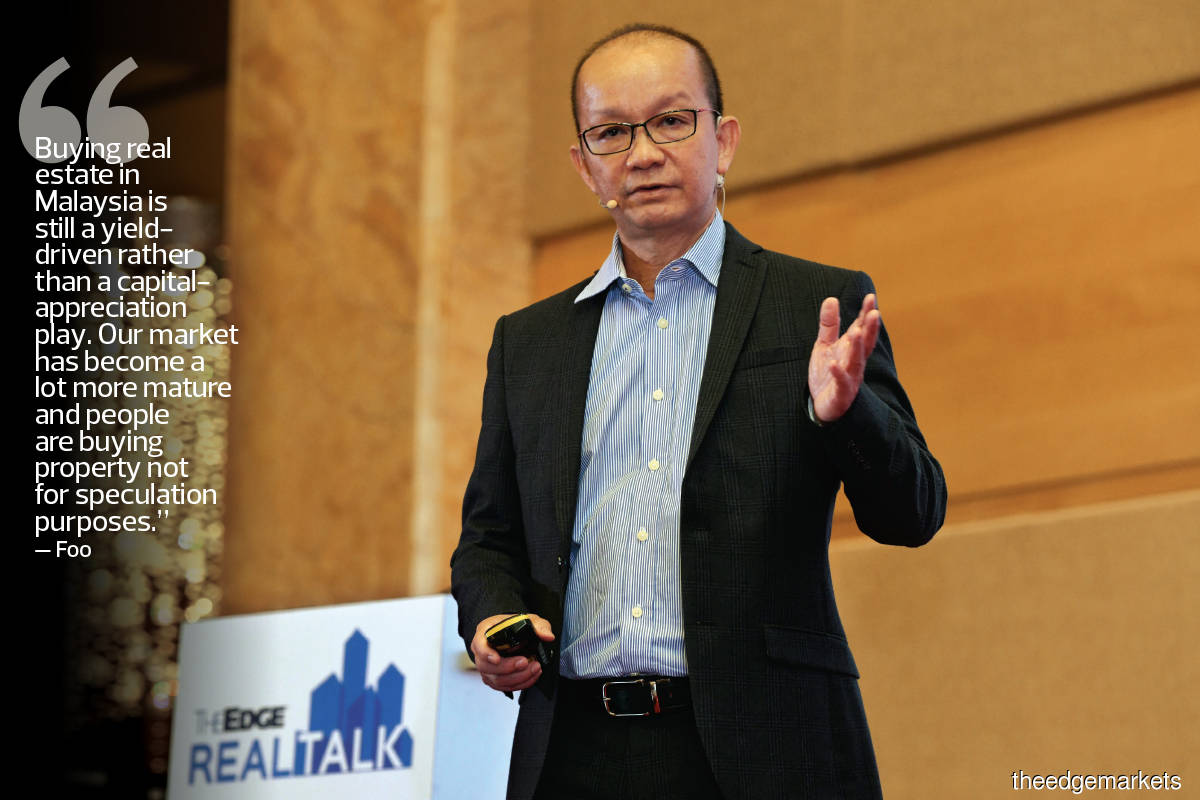 The perennial questions on any property investor's mind are where and when to buy their next unit. Covid-19 has thrown a spanner in the works but as Malaysia enters the endemic stage and the economy opens up more, is it time to return to the market? According to CBRE | WTW chairman Foo Gee Jen, knowledge is key to making a sustainable real estate investment.
"Real estate is serious business. For most of us, buying a property will be the single-largest big-ticket item of our lifetime. This is something you need to have full knowledge of and make a calculated risk.
"A lot of people say real estate is a vehicle to make more money than what you could earn in your lifetime … But all this can be done based on knowledge that you have on real estate," he said in presenting his talk "Looking Ahead: What to expect in the next 12 months" at The Edge Malaysia RealTalk 2022, with the theme "Investing in Volatile Times: How, What, Where?",  held on July 16.
He proceeded to give an overview of the months since July last year and remarked that it was a "yo-yo period" for Malaysia's property market that was impacted by several key events. These include the third iteration of the Movement Control Order in July and the resignation of prime minister Tan Sri Muhyiddin Yassin after 17 months in office in August. In October, interstate travel was allowed and 90% of adults had been fully vaccinated. Policy changes were made to the Malaysia My Second Home (MM2H) programme. December saw the end of the Home Ownership Campaign. From January this year, real property gains tax (RPGT) was no longer imposed on properties disposed of during the sixth year onwards. In the following month, Russia invaded Ukraine. In April, international borders were reopened.
"Looking over the last 12 months may not give you a real impression of how the property market is going to be, moving forward. When investing in property, the crucial thing, apart from location, is the timing," said Foo.
Looking at a period spanning over 30 years, he highlighted how the property market was impacted by financial crises such as the Asian financial crisis in 1997/98, where volume and value of transactions dipped 32.3% and 47.6% respectively. The market recovered until the 2008 global financial crisis saw a "small dip, a quick recovery after that" where volume and value dropped 0.6% and 8.3% respectively. Eventually, the market peaked in 2011/12. Then Covid-19 struck at end-2019, causing volume and value to drop 9.9% and 15.8% respectively.
He pointed out that when the RPGT was waived from 2007 to 2010, Malaysia's property market experienced a "bull run", peaking in 2011/12.
Interest rates have also changed in the last 30 years — from property buyers paying almost "double-digit interest" rates to the low interest regime that remains till today. Last year, the overnight policy rate (OPR) was 1.75%, which has been adjusted over the last few quarters, he said.
Foo then highlighted how the property market had gone through a seven-year cycle with peaks in 1997, 2004 and 2011. It skipped 2018 due to low interest rates and much uncertainty in the property market. "The next question will be, will there be a delay of 14 years to 2025?" he asked.
Citing research data from an April 2022 report by Capital Economics, an independent economic research consultancy based in London, Foo said house prices are set to fall in 2023 and 2024 in developed countries such as Canada, New Zealand, Australia, Sweden, the UK and the US. These nations have increased their interest rates over the past 12 months from 75 basis points to 225 basis points, with corresponding inflation rates ranging from 5.1% to 9.1% and house prices dipping 5% to 20%.
Foo said Malaysia saw an increase in interest rates of 50 basis points, with an inflation rate of 2.8%. He could not say whether house prices would fall in 2023 and 2024 as many essentials in Malaysia are subsidised. For example, he said Malaysia is paying 50 pence per litre for fuel compared to £3 per litre in the UK.
Looking ahead
With the history lesson and Malaysia's economic situation providing context and a foundation to start with, Foo turned to focus on what investors should take note of moving forward.
Industrial properties should continue to perform well, but residential properties have dropped in performance. "So the question is, is it still a good time to buy residential property? The way I look at it, buying real estate in Malaysia is still a yield-driven rather than a capital-appreciation play. Our market has become a lot more mature and people are buying property not for speculation purposes."
He then asked participants to consider where big investments in infrastructure are being undertaken. These include development corridors like the Northern Corridor Economic Region (NCER), East Coast Economic Region (Wilayah Ekonomi Pantai Timur), Malaysia Vision Valley (MVV), Iskandar Malaysia, Sarawak Score: Corridor of Renewable Energy and Sabah Development Corridor.
"In the north, in the NCER, there are new developments in Kulim, Penang, Batu Kawan — all the works taking place are creating a lot of activities. In Kulim, for instance, the manufacturing of cars and solar panels will create a lot of opportunities in terms of work and employment and other vendors that support all the industries. So this will create a need for accommodation. You have the areas of Batu Kawan and Bertam (in Penang) that have been developed. You have big players such as S P Setia Bhd there, and Scientex Bhd has bought a large parcel in the north to build a township," Foo said.
On the east coast, he points to activities in Kuantan Port and Kerteh that support the oil and gas industry. He highlights the MVV straddling the Nilai, Sendayan and Labu areas.
He then highlighted several key mega infrastructure projects in the corridors. For the Klang Valley, there are the Mass Rapid Transit (MRT) projects. In the south, there is the Rapid Transit System (RTS) Link.
"A lot of Singaporeans are looking at this very carefully because to commute to Johor Baru across the Causeway can be a nightmare, but with the RTS, this will be a seamless and borderless journey, which will create a lot of demand and need for residential, commercial and retail activities in locations near the RTS," he said.
On the east coast, Foo noted that the areas along the East Coast Rail Link (ECRL) lack infrastructure support services and linking the two coasts will make it easier for people to travel for holiday, to islands like Tioman and Perhentian, or to their holiday homes in Terengganu.
The Pan Borneo Highway is another catalyst of change, he believes, as travel time from one end of Borneo to the other will be shortened, which augurs well for tourism.
In the Klang Valley, there is the MRT3. Foo said that ridership is still low as fuel prices are still subsidised but if that is cancelled, he would likely not want to drive so much, as fuel would cost RM12 per litre.
So, moving forward, his advice is to "follow the rail". Like in developed countries such as Tokyo, New York, London or Shanghai, you follow the rail as it is "fast, definite and [generally] no delays".
What now?
"So what is going to happen in the next 12 months? There are always two sides of the same coin. I believe we will still face some headwinds on how we are going to move forward," he said.
He highlighted geopolitical headwinds that are causing disruptions in global supply chains, such as the Russia-Ukraine war and Covid-19. "The war in Ukraine has created a big issue with regard to food production. Russia and Ukraine are the world's largest suppliers of fertiliser, almost 15% to 18%. That will cause a lot of disruption to food production. So that would lead to concerns about a global recession," said Foo, adding that there are nations experiencing slow growth but high inflation.
Also, China's zero-Covid policy is impacting the world as the Chinese were the main spenders in countries around the globe, including Malaysia.
On the construction side, there will be higher costs due to increased material and compliance costs. He remarked that compliance with environmental, social and governance (ESG) concerns will also lead to higher costs. He cites the example of upgrading "kongsi" or workers' accommodation. Such costs would "make construction more expensive moving forward".
Lastly, he pointed to the conundrum of when the next general election will be held. This has created uncertainty and anxiety for investors, with many holding back their investment decisions.
However, on the positive side, Foo says several tailwinds will push the property market forward.
"The tailwind supporting real estate activities is very much domestic-driven. I can see steady commodity prices. Crude palm oil prices, even though they have gone down, will still put a lot of money into the pockets of smallholders and plantation companies. That will result in a lot of other economic activities," he said.
Then there is the hike in oil prices, which Foo believes will only increase the government's coffers as Malaysia is "very much a net exporter" and this will help boost infrastructure activity and meet the needs of the rakyat.
Furthermore, there has been higher foreign direct investment (FDI) into the country. Also, the recovery of the labour market and pent-up demand for products and services will increase economic activities.
"My take on the outlook for the next 12 months? E-commerce will continue to drive the demand for warehousing and logistic facilities. But all these facilities will be very much high-tech and mega in terms of size, think one million sq ft and above, and a fully automated warehousing space," he said.
Then there is the expansion of electrical and electronic (E&E) activities that will drive demand for production facilities in the northern region, such as in Penang, and also in certain places in Johor.
"On the residential side, it will be very locally driven. Prices in certain areas will see a correction. But due to high material costs, high compliance costs, ESG and others, will developers increase their prices during this period?
"My take is that they will increase [prices] slightly but that would also reduce their profit margin. This is a period [in which] developers will have to bite the bullet and I see them selling properties at very attractive prices," said Foo.
"On the office side, everybody is talking about working from home. My take is that there would not so much be working from home but there will be a trend of bringing the home to the office ... There will be a place to nap, for babysitting, a sick bay and others. So you will bring your own coffee machine to the office. In the Malaysian context, some of our homes may not be conducive as a work place, there may be a lot of disruptions," he said.
He also observed that malls are seeing a return of shoppers with footfall reaching 70% to 80%. Also, the reopening of international borders should help the hospitality industry but he pointed out that the industry is finding it hard to find staff.
During the Q&A session after the presentation, participant Joseph asked how factors like the impending recession that may last two years, developments like the Forest City project in Johor and changes to the MM2H programme would impact the uptrend in property values.
"When buying property, you have to look at the fundamentals. Look at the yield, [it must have] the right location, the right product, [look at] the concept of the development. There is an element of very high risk when a project is reliant on foreign purchasers," he said.
Foo added that he thinks the overhang issue is overblown. "All the projects in the overhang segment have certain components of mismatch — in location, price or product. So if you have looked at all these factors and avoided these three, you are pretty safe. Stick to the fundamentals. Do not buy on herd instinct. Never follow the crowd."
Regarding MM2H, he said, "This should be encouraged because our market is very much locally driven. We need a lot of foreign investment coming in. I think there is a fear that we [would] oversell property to foreigners. Bear in mind, they constitute less than 5% of investors in Malaysian real estate. And studies show that they can create RM16 billion worth of business activities during their stay in Malaysia."
Next, Mr Ong asked how long the industrial property uptrend would last. Foo thinks it will last quite a bit. He said that before Covid-19, e-commerce drove demand for warehousing and logistic facilities but after Covid-19, there is more need for last-mile deliveries and also cold storage of food for F&B use. Also, with changing consumer behaviour and people wanting products to be delivered within a day, demand for industrial properties will increase.