This article first appeared in Enterprise, The Edge Malaysia Weekly, on October 14, 2019 - October 20, 2019.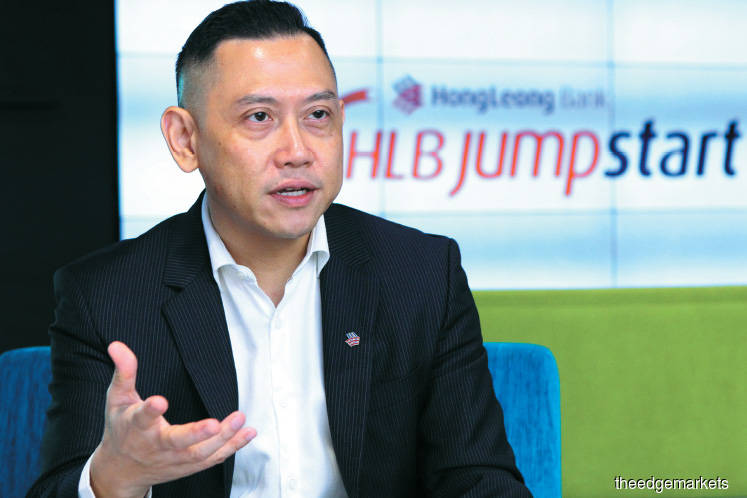 Many companies organise one-off events, such as beach-cleaning activities, visits to old folks' homes and orphanages and distributing food to the homeless, as part of their corporate social responsibility (CSR) programmes. However, a local bank decided that this approach was not enough and looked to see what it could do to make its programmes more sustainable so that they would have greater impact.
Hong Leong Bank Bhd has launched its HLB Jumpstart CSR Platform to identify social enterprises with a clear vision and viable business model so it can offer them assistance and guidance. The bank provides these social enterprises with access to its resources and hooks them up with clients and partners to improve their business and reach.
Hong Leong Bank chief marketing and communications officer Zalman Aefendy Zainal Abidin says the bank had run various CSR programmes in the past. So, he came up with a plan to consolidate its resources under one roof and channel these to underserved areas.
Zalman joined Hong Leong Bank in May after leaving Celcom Axiata Bhd. He then held several brainstorming sessions with his team and identified social enterprises as likely candidates for the bank's assistance.
That is because social enterprises have specific strengths and weaknesses that the bank can help them leverage or address. On the one hand, these businesses could gain huge support if they are well run and have enough public exposure. They could become well known through word of mouth, leading to potential sponsorships and partnerships with various parties, including large corporates.
On the other hand, social enterprises tend to run out of steam within five years of inception, mainly because the founders are young, inexperienced and unable to delegate. They are soon overwhelmed by the day-to-day operations, which leaves them neither the time nor the energy to look for help, says Zalman.
Most of the time, these social enterprises have difficulty securing funding from investors because, even though they are ostensibly for-profit businesses, they are underpinned by a social cause. "Yes, they want to make a profit. But the profit will not be high. This makes the businesses harder to run as their revenue and profit will need to expand to keep up with rising costs," he says.
Once Zalman and his colleagues agreed on the concept, it did not take them long to come up with a framework for the selection process and how the bank could help the selected enterprises. "We crafted a proposition and presented it to my boss, [group managing director and CEO] Domenic Fuda. He was very excited and has been supportive from the start. We got the buy-in quite easily," he says.
Suri Lifestyle and Green Hero
HLB JumpStart was launched on Malaysia Day last year and it had signed up two social enterprises — Suri Lifestyle and Green Hero — as at July. Suri hires single mothers as seamstresses to turn second-hand denim jeans into a range of products, including pouches and fashionable handbags.
Zalman was very impressed by Suri founder Selena Ahmad. He found her to be a passionate entrepreneur who was very clear about what she wanted to achieve with her business. However, like most social entrepreneurs, she lacked resources and was struggling to keep her business afloat.
"They were working out of a really old house they were renting in Klang. Selena and her seamstresses worked on the floor, which had very limited space. They wanted to expand their business and move into a better place, but were unable to do so," says Zalman.
So, he and his team came in to help on several fronts. First, they linked Selena up with Naga DDB Tribal — a branding and marketing agency — to redesign Suri's business logo and market its products on social media platforms and pop-up store events. These added a modern touch to the brand and helped the social enterprise gain much-needed market exposure.
"Branding and marketing are not things that many small and medium enterprises (SMEs) get to experience. You have to pay good money for these and many businesses cannot afford it or are not willing to do it. They prefer to focus on their business operations and what they are good at," says Zalman.
"We were not there to help Suri in terms of operations. That, they already knew how to do well. We came in to support them from a branding and marketing perspective as this was something that could really be improved upon."
Then, he and his team provided Suri with a mobile payment solution and helped Selena gather enough raw materials (second-hand denim jeans) to last six months. "We collected half a tonne of jeans in one week through our headquarters [Menara Hong Leong] and nine other branches. Just one week," he smiles.
On top of that, Zalman and 20 colleagues from the SME banking department gathered in the office over a weekend to help in a more practical way and get an idea of the work being done by the social enterprise by unpicking the pockets of the used denim jeans for the seamstresses to sew into products.
"It was a group of men and women helping out. Not all of us knew how to do it well and the work was very tedious. However, it is not hard to learn and we got better at it. We may have taken half an hour to open up a pocket at first. But by the end, we had improved our time to between 10 and 15 minutes per pocket," he says.
Naturally, the group did not succeed at opening up the pockets of all the jeans the bank had collected. But it did enough for Suri to be able to launch a new batch of products. Later, the bank hooked Selena up with home-grown brand Tarik Jeans to improve the design and quality of Suri's products.
"They collaborated and came up with a new T-shirt design. Tarik Jeans also taught Suri about a new chemical washing technique, which the latter could apply to new products," says Zalman.
Green Hero is an online platform for the food and beverage (F&B) business to distribute food that cannot be kept overnight to consumers. These are mainly baked goods and sushi.
Zalman recalls that, like Selena, Green Hero's 23-year-old founder Calvin Chan was someone passionate about and committed to doing good for the community. After several meetings with him, the bank decided to bring the social enterprise onto the JumpStart platform.
Zalman says the bank offered Green Hero its internal resources to help the social enterprise expand its business. For instance, the bank's mobile application development team helped the enterprise develop an app that would link F&B retailers to consumers.
"The team, while still working on our internal projects, helped Green Hero to develop its app. They did it whenever there was a minute to spare. While working on their day jobs, they made sure that the enterprise had its app on time," he says.
Before the launch of the app, Green Hero was using WhatsApp to link F&B retailers to consumers. The bank also connected the enterprise to its clients in the F&B industry, says Zalman.
In addition, Chan was invited to attend the HLB LaunchPad — a platform for financial technology (fintech) start-ups to pitch their ideas to investors. "We did this so he could learn what a start-up needs to do to secure funding from investors. From here, he could learn about building a compelling business case to present to investors. This would also give him exposure to the start-up ecosystem," he says, adding that all this help and encouragement worked as Chan was inspired to go further in his venture.
As at July, the bank had identified the third social enterprise it wants to help. "It is a company that helps upskill poor urban youth to make them employable. We are still fine-tuning the programme and will announce who it is soon," says Zalman.
Looking to help more social enterprises
Going forward, Zalman and his team will continue to look out for more social enterprises that the bank can help. They aim to identify three new ones a year.
To encourage more social enterprises join the platform, the bank has come out with a website dedicated to the programme, allowing those interested to register online (https://www.hlb.com.my/en/personal-banking/about-us/csr.html ). The bank will then screen the candidates to identify suitable ones to join the programme.
This should keep the team busy for a while, but the effort is worth it, says Zalman. "We are inspired by their entrepreneurial spirit and they appreciate our help."