This article first appeared in The Edge Malaysia Weekly, on May 8, 2017 - May 14, 2017.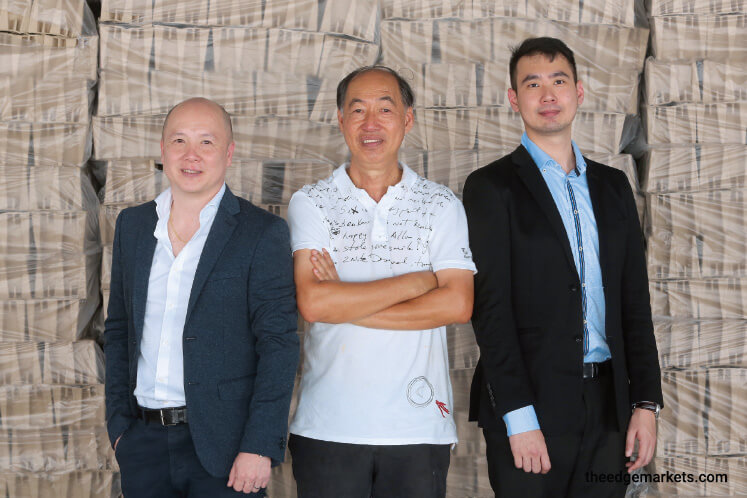 Some people say it is all in the packaging. Earth Recycle Industries (M) Sdn Bhd managing director Chuah Han Hong would be tempted to agree. As packaging is usually discarded and ends up in landfills, it makes a huge difference whether it is made of pulp or polyethylene (PE) foam, which would take centuries to break down in the ground.
His father, Chuah Hwa Bee, saw an opportunity in sustainable packing solutions almost a decade ago. That is why he founded a company that specialises in industrial moulded pulp cushion packaging. The industries the company services includes agriculture, plantation, electronics, food and beverage and medical. 
Earth Recycle Industries is one of the largest industrial moulded pulp manufacturers in the country, with factories in Penang and Johor. Its clients include Dell and Keurig, which produces a beverage brewing system for home and commercial use. Chuah's father, who is chairman and adviser, is still actively involved in the company. 
According to Chuah, the company only uses sustainable materials to produce its packaging — either recycled materials or those that will not have adverse effects on the environment such as corrugated paper from leftover cartons, newspapers, pulp, bamboo and sugarcane. It also practises green management when it comes to waste disposal and water discharge in the factory. 
When a product is trimmed, the waste material is pulped and recycled. Therefore, the production line does not generate any waste.
As for water management, the recycled water tank collects excess water from the forming process and reuses it for pulp mixing. The moisture evaporates during the drying process and eventually become rainwater. 
"We are very serious about waste management. We try not to bleach or colour our products and let them maintain the original colour because the process of bleaching and colouring creates excessive waste and toxins," explains Chuah. 
Earth Recycle Industries had a rough start in 2008 as it was the year of the global financial crisis. Dell was the first to approach it after the crisis because it wanted a green packaging solution. It seemed like an opportunity of a lifetime, but it took the company two years to close the deal. That is how long it took to come up with the right packaging solution for its client.
Chuah says most packaging designers at the time were more familiar with expanded polystyrene (also known as Styrofoam) and PE foam designs. Pulp has different properties from these materials, so it has to be handled differently. The designers struggled to understand its properties — how to make pulp cushion curve, how much weight a pulp product could carry and so on.
"After we nailed the product design, we started mass producing in 2010. In the intervening years, we tried very hard to keep ourselves afloat. We were lucky because we paid cash for most of our machinery and did not have to worry about loan repayment on top of everything else," says Chuah.
It may have been seven years, but general manager Alex Liew says Malaysia's pulp packaging industry is still in a nascent stage. Many businesses that require packaging are not even aware that such a sustainable solution is available. That is why Earth Recycle Industries spends a good portion of its time reaching out to new clients while working to retain its existing ones.
"We are very focused on getting prospective clients to change to pulp packaging as there are many benefits to adopting our solution. Most of the time, pulp packaging is at least 20% cheaper than PE or Styrofoam. Moreover, the fibre interweave provides an excellent cushioning capability. It is non-toxic, non-self-combusting and 100% retrievable," says Liew. 
"By comparison, PE and Styrofoam contain toxic elements, which are flammable and more expensive. The only barrier is that businesses are too used to these forms of packaging and unfamiliar with pulp products. Converting them is a work in progress."
He sees an encouraging trend where more and more businesses are seriously reviewing their packaging solutions because of the costs involved. It is one of the last areas in which they can cut costs. Previously, businesses neglected the cost of packaging because they did not think it made much of a difference. But today, every bit of savings counts.
"They can no longer keep costs down in other parts of their businesses, so they are finally looking at packaging. Big companies always have their engineers work with us, while we have our own engineers to provide smaller companies with economical and sustainable packaging solutions," says Liew. 
He admits that pulp packaging will never be perfect. But when more businesses adopt the material, designers and engineers will be more familiar with pulp designs and this will help the industry as a whole to improve. 
Earth Recycle Industries chalked up more than RM9 million in sales last year. Liew says it aims to grow its sales by 30% this year. "The interesting part about this business is that the lower cost of wastepaper materials will always be sustainable. We are able to provide more cost competitive cushion packaging. We see a lot of growth opportunities in Malaysia."
He says the company is in the process of automating more components of its production line to further bring down costs. However, automation only makes business sense when there is high productivity. This boils down to getting more new orders to justify the investment in new machinery.
Other than packaging solutions, Earth Recycle Industries provides kitting services to differentiate itself from its competitors. Simply put, the company is working closely with its clients to help them streamline the packaging process, which will cut down man hours and labour cost. 
"For example, if we ship pulp products to our customers without our kitting services, their workers will need to kit it themselves, put the components into a box, tape it and so on. It requires longer hours and more manpower to do this," says Liew.
"What we do is kit the boxes for our clients. Their workers only need to open them up, put their goods in, close the boxes and the goods are ready to be shipped. This is a win-win for both parties because we generate additional income and they benefit from lower cost and a more efficient packaging process." 
Streamlining the packaging process is a core part of the company's business. Product design plays a crucial part in this, says Chuah. "For instance, we did many on-site production flow studies with Dell. We needed to understand how it packages its products and we started designing from there."
It took two years to design a solution specifically for Dell laptops. The solution, which was patented, is a unique two-wing design that protects the delicate parts of the machine from shocks. 
"Our design must suit Dell's way of packaging. Say if the product is packed vertically, the openings of our boxes should be aligned with that. We need to make the packaging process as quick as possible. If the product can be slipped into a vertical box easily, we would not have it put in horizontally as it requires more time and care," says Chuah. 
This attention to detail sets the company apart from other pulp product manufacturers. The kitting services and patented products make it difficult for clients to turn to other suppliers as they may not provide similar designs or services. This helps ease some of the competition pressure. 
A big challenge for Earth Recycle Industries is getting product samples and tooling. Liew says it outsources product samples and tooling to China because the toolmakers there are more creative and efficient. It takes about a week for the Chinese toolmakers to deliver a sample while local toolmakers usually require a month to do so. 
"We cannot wait a month for the sample to arrive. Once we receive the sample from China, we do a fitting test to see if it is what we want. If the fitting test goes well, the Chinese will send over the tooling. Then, we will do the in-house first article inspection (also called the initial quality control) before sending the sample to the client," he says. 
The company cannot just order samples and send them to prospective clients for them to try out because it is very expensive, especially for the higher-end products. Therefore, prospective clients need to commit to making a shift, says Liew, or they may not be willing to pay the cost of ordering a sample. 
Being a green business may mean running yourself out of business in the longer term. For instance, with Earth Recycle Industries, as customers may be able reuse its products indefinitely, the volume of new orders may diminish. But this has not been the case, says Liew.
"Ten years ago, the practice of reusing packaging was really popular. Businesses started to lose interest when they discovered it was difficult to manage the programme as the packaging was usually damaged during shipping. Moreover, the logistics and warehousing cost of reusing packaging is even higher than that of new packaging," he recalls.
So, the packaging industry changed from producing packaging items that could last five rounds of shipping to just one round. It was much cheaper that way.
"PE foam can be recycled, but the cost is much higher as the process involves special machinery and consumes a lot of energy. The one-off model makes more business sense for pulp products as they can be recycled at minimal cost. They can be shredded and blended with water to be turned into pulp before being reprocessed into a new product," says Liew.