This article first appeared in Enterprise, The Edge Malaysia Weekly, on August 14, 2017 - August 20, 2017.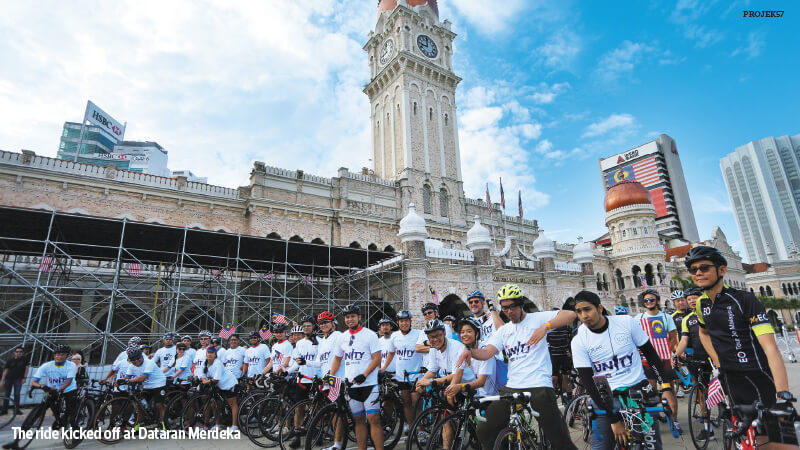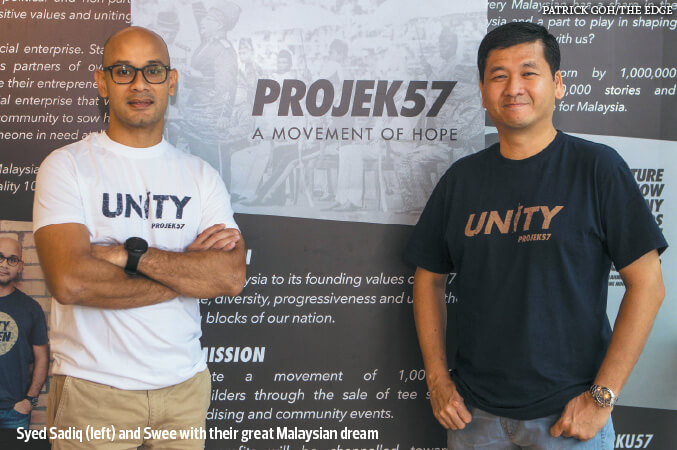 As a nation, we are getting more polarised than ever. The news is littered with divisive racial and religious innuendoes while institutionalised race-based policies are often cited as the reason for feelings of alienation, which is driving Malaysia's brain drain crisis.
Recognising the precarious state of affairs, friends and business partners Collin Swee and Syed Sadiq Albar took it upon themselves to do everything in their power to spread the message of hope for a better Malaysia. To mark the country's 60th anniversary of its independence, their social enterprise — Projek57 — is holding the Unity Ride campaign, a cycling initiative that consists of nine legs, from Aug 6 to Sept 16.
The social enterprise sells fashionable T-shirts and merchandise with a distinctive patriotic theme. One of its most iconic prints is the graphic representation of the country's first prime minister, Tunku Abdul Rahman, bespectacled and wearing a tall songkok at a slanted angle.
For each T-shirt sold, RM5 goes to underprivileged youths and single mothers. Also, 40% of the company's profit is channelled towards empowerment programmes for the targeted communities.
Swee says the cycling initiative is about amping up their efforts to spread the message of unity by exploring every nook and cranny in the country for "stories of hope, unity and friendship that transcend race, colour and creed". "We are celebrating 60 years of independence this year and we wanted to do something significant. Until now, Projek57 has been a very urban initiative, so we wanted to see if what we have witnessed in the city, insofar as unity is concerned, is the same in small towns and rural areas."
Syed Sadiq says they chose cycling as it is a growing sport and it allows them to explore cities and villages at a slower pace. "We have to remember that Malaysia is not just Kuala Lumpur, Penang and Johor; it is way bigger. And we wanted to share the stories we would be collecting over social media. Hopefully, it will fare better than the things we hear from politicians."
He points out that there is growing acrimony in our daily lives and it is getting more difficult to stay positive and motivated. "We see this as a means of celebrating our diversity, without which our lives would be very different today," he says.
"Inspired by the vision of our beloved first prime minister ­­— Tunku Abdul Rahman, who said our future depended on how well many different kinds of people lived and worked together — this ride and our social enterprise is our way of doing our part to inspire fellow Malaysians to come together with the shared hope and belief that each of us makes a difference in how our nation moves forward," says Syed Sadiq.
To kick things off, 50 cyclists rode 57km to IOI City Mall in Putrajaya on Aug 6, where a unity-themed community event was held by Projek57's main partner Touch 'n Go Sdn Bhd. In subsequent rides, events will be held with its title partner Eco World Development Group Bhd, main partner Allianz Malaysia Bhd and 16 other sponsors.
The goal is to end the ride in East Malaysia, where Malaysia Day is significant, says Syed Sadiq. "Sabah and Sarawak are very different from the peninsula, so our message will be different. We are working with organisations from there to better understand the nuances of their society.
"For all you know, we will be schooled by them. They have no problems and they get along way better than we do."
Beginnings
Syed Sadiq and Swee mooted the idea of Projek57 in early 2015 and rolled out the social enterprise in August that year. "When we started this endeavour, it was because our colleagues were leaving us one by one [for other shores]. We wanted to show them that there is a reason to stay with us," says Swee.
The brain drain was becoming irksome as they were struggling to retain talent at the engineering firm that both he and Syed Sadiq had been running for the past 15 years. "All our colleagues had their plan B to move either to Australia or Singapore — not just for employment, mind you, but also because they felt that they did not belong here anymore. I found it perplexing that they did not feel any positive connection to this country and did not think they could make it here," says Swee.
Waking up to news highlighting worsening race relations and political rhetoric aggravated the situation, he adds. "Over the years, there have been so many nation-building programmes and yet we find ourselves so disunited. Both of us were getting rather frustrated with how to handle this. That was when we learnt about the social enterprise concept. We liked it and felt that we could use such a platform to spread the message of unity and help people at the same time."
Syed Sadiq says the idea of combining social entrepreneurship with nation-building was engaging to many, especially the younger generation. "This is good because we felt that the younger generation is so disengaged from the nation that the future looked rather hopeless," says Swee.
"That is how we started Projek57. We decided to call it a movement of hope. Our vision is to restore the past," he adds.
"Malaysia is at a crossroads. It is very different from the country that Syed Sadiq and I grew up in. I have such good memories growing up in a multiracial community and I have always been so proud of our achievements as a nation. But that is no longer the case for many."
The sale of T-shirts turned out to be the best way to get their message across. "The shirts are walking billboards and youngsters today buy five even if they cost RM200 each," says Swee.
Syed Sadiq says they deliberately avoided common symbolism such as the Jalur Gemilang and Petronas Twin Towers to keep things rooted to the founding fathers and founding principles of the country, the Rukun Negara.
"We found that the engagement with underprivileged youth was sorely lacking, for example, the Orang Asli youth. That is why we get them to sell our T-shirts. We want distributors from segments, such as single mothers and underprivileged youth, and empower them through retail training and improving their communication skills and confidence," says Swee.
Projek57's engagement with Orang Asli youths is conducted in partnership with SOLS 24/7 — a humanitarian initiative that runs education and social empowerment programmes. They work with non-governmental organisations such as MyKasih and Women of Will to support single mothers.
Syed Sadiq and Swee hope that their initiatives will get the word out about Projek57 and its message of how the nation's multi-ethnic and multicultural identity is an invaluable asset.