This article first appeared in Enterprise, The Edge Malaysia Weekly, on November 13, 2017 - November 19, 2017.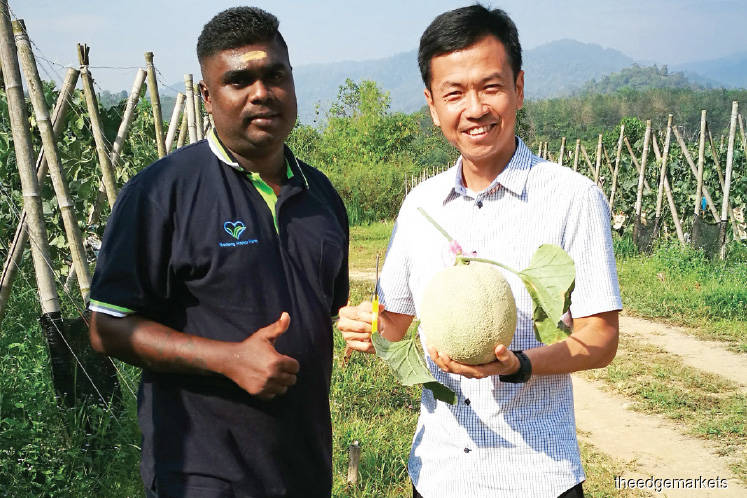 In 2010, Jackson Ho bought some farmland in Bentong, Pahang, with the idea of helping those who were struggling to make ends meet. But like most ideas, he put it on the back-burner and forgot all about it.
The opportunity to put his idea to work came four years ago, when his then driver Kunasegaran Veloo poured out his troubles of having to single-handedly manage his large family as most of his siblings were involved in substance abuse or gangsterism.
"Even Kuna's parents died from drug addiction. The family had been trapped in the cycle of poverty for generations. He managed to make ends meet only by repeatedly borrowing money to sustain not only his siblings but also his wife and children," says Ho.
Kuna's story got him thinking. Realising that the driver's monthly wage was insufficient, he reassigned Kuna and taught him to run a stall at a bazaar that was managed by one of Ho's company  in Jalan Tuanku Abdul Rahman.
However, things did not go as planned. "In hindsight, I should have known that the environment was not conducive for someone like Kuna, who is trying to get out of abject poverty. That area (Jalan Tuanku Abdul Rahman) is full of people trapped in similar situations, so it did not help," says Ho.
"Kuna continued to grapple with financial difficulties and still needed to borrow money often. That was when I remembered the farmland and figured that I could put it to use. When I suggested it to Kuna, he said he was willing to give farming a shot."
That was how the Bentong Happy Farm and its Better Living programme came about. The hilly area, which is located along the Titiwangsa Mountains, is devoid of any telecommunications signals and a comfortable distance from the hustle and bustle of the city. It is an ideal place to start over for those willing to work hard, says Ho.
With financial and machinery assistance and Ho's support, Kuna got down to work and started growing fruit and vegetables such as papayas, chillies and cucumbers. "He moved to the farm by himself in 2013, leaving his wife and children behind for a year. He started with papayas and chillies but they failed. He had a bit of success with cucumbers, but the market failed. He never gave up though and kept trying to grow something else," says Ho.
"He tried growing different things, using different methods on different parts of the land. There was no loss because the land had been idle for so long. But it was becoming useful. He gradually had some success and the demand for vegetables and fruit started to pick up, which motivated him to grow more good vegetables."
Kuna needed to figure out the best timing for each crop. Eventually, he succeeded.
"Not only was he able to sustain his own family, who moved into the workers' quarters on the farm the following year, he was able to hire workers and had enough left over to repay the advances I had given him," says Ho. Although the produce is sold to customers who visit the farm, most of it is sold at the wholesale market in Selayang.
Having gained confidence in himself, Kuna began dabbling in rock melons last year. "He has since moved on to the second and third phases of growing the vegetables he has been cultivating. But his latest success is the Sakata rock melon, which has become a hit," says Ho. Sakata is believed to be the world leader in vegetable production.
"We brought customers directly to the farm to support him by organising a rock melon festival that ran over two weekends. We also organised activities for the visitors. We had more than 600 visitors during the period," he adds.
Kuna made almost RM30,000 after the rock melon harvest. When this interview was held, he had taken his family on their first holiday ever. "It has been a long and tiring journey, so it is a well-deserved holiday," says Ho.
The biggest challenge to farming is not the weather, soil or crop but the market, he says. "There are a lot of challenges in getting a fair price for farmers."
Following Kuna's success, Ho got Phoon Hong Mun on board for the Better Living programme last year. Like Kuna, he had a hard time scraping by as the breadwinner of his family of the seven.
"Phoon started growing papayas in November. They are starting to fruit now and should be ready for harvest by September. After the first harvest, a papaya tree can last two years," says Ho.
"He also grows organic vegetables, for which he uses treated goat and chicken manure. Some of the best produce are kangkung, mustard greens, spinach and lettuce."
To further develop the Better Living programme and utilise at least half of the 60-acre farmland, Ho engaged business consultant
Dr Hank Yap to turn around portions of the land into an agro-tourism spot. This concept fits well into the plan and serves as a way of bringing consumers to the farm. Some 20% of the proceeds, from entrance fees and overnight lodging in the chalets built on the farm, go towards paying off the soft loans taken by the farmers.
"The idea is to create a sustainable business model for farmers. I don't want them to be indebted for life, even though the loan is interest free. I also wanted to open up another area to serve as an awareness or educational platform for the folks in the Klang Valley," says Ho.
"People, especially children, have forgotten how important nature is. They are so engrossed with their gadgets that they hardly go outdoors."
To keep visitors entertained and occupied, a goat pen was built. There are now more than 100 goats. A small animal farm was added to the mix later. Now, patrons can also access the neighbouring prawn farm.
Yap says the location is also used by companies to host teambuilding activities. Apart from the chalets, there is a dormitory that can accommodate 30 people. These facilities were constructed by the previous landowner, who ran a resort.
Having spent most of his younger days as a chartered accountant and corporate banker, Ho has always wanted to give back to society by improving the livelihood of people. "The love of money is the root of all evil. However, my take on this is that the lack of money is the root of all problems," he says.
"It is easy for us to criticise people who face difficulties or are in poverty if they cheat, do drugs or are involved in a host of social ills. But not many think about what they can do to help them get out that cycle, how to help them not feel like an outcast.
"When you don't even have enough money to buy necessities such as infant formula for a hungry and crying baby, for example, you will know how it feels to be incapacitated. Such experiences are the root of larger problems and when people run out options, circumstances force them to do things they wouldn't normally do.
"One way to go about it is by donating to charity. But to me, charity is not a sustainable solution. Don't get me wrong, charities do a wonderful job. We have to applaud caregivers for their undying efforts. But charity does not work in getting people out of poverty. It is also the first thing taken away when the funding is exhausted. So, those who are dependent on charity struggle to have any confidence in themselves."
Ho believes that the best way to extend assistance constructively is by helping affected people gain a skill. "Give a man a fish and you feed him for a day. Teach a man to fish and you feed him for life. That is why I feel the only way out of poverty is education, to arm them with knowledge. Next, they need to learn a skill to be able to make a living, which is the main aim of using this parcel of land for farming activities," he says.
"My family and friends always ask why I am working so hard to build up this place and expand it. It is not a five-star resort, but this is a place for those who are poverty-stricken but are willing to work hard and make a living for themselves so they can feel proud of their achievements."
Having seen the kind of impact the Better Living programme has had on Kuna and Phoon and their families, Ho hopes to extend the reach of the programme. Apart from looking for other prospective candidates, he wants the two farmers to upskill themselves. As Phoon requires more time, he is hoping to help Kuna develop his skills first.
"Nothing is firm yet, but we would like to help Kuna improve his skills and teach other people what he has learnt. He too wants to help others who are in a similar predicament. He wants to pay it forward," says Ho.
"Today, his family lives peacefully knowing that they are able to withstand anything thrown at them because they have a skill. Kuna's children attend a Tamil school nearby, where they have won awards for academic excellence. This is proof that it all boils down to the environment one is in.
"I hope to work with Kuna to develop a training programme. He is good with practical work, but he may not be very hands-on in terms of using technology to teach, so I feel obligated to help him put together a team to teach others. If he can multiply his experience, the social impact will be greater."
During this interview at the farm, Ho and his family as well as a group of friends were attempting to go rafting on a nearby pond. The children's infectious laughter filled the air as they tried to figure out how to put together a small four-barrel raft using PVC pipes and barrels. "It is great place for families to come together and bond," says Ho.