This article first appeared in City & Country, The Edge Malaysia Weekly, on June 20, 2022 - June 26, 2022.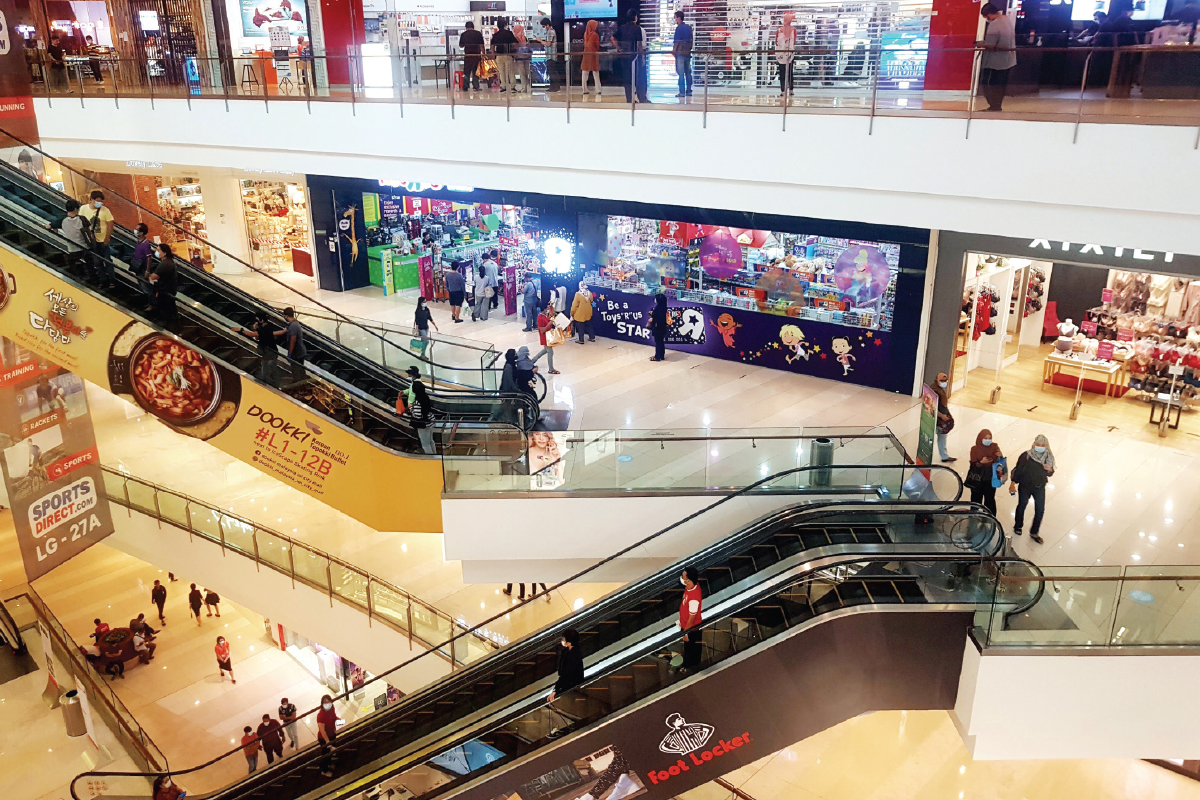 Footfall at shopping malls across the country has picked up since Covid-19 restrictions were eased last year. "Shopping traffic at malls started to build up in August last year after the longest lockdown was lifted," says Retail Group Malaysia (RGM) managing director Tan Hai Hsin.
"During the last three months of the year, shopping traffic returned to all major shopping malls in Malaysia. The malls were packed with shoppers and diners, and traffic congestion in the car parks returned."
At major shopping malls in the Klang Valley, such as Mid Valley Megamall, Suria KLCC, Pavilion KL, 1 Utama, Sunway Pyramid and IOI City Mall, shopping traffic has returned to pre-pandemic levels, Tan notes.
He continues: "The interstate travel ban was lifted on Oct 11 last year, after 90% of the adult population had been fully vaccinated. Domestic tourism brought more sales to retailers who had been dependent on tourism spending.
"Retail sales climbed further in December 2021 due to the Christmas and Chinese New Year festivities. Shopping centres such as Lot 10, Central Market, GM Klang Wholesale City and KWC Fashion Wholesale also benefited from the lifting of the interstate travel restrictions."
Following the 26.5% year-on-year (y-o-y) growth rate in retail sales recorded in the fourth quarter last year, the country saw another promising growth rate of 18.3% in retail sales in 1Q2022 (see Table 1), according to RGM's June 2022 Retail Industry Report. The June report also notes that the latest quarterly result was higher than the estimate of 16.5% made by members of the Malaysia Retailers Association (MRA) and Malaysia Retail Chain Association (MRCA) in March 2022.
For the next three months, the two retailers' associations are upbeat on retail sales and are projecting an average growth rate of 25.7% during the second quarter of 2022 (see Tables 3 and 4 on Page 10), the report adds.
It further notes that during 1Q2022, ­Malaysia's national economy recorded a better-than-­expected growth rate of 5%, average inflation rate moderated at 2.2%, private consumption expanded by 5.5%, the Malaysian Institute of Economic Research (MIER)'s consumer sentiment index rose above the 100-point threshold level of optimism at 108.9 points and the unemployment rate improved at a slower growth rate of 4.1% (see Table 2).
Tan observes that even when the Omicron variant of Covid-19 hit our shores early this year and new daily cases reached the 30,000 mark, shopping malls were still crowded. "Although not significantly, shopping traffic started to drop when new daily cases remained above the 20,000 level.
"Nevertheless, we still saw shoppers from all age groups — from families with infants and young children to the elderly — doing their shopping, dining and participating in leisure activities like watching movies [during this period]. Branded fashion stores saw queues and youngsters [thronged] popular events and promotions."
Similarly, Savills Malaysia director of retail services Murli Menon observed a notable growth in retail sales late last year. "We saw a significant recovery in retail sales since the markets reopened late last year. F&B, specifically, saw a huge rebound, along with the luxury and sports/athleisure categories," he says.
"While the overall footfall may still be lower than pre-pandemic levels, retail conversions and, hence, sales were higher. As a category, the luxury-retail segment saw significant y-o-y growth, mainly due to no international travel [for many]. Fashion and other categories, including cosmetics, continued to be sluggish because of the impact of online shopping."
Seeing the improvement in sales, he says retailers are anticipating a full recovery earliest by end-2022 for certain categories such as F&B, entertainment and athleisure, and by 2023 for others.
Despite the robust growth of the last three months of 2021, the Malaysian retail industry's overall growth for the year contracted by 2.3%, with 2021 marking the second consecutive year that the industry recorded negative growth, according to the RGM's March 2022 Retail Industry Report. In 2020, the retail industry contracted 16.3% from the previous year.
In its March report, the RGM has projected a retail sales growth rate of 6.3% for 2022, an upward revision from its previous estimate of 6% last November. Tan anticipates that the quickest retail sales can reach 2019 levels will be in early 2024. "That is provided we achieve high growth rates in 2022 and 2023."
However, several challenges remain. "The prices of many basic necessities and consumer goods have climbed since November last year. Several F&B outlets have also increased prices. Rising prices are expected to continue in 1H2022," notes Tan.
In addition to the Covid-19 pandemic, which has affected the take-home pay of many Malaysians, the war in Ukraine will continue to affect the supply chains of consumer goods worldwide and also lead to higher oil prices, says Tan.
"The rising oil price and higher cost of living will affect the purchasing power of Malaysian households. An interest-rate hike in the near term will likely have a negative impact on the buying power of Malaysian consumers as well.
"The take-home pay of Malaysians highly depends on the pace of our economic recovery in 2022. When economic activities are more vibrant, people are willing to spend more on consumer goods and services."
Several retail closures in past two years
The retail industry has seen a number of closures in the last two years. "We witnessed a high number of closures immediately after the first Movement Control Order [MCO] ended in May 2020. The second round of closures took place after the bank moratorium ended in October 2020," says Tan.
"The third round was during the second MCO in 2021. And the subsequent wave of closures started after MCO 3.0 ended in August 2021."
Last year, Maxvalue Ringgit Store closed the majority of its outlets, while all three of Oliver Gourmet's outlets ceased operations, he notes. PappaRich, Boat Noodle and Station One Kopitiam also closed numerous outlets throughout the country, while The Rift — a virtual-reality theme park in Mid Valley — and Metrojaya at The Curve in Mutiara Damansara closed their doors last year.
Notable business operators in Kuala Lumpur and Petaling Jaya that have shut down in the past year include American casual dining restaurant chain Chili's first outlet in the country (after operating for 27 years), located at Bangsar Shopping Centre; the Coliseum Café & Grill Room in Jalan Tuanku Abdul Rahman (99 years); Sin Hoy How in Jalan Tun HS Lee (84 years); Rasa Food Arena in Suria KLCC and FOS in Mid Valley (22 years each); as well as Oriental Cravings at 1 Utama (17 years). McDonald's in Jalan Silang and Nando's in Jalan Sultan also closed last year.
Popular cafés and restaurants in the Klang Valley that closed last year include Anther & Stigma at Plaza Arkadia, Toast Lab in Taman Segar, Menya Shi Shi Do at Jaya One, Kohi Yatta in Jalan Sungai Besi, Little Rimba in Taman Tun Dr Ismail, Bouchon Enfin at Pavilion KL and DIY Poke in Bandar Baru Sri Petaling, says Tan. In addition, all three Departure Lounge outlets have closed for good.
Foreign-owned retailers were some of the significant casualties of the pandemic. Element Fresh (from China); 108 Matcha Saro, Yoshinoya and Hanamaru Udon (Japan); Kam's Roast (Hong Kong); Sheng Kee Dessert, Pho Street and Wild Honey (Singapore); as well as Good Day Good Time (Taiwan) have shuttered their Malaysian outlets.
According to Savills' Murli, most of the closures have been due to the fact that retailers and brands build up overheads and operating cost structures based on best-case scenarios, thereby setting up high fixed operating costs. "Hence, the prolonged lockdown with zero-to-negligible revenue made them unsustainable. A major lesson, therefore, has been the way businesses structure their costs and operations, basing it on worst-case scenarios as well as having the flexibility to adjust — both in terms of operating structure as well as fixed costs — to minimise losses during bad times," he says.
Retail planning and trends
For Murli, key factors in retail planning are flexibility and the ability to adapt quickly to market situations and consumer habits.
"Online and offline channels have to coexist and be used as platforms to drive traffic to each other, rather than being looked at and managed independently. Retailers and brands who realise and work towards this will be more successful in the long run as they will be able to engage with existing and potential customers at various touchpoints and offer the same level of experience. Hence, the need to embrace technology," he says.
Murli warns, however, that outdated concepts and badly managed retail, whether in terms of services, offerings or even management and cost inefficiencies, will be replaced with newer, fresher and more experiential retail. "There has been an increase in new retail concepts, either by established retailers or a new breed of retail entrepreneurs focusing on better and more exciting experiences for customers."
Meanwhile, the relationship between retailer and landlord has evolved. He explains, "It will continue to evolve into more of a partnership arrangement with creative commercial terms that offer upsides to both, while protecting each party during times of unprecedented disruption, as seen during the pandemic.
"Both the retailer and landlord have started or should start realising that overdependence on a particular channel or concept is detrimental in the long run as consumer preferences change. And this shift seems to have accelerated, thanks to the pandemic."
Tan shares this view. "The Covid-19 pandemic has forced many retailers, including F&B operators, to pay attention to greater digitisation of their businesses. Online shopping has become another major distribution channel of retail goods and services in Malaysia.
"Today, many mall retailers have their own online shopping platforms, and shoppers can buy online and opt for either home delivery or in-store collection. This trend will remain."
He says that despite the many closures in the retail industry, Malaysian individuals and companies continue to invest in new F&B outlets, including cafés, restaurants, food stalls, kiosks and trucks. "Examples of retailers that have opened more outlets during the pandemic include ­BookXcess, Bungkus Kaw Kaw, Eco-Shop, Jaya Grocer, Village Grocer, Nanyang Café, Zus Coffee, The Brew House, Uncle Don's, The Coffee Bean & Tea Leaf, Burger King and MR DIY."
Tan observes that national chain stores that survived the past two years are taking the opportunity to negotiate better rents with their landlords. Meanwhile, brands such as Uniqlo, JD Sports, Padini, Louis Vuitton, Gucci, Chanel and Dior have remained popular among Malaysian consumers, with long queues at their store fronts, especially on weekends and public holidays, he adds.
The pandemic may have altered the retail landscape forever, but this has not deterred new entrants. Don Don Donki, % Arabica and Matcha Eight from Japan; CU and eMart24 from South Korea; Five Guys and Taco Bell from the US; and Jollibee from the Philippines are some of the foreign-based retailers that have set up operations in Malaysia.
Value shoppers are now a key factor, with consumers becoming wiser and more pragmatic in their shopping habits, observes Murli. 
"This factor is one of the reasons behind the higher footfall and sales across almost all malls in Malaysia since the reopening of the retail sector. While they are willing to splurge and pamper themselves when it comes to certain items and services, the same shoppers are also seeking out bargains and value buys for other items and categories.
"Online shopping also offers a real-time opportunity for shoppers to compare prices and feedback on brands and services before deciding on actual transactions, which can be online or at a regular retail store, depending on the convenience and [preferences]. Hence, it is important to ensure that the brand offers the same level of service and experience across all touchpoints."
Meanwhile, he notes that retailers gravitating towards shoplots and commercial lots, versus the leasing of space at shopping malls, has been a major trend and will continue to be so, given consumer preference for more open spaces and availability of parking.