This article first appeared in Enterprise, The Edge Malaysia Weekly, on December 30, 2019 - January 05, 2020.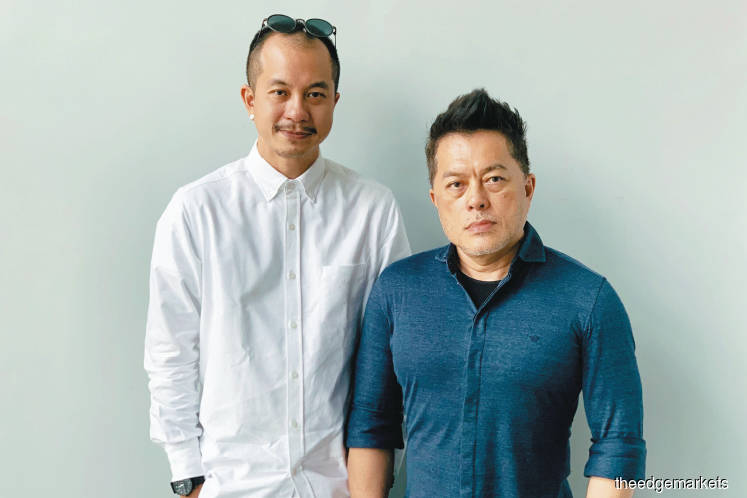 Sector: Calling cards, network and social media
Addressable market: US$10 billion
Intellectual property status: Brand trademarked in Malaysia
Product description and USP: The world's first digital business card platform for companies and employees to search and connect with an extensive network of people in a quick and easy way.
Currently exporting: Partners in Asean. Market presence in Europe and Japan.
Industry challenges: 400-year tradition of exchanging business cards made of paper
At a time when people are embracing advanced digital and mobile technologies, it may seem slightly anachronistic, if not wasteful, that business cards are still exchanged in the traditional manner.
So reasoned Amano Young, co-founder of CodeZero Sdn Bhd, when he ran a branding agency with Steve Koh. They had been tasked with developing a new image for a particular company and this included designing new business cards.
"When we came out with our first round of
designs, the marketing team was fine with it, but not the directors. One of them said it was too simple and wanted us to put all of the company's social media platform addresses on the card. Another director said it was too plain and wanted it to be more colourful. The third director wanted to add pictures of the company's products. All on a paper card, roughly 8cm by 5cm," says Young.
Koh asked Young if it was possible to build a digital card instead, as that would solve all these problems.  They started brainstorming and this led to the birth of CodeZero in 2017.
It would take a year to develop the platform that enabled companies and individuals to create and distribute digital business cards through a mobile application known as Zero BrandCard. The platform was developed locally by four Malaysian coders and programmers. And what they have come up with is the first of its kind in the world, according to Young.
What is a digital business card?
The primary function of the app is to allow users to design their digital cards more creatively by uploading photos and videos. They can also attach social media links, including Facebook, Instagram, LinkedIn and Twitter, for others to browse.
This information is only accessible when digital card owners exchange cards with another person using their smartphones. To do this, app users send a link to a particular person or group of people via SMS or WhatsApp.
App users can also exchange digital cards the "old-fashioned" way, that is, to Bluetooth the cards to each other. "We use soundwave technology to do this to preserve the old culture of exchanging business cards," says Young.
So, a presenter speaking on stage during a conference can distribute his digital cards to the audience within a 200m radius through the "propagate"
function on the app. He can also give out his presentation slides to the crowd in the same way. "The slides will be stored in Google Drive and will not use up phone memory," says Young.
App users can distribute one of two types of cards. One is the White Card, a personal card designed by the user. The other is the Black Card, a digital card assigned by a company to employees for further distribution.
For Black Cards, app users can click on a company's icon on the screen to obtain basic company
information. This information (such as the company's registration number, address, phone number and email) is pulled from CTOS Data Systems Sdn Bhd, says Young. "This would give digital cardholders more credibility. As we all know, there are many fake business cards out there nowadays."
He adds that when a person exchanges his Black Card with another party who has also downloaded the Zero BrandCard app and is given a Black Card by his employer, their information is fed into the back-end system of their companies. "However, the information stays with you if you are exchanging a White Card with another person."
Solving several pain points
Young says CodeZero also solves other pain points faced by users of traditional business cards. For
instance, paper business cards are too bulky to be carried around and people leave them at home, in the office or in their cars.
Meanwhile, some information printed on a traditional business card, such as online links to social media platforms, are not immediately accessible. The likelihood of someone manually keying in those links, letter by letter, on a computer is relatively low.
Digital business cards solve these problems, says Young. People can present their digital cards as long as they have their smartphones with them. Receivers of these cards can also access several social media profiles of these cardholders with a few taps on their smartphone screen.
Adopting digital cards can also help preserve the environment, says Young. "According to our research, about eight million trees are cut every year to produce business cards. However, 92% of those cards are thrown away within a week. It is bad for the environment."
He points out that there are many companies out there, including several notable ones (such as CamCard and Eight), that have been trying to digitise business cards to help people collect and disseminate information more easily. Most of them use optical character recognition (OCR) technology, which requires people to scan a business card with their phone to turn the information on it into a digital format.
However, this does not reduce the use of paper. "It is not environmentally friendly because people just scan those cards and throw them away, even more quickly," says Young.
Looking for funding
Young and his team recently developed an in-app chat function and feed feature to let app users network and connect with others more seamlessly. The in-app chat function works just like other social networking platforms, where users can open a private or group chat box to communicate. The function can only be used when two parties have exchanged their digital cards, he says.
"A business person may meet someone from China or Japan, who uses WeChat or Line instead of WhatsApp, at an event. The in-app chat function
provides them with a common platform on which they can communicate more conveniently," says Young.
Meanwhile, the feed feature allows Zero BrandCard users to showcase their work or upload their life moments on the app. "It helps users to stay in touch with people in their network," he adds.
Starting from next year, the company will charge a fee for the digital cards. Smaller companies that issue 500 to 5,000 digital cards will be charged US$3.99 a month while larger corporations that issue 5,001 to 20,000 digital cards will have to pay US$15.99 a month. Companies that issue more than 20,000 digital cards will be charged US$29.99 a month.
In the next six years, the company aims to generate revenue of RM380 million by onboarding 60 million users via aggressive expansion into Southeast Asia, Japan and Europe. "This year and next, we will only focus on Malaysia," says Young.
He adds that the key challenge is consumer behaviour. People are used to exchanging paper business cards even if they understand the benefit of digital cards. That is why Code Zero is looking to raise more funds to embark on the next phase of its venture.
"We want to incentivise users to adopt digital business cards in various ways. This compares with how Grab and other start-ups have incentivised consumers to change their behaviour," says Young.
The company raised RM1 million from several investors during its maiden funding round and is now looking to raise RM7 million. "We have managed to raise about RM1 million [as at October] and aim to raise the other RM6 million by year end," he says.