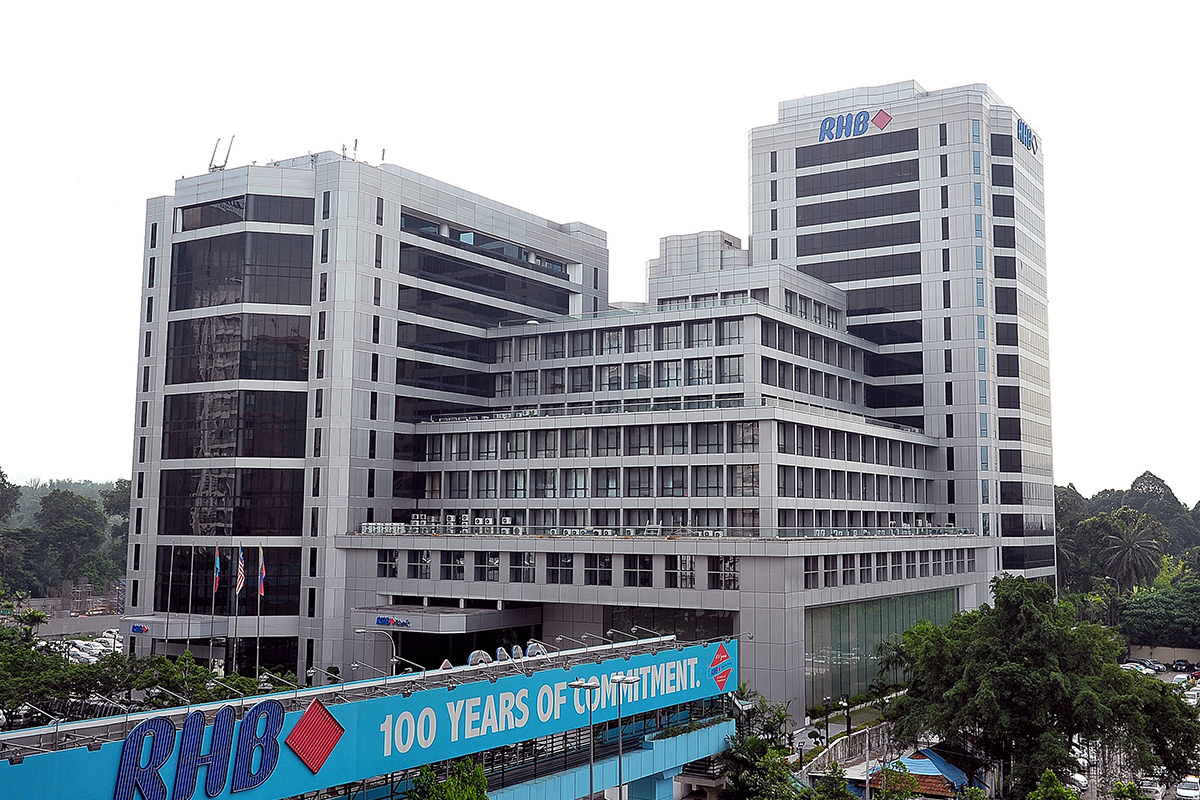 KUALA LUMPUR (Aug 30): RHB Bank Bhd rose as much as 14 sen or 2.54% to RM5.65 this morning after the group achieved a good set of numbers for the latest second quarter ended June 30, 2021 (2QFY21). 
Net profit grew to RM701.34 million from RM400.77 million a year ago.
Revenue, however, dropped 10.2% to RM2.93 billion for 2QFY21 from RM3.25 billion a year earlier.
At 11.33am, the counter had pared some gains at RM5.60, still up nine sen or 1.63% from its close last Friday (Aug 27), with 2.33 million shares traded.
CGS-CIMB analyst Winson Ng said in a note today that RHB Bank's net profit for the first half ended June 30, 2021 (1HFY21) was within his expectations at 54% of his full-year forecast.
Ng projected a 15.2% half-year-on-half-year drop in 2HFY21 net profit to RM1.15 billion on the back of potential half-year-on-half-year contraction in the net interest margin (NIM) as the reopening of the economy could reduce low-cost deposits, which could lead to higher average cost of funds and elevated loan loss provision (LLP) given the persistent credit risk from the Covid-19 fallout.
However, he said, the group's 2HFY21 net profit could increase by 8.1% year-on-year (y-o-y) on an expected y-o-y improvement in the NIM and LLP.
"We cut our earnings per share (EPS) forecasts by 0.7% for FY21 and 1.4% for FY22 to FY23 as we update our assumed share base upwards from 4.01 billion to 4.07 billion to factor in the 58.3 million new shares issued under its dividend reinvestment plan," he said, adding that this lowered RHB Bank's target price (TP) to RM6.18 from RM6.30.
He also said RHB Bank's positive earnings trend in 1HFY21 (+7.4% y-o-y for core net profit) reaffirmed his expectations for an earnings recovery in FY21 even if he projected a half-year-on-half-year decline in 2HFY21 earnings.
"For FY21, we are forecasting a core EPS growth of 7%, which is the rerating catalyst for our 'add' call. The dividend yield is also attractive at 5.6% for FY21," he said.
Meanwhile, Maybank Investment Bank Research analyst Desmond Ch'ng said RHB Bank's 2QFY21 core net profit was above his expectations at 59% of his full-year forecast.
According to him, the variance arose mainly from a larger-than-expected expansion in the NIM and lower-than-expected credit cost.  
"Nevertheless, we have assumed a higher credit cost of 50 basis points (bps) in FY21 versus the guidance of 40bps, which implies higher credit cost in the coming quarters, and thus we retain our forecasts," he said.
He also maintained his "buy" call on the stock, with an unchanged TP of RM6.30.
Kenanga Research analyst Clement Chua, meanwhile, said RHB Bank's "generous interim dividend" of 15 sen was a positive surprise.
"We raise our dividend payout assumptions to 30-35 sen from 23-26 sen for FY21 and FY22 respectively," he said.
He also maintained his "outperform" call on RHB Bank, with an unchanged TP of RM6.15.
"We still favour RHB Bank as a prudent selection with its leading common equity tier 1 ratio of about 17%, which enables greater allowance to implement capital management strategies.
"Thanks to its dividend reinvest plans, the group can be more flexible and generous with how it rewards shareholders and we are counting on a 45% to 50% payout ratio to sustain going forward, leaning towards dividend yields of 5% to 6%," he said.
Read also:
RHB declares 15 sen dividend as profit rises in 2QFY21
RHB Bank sees challenging 3Q performance with lockdown in place