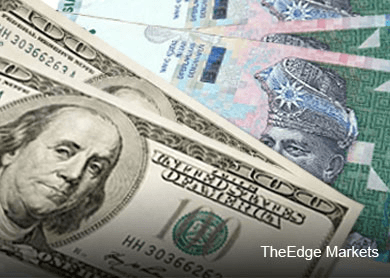 KUALA LUMPUR (Dec 9): The ringgit is leading a retreat among Asia's emerging-market currencies as oil prices slide and strategists predict Malaysia's worsening current account will lead to further losses.
BNP Paribas SA, Macquarie Group Ltd., Malayan Banking Bhd. and Skandinaviska Enskilda Banken AB are all in the process of cutting ringgit estimates, with the French lender saying Malaysia is set for the first deficit in its broadest measure of trade since 1997. Standard Chartered Plc and Scotiabank are also bearish after the ringgit slid 9.2 percent versus the dollar in the past three months, sapping demand for the nation's debt.
"The weakness in the ringgit has come much sharper than we expected and the question is has it attained fair value?" Mirza Baig, head of foreign exchange and interest rate strategy at BNP Paribas in Singapore, said in a phone interview yesterday. "My thinking is not really. We are on course to print the first current-account deficit in Malaysia since the Asian financial crisis."
Malaysia is the only net oil exporter among major Asian economies and tumbling crude prices will reduce state income, hampering efforts by Prime Minister Najib Razak to rein in the budget deficit. Foreign ownership of Malaysia's government bonds is relatively high at 30 percent, compared with 18 percent for Thailand, and this makes the securities more vulnerable to a sell-off as the ringgit's outlook dims.
Yields Rising
The nation's sovereign debt returned 0.9 percent in local- currency terms in the past three months, the worst performance in Southeast Asia, according to indexes compiled by Bloomberg. The average yield climbed seven basis points to 3.89 percent, compared with a 54-basis point decline for Thai securities and a 15-basis point drop for Indonesian bonds.
The ringgit sank to a five-year low yesterday of 3.5073 per dollar as the cost of crude in New York fell as much as 1.9 percent. Oil has dropped 12 percent since the Organization of the Petroleum Exporting Countries's Nov. 27 decision not to cut production.
Malaysia's currency has been "excessively penalized" for tumbling crude prices given that net exports of oil are only equivalent to about 0.3 percent of gross domestic product, said Dariusz Kowalczyk, a strategist at Credit Agricole CIB in Hong Kong.
"People make a mistake by penalizing it so much but that's what people do and it's difficult to stand in the way of the trend," he said in a Dec. 5 phone interview. "If oil prices decline further, the ringgit will also fall."
Cutting Forecasts
The median forecast for the ringgit's end-March exchange rate has weakened 3.6 percent this quarter to 3.35 per dollar, a Bloomberg survey shows, and more cuts are coming. BNP Paribas is in the process of lowering its 3.40 projection and Macquarie is looking to weaken its estimate of 3.45.
"There's a lot of room for the ringgit to weaken beyond our official forecast," Nizam Idris, head of foreign-exchange and fixed-income strategy at Macquarie, said in a Dec. 3 phone interview. "We were among the most negative on the ringgit at the beginning of this year but even we were taken by surprise by the recent moves."
Maybank plans to cut its first-quarter forecast of 3.41, Saktiandi Supaat, the bank's head of foreign-exchange research in Singapore, said in a phone interview yesterday. SEB will weaken its estimate of 3.40, Sean Yokota, Singapore-based head of Asian strategy said by phone yesterday.
Sole Loser
Malaysia will be the sole loser among emerging Asian economies from the drop in crude prices as 30 percent of state revenues are oil-related, Bank of America Merrill Lynch economists including Singapore-based Chua Hak Bin wrote in a Dec. 1 report. The government may miss its target of reducing its fiscal deficit to 3 percent of gross domestic product next year from 3.5 percent, according to the report.
Malaysia's current-account surplus narrowed to 7.6 billion ringgit ($2.2 billion) in the third quarter, the smallest gap in more than a year, according to official data on Nov. 14. The last deficit was in 1997, central bank data show.
Malaysia's exports fell 3.1 percent in October from a year earlier, the first decline since June 2013, according to a Dec. 5 government report. The trade surplus shrank to an 18-month low of 1.19 billion ringgit.
Standard Chartered has an "underweight" recommendation for the ringgit given the worsening trade data, Callum Henderson, the Singapore-based global head of foreign-exchange research, said in an interview yesterday.
"To see a turnaround in the ringgit, we would have to see a turnaround in Malaysia's terms of trade and trade surplus, which is unlikely to happen with commodity prices moving lower," Sacha Tihanyi, a Hong Kong-based strategist at Scotiabank said in a phone interview yesterday. "I'm still bearish on the ringgit on a structural basis."