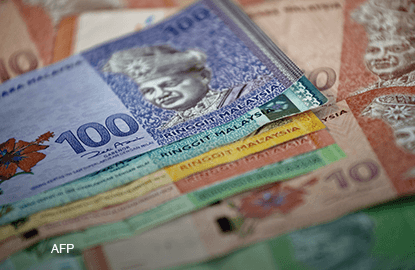 HONG KONG/KUALA LUMPUR (Sept 1): Malaysian stocks climbed for a fifth day and the ringgit rallied after weekend protests calling for the resignation of Prime Minister Najib Razak ended peacefully. An overnight surge in oil prices also aided local markets.
The FTSE Bursa Malaysia KLCI Index rose 0.6% to 1,623.05 as of 10:36 a.m. in Kuala Lumpur, after earlier gaining as much as 2.9%. The currency appreciated 0.6% to 4.1710 a dollar, extending its recovery from a 17-year low of 4.2990 reached on Aug 26. Government bonds advanced as markets reopened following the National Day holiday.
Brent crude prices climbed 8.2% in New York on Monday, easing concern that government finances will deteriorate for Asia's only major net oil exporter and helping spur the longest winning streak in Malaysia's key share index in seven weeks. Energy services company SapuraKencana Petroleum Bhd. jumped 7%. The political rallies in the capital failed to draw a large number of ethnic Malays, a sign that a funding scandal enveloping Najib has yet to cause major dissent within his grassroots power base.
"Stronger oil prices are certainly helping at the margin," said Sue Trinh, head of Asia foreign-exchange strategy at Royal Bank of Canada in Hong Kong. "For the ringgit, we've got a lot of domestic forces at play as well, not least being the political uncertainty. Things are likely to get worse before they get better and we wouldn't rule out another re-test of the 4.3 level."
The Malaysian equity index fell 15% from its July 2014 high through Friday and the currency is Asia's worst performer this year, as political uncertainty clouded the outlook amid an emerging-market selloff. Prospects that the U.S. will soon raise interest rates are also weighing on the ringgit.
Sovereign bonds advanced, with the 10-year yield dropping 14 basis points to 4.26%, the biggest decline since September 2013, according to Bursa Malaysia prices. The five- year yield retreated 16 basis points to 3.84%.