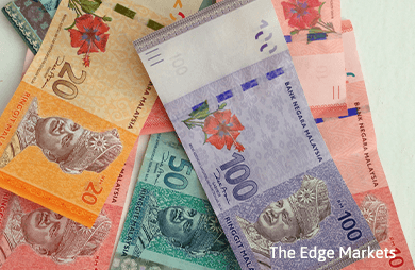 SINGAPORE/KUALA LUMPUR (Nov 11): Malaysian bond bankers haven't had this little to do in five years as companies shelve investment plans because of a depressed ringgit.
Companies in Southeast Asia's third-biggest economy had sold 44.6 billion ringgit ($10.2 billion) of notes by the end of September, the least since 2010, according to data from Bank Negara Malaysia. Imports of investment goods shrank 26.4 percent through August, the most since 2009, a trend that Barclays Plc doesn't see reversing soon.
Rising costs of imports and consumer sentiment plunging to below global financial crisis lows have made borrowing for investment a tough sell. The Malaysian economy grew at the slowest pace in almost two years in the second quarter as plunging commodity prices and a political scandal made the ringgit the worst performer among Asian currencies this year.
"If you're a company importing machinery for expansion, it may not be viable anymore given the currency weakness and slowing growth," said Rahul Bajoria, a Singapore-based economist at Barclays. "This could mean slower private investment going forward, something we have already seen in the past three quarters."
The slump is also hurting syndicated loans. Global banks lent just $1.4 billion to Malaysian borrowers in the three months through Sept. 30, the slowest quarter in more than six years, data compiled by Bloomberg show.
The one bright spot has been this year's record $8.9 billion of offshore bond issuance, buoyed by increased activity from the Malaysian government and state-owned enterprises. But excluding dollar notes from the sovereign, Petroliam Nasional Bhd and Export Import Bank of Malaysia, the leftover $2.2 billion is the lowest mainly private issuance since 2011.
Nasty '97
The cost of foreign bonds for Malaysian companies has risen as the ringgit dropped 24 percent in the past year, the currency's worst performance since the Asian Financial Crisis. The ringgit tumbled 32 percent in the twelve months following March 1997, prompting a wave of corporate defaults and eventually leading to capital controls by the Malaysian government.
"The public and private sectors of Malaysia were never frequent issuers" offshore, said Florian Schmidt, head of debt capital markets for SC Lowy in Hong Kong. "I presume that the desire to avoid currency mismatches -- remember 1997 -- plays a significant role."
Malaysia's central bank left interest rates unchanged for an eighth meeting on Nov. 5 as policy makers juggle risks to economic growth while contending with the fragile currency. The ringgit also weakened last week after Federal Reserve Chair Janet Yellen said a December rate hike would be a "live possibility" if U.S. economic data continue to point to growth and firmer prices.
More to Come
AmInvestment Bank Bhd, the fourth-biggest arranger of local bonds this year, is seeing some positive signs amid ambitious government plans. It forecasts that issuance could reach as much as 80 billion ringgit this year based on deals in the current pipeline.
"Things have picked up in the fourth quarter," said Seohan Soo, executive vice president of the capital markets group at Kuala Lumpur-based AmInvestment Bank. "We are seeing more corporates refinancing and fundraising for infrastructure projects."
Prime Minister Najib Razak signaled in October that he'll accelerate infrastructure projects next year to help support the economy. That should see government-related bond and bank financings increase as he seeks to boost capital spending while reducing the fiscal deficit as promised.
Corporate lenders, on the other hand, may want to book some holidays.
"Bigger infrastructure projects will continue," said Bajoria at Barclays. "But you won't see much private demand for capital."