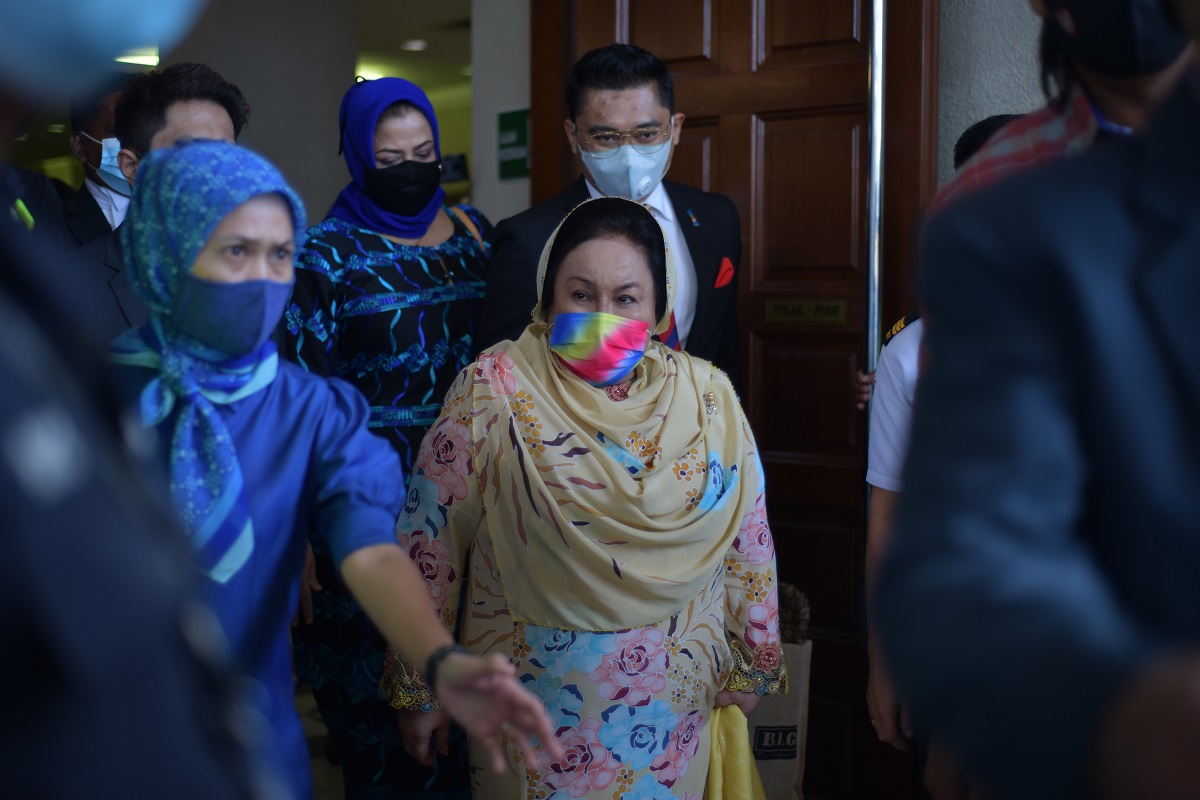 PUTRAJAYA (Oct 4): Datin Seri Rosmah Mansor will have to testify in her defence over three graft charges she is facing in relation to the RM1.25 billion solar hybrid project for 369 rural schools in Sarawak at the High Court on Tuesday.
This follows the dismissal by the Court of Appeal (CoA) on Monday of her application for a stay of proceedings, pending her appeal against the High Court's decision not to declare the trial a nullity after it found the appointment of Datuk Seri Gopal Sri Ram as a senior deputy public prosecutor (DPP) was in order.
Justice Datuk Wira Kamaludin Md Said, who led the three-member CoA bench that dismissed her application, ruled that her testimony on Tuesday will not prejudice her and should continue at the High Court.
The bench also ordered the hearing of her appeal at the appellate court to be expedited.
The judge said it is up to the parties to show that there are exceptional or unusual circumstances for the court to grant a stay.
"This bench is, however, bound by the principle of stare decisis (to stand by things that have been decided) in the Datuk Seri Najib Razak case, where a nullity is not considered a special circumstance for a stay.
"Hence, the proceedings at the lower court should continue while we direct that the hearing of her appeal be expedited. This follows that the applicant's counsel had argued that this is a unique case," Justice Kamaludin said.
The other two members of the CoA bench were Justices Datuk Nordin Hassan and Datuk Hashim Hamzah.
With this, the hearing of Rosmah's defence, for which she has chosen to testify from the witness stand, will begin Tuesday and is scheduled to last three days to end on Thursday.
Earlier, the three-member bench dismissed a preliminary objection made by the prosecution led by Sri Ram over the stay application, and proceeded to hear the applications put forward by her counsels Datuk Jagjit Singh and Datuk Akberdin Abdul Kader.
However, after hearing their submissions, the bench delivered its decision at 4:05pm to dismiss Rosmah's stay application.
Three graft charges and challenge of Sri Ram's appointment 
Last Feb 18, Justice Mohamed Zaini Mazlan ordered Rosmah, 69, to enter her defence when he ruled that the prosecution had proven a prima facie case against her following the testimony of 23 prosecution witnesses.
The wife of former prime minister Datuk Seri Najib Razak was charged with soliciting a RM187.5 million bribe out of the RM1.25 billion project that was awarded to then Jepak Holdings Sdn Bhd from the latter's managing director Saidi Abang Samsudin between January and April 2016, through her aide Datuk Rizal Mansor.
She also faces two charges of receiving a total of RM6.5 million — RM1.5 million and RM5 million, respectively — from Saidi between Dec 20, 2016 and Sept 7, 2017 at her official residence in Seri Perdana, Putrajaya and her private residence in Jalan Langgak Duta here.
Despite having been called to enter her defence in February, Rosmah's appeal for Sri Ram to produce his fiat was heard by the appellate court where the bench led by CoA's Justice Datuk Suraya Othman directed the prosecution to produce the letter of appointment for the former Federal Court judge.
After the fiat was provided to the defence, Rosmah applied to formally declare the trial a nullity as Sri Ram's appointment fiat was made on Aug 19, 2020 by Attorney-General (A-G) Tan Sri Idrus Harun, when Sri Ram already led the prosecution when Rosmah was first charged in November 2018.
However, former A-G Tan Sri Tommy Thomas affirmed an affidavit saying he had verbally issued a directive to appoint Sri Ram as a senior DPP to prosecute Rosmah earlier. Idrus also signed another letter of appointment to Sri Ram dated July 12 this year, but backdated the appointment to May 21, 2021.
Justice Zaini, in his decision last week, ruled that Sri Ram's appointment as a senior DPP by Thomas was validly done under Section 376(3) of the Criminal Procedure Code (CPC).
Section 376(3) refers to the power of the A-G to appoint fit and proper persons to be DPPs and who may be designated as senior DPPs.
"I therefore see no necessity to address the validity of the first written fiat of Datuk Seri Gopal Sri Ram's appointment under it, which is the essence of the applicant's application. This has become a moot point as I found Datuk Seri Gopal Sri Ram's appointment by Tan Sri Tommy Thomas under Section 376(3) CPC to be valid.
"In my view, there is no necessity for the first nor the second written fiat to be issued. It follows that the applicant's application for declarations, among others, that the validity of the first written fiat of Datuk Seri Gopal Sri Ram's appointment as a senior DPP and for the trial to be declared a nullity must fail," Justice Zaini said as he read out his ruling.
On Monday, after the appellate court dismissed the prosecution's preliminary objection, both Jagjit and Akberdin argued that the stay should be granted as they claimed there were serious questions concerning Sri Ram's fiat in prosecuting their client.
However, Sri Ram pointed out that in Najib's case, the Federal Court had ruled that a nullity is not considered a special circumstance.
Read also:
Rosmah asks lawyers to appeal to Federal Court after bid to stay graft trial dismissed 
Rosmah fails in bid to recuse Gopal Sri Ram, nullify trial proceedings
Rosmah ordered to enter defence over solar graft trial; witnesses may include Najib
Tan Choe Choe & Lam Jian Wyn