This article first appeared in The Edge Malaysia Weekly, on September 3, 2018 - September 09, 2018.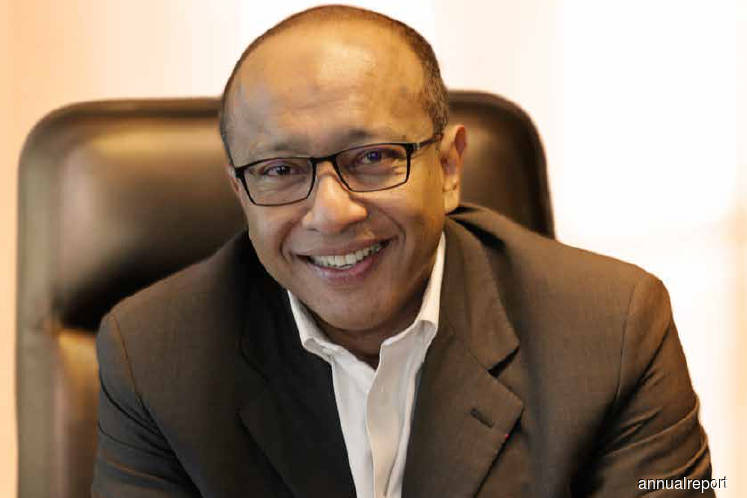 SAPURA Energy Bhd's RM4 billion cash call — involving a rights issue of Islamic convertible preference shares (ICPS) and new ordinary shares sweetened by free detachable warrants — is seen as an effective medicine but is nevertheless a bitter pill to swallow.
"The medicine is bitter but is likely to be very effective," says CGS-CIMB, noting that the capital-raising exercise is necessary for Sapura Energy to get back on its feet and take advantage of the nascent upturn in oil and gas capex spending.
The securities firm is advising its clients to accumulate more shares, taking advantage of the share price plunge to "ride the cyclical O&G capex recovery".
True enough, the medicine proved too bitter for the investing fraternity. Sapura Energy's share price nearly halved after the announcement of the cash call on Aug 24, diving to a record low of 34 sen last Wednesday compared with 60 sen during the announcement.
Sapura Energy's share base is set to increase from six billion shares to almost 16 billion, and further to 19.37 billion after the conversion of the RCPS and warrants.
Generally speaking, cash calls are never popular, but it is not just that. Sapura Energy's shareholders might also be puzzled why founder and CEO Tan Sri Shahril Shamsuddin has not subscribed to the full entitlement of the two rights issues.
Shahril is committed to taking up RM300 million worth of the rights issue of ordinary shares (entitlement: RM479 million and RM157 million worth of ICPS).
Shahril and his brother, Datuk Shahriman Shamsuddin, hold 16.81% of Sapura Energy through Sapura Holdings Sdn Bhd,  which is the largest shareholder currently. But, instead of investing more money in the company, the brothers will see their shareholding diluted. Their shareholding could be diluted to about 12.6% after the cash call.
In contrast, second largest shareholder Permodalan Nasional Bhd (PNB) — which is also the controlling shareholder of Malayan Banking Bhd (Sapura Energy has obtained loans from it) — has given an undertaking to subscribe for more shares and ICPS should they be unsubscribed.
The cash call is expected to succeed given PNB's support. The government-linked investment company, which holds a 12% stake, will soon become the single largest shareholder in Sapura Energy.
This is the second O&G outfit that PNB has injected substantial fresh capital into through a rights issue in the past two years. The first was Velesto Energy Bhd (formerly UMW Oil & Gas Corp Bhd), in which PNB has 62% equity interest.
This has sparked speculation that a merger between Sapura Energy and Velesto could be on the table, given their common shareholder and the fact that their businesses fit rather well.
"You are focusing on the wrong things," Shahril says frankly over the phone when contacted. "We are growing the company, so we need a lot more working capital. Our bids all need performance bonds, it (the capital-raising exercise) is for the nuts and bolts of the company. We don't want to fund the company with debt, hence, we are opting for equity now."
"This is a capital-raising exercise of a company that will take it to the next level. Other than Petronas, we are the most global Malaysian company. PNB is buying into a global O&G company at a good price," he adds.
Besides its home base, Sapura Energy has a presence in Australia, India, Mexico, Brazil, the Middle East, and East and West Africa.
Shahril brushes aside the speculation of a merger. "A merger is going down the wrong road," he remarks.
Much of the merger speculation was fuelled by Sapura Energy's announcement, which said that the recapitalisation exercise is for the group's strategic plan, which may involve the listing of its exploration and production business and "exploring a possible strategic partnership for its drilling business".
But Velesto, which owns and operates seven offshore rigs, has been bleeding losses. A partnership may seem unwise for Sapura Energy.
Meanwhile, the fact that PNB will be the controlling shareholder raises the question of whether Shahril, whose remuneration package has put him in the limelight recently, will continue to hold the reins and work as hard as before.
"What drives me is not the stake that I have, not the RM300 million (for the rights issue). This company is my life. The company outgrows the individual eventually … but that does not mean I will not be driving it … this is my life," he says.
"It's easier for us to grow once the debt is settled … Just be patient," he says.
Sapura Energy has secured RM4.5 billion worth of contracts this year, nudging its order book to RM16.7 billion. The company's tender book has grown from US$2.5 billion in FY2017 to US$7.4 billion, with additional prospects amounting to US$10.2 billion for FY2018.
As at end-April, Sapura Energy had long-term debt of RM10.90 billion and short-term borrowings of RM5.57 billion. Its cash stood at RM1.36 billion.
The RM4 billion raised will be used largely to pare down debt within four months.
The part repayment of the group's bank borrowings is expected to result in interest savings of RM190 million a year based on an interest rate of about 4.8% per annum, according to the company's announcement. The group incurred finance cost of RM227.93 million in the first financial quarter ended April 30.
For the quarter, Sapura Energy suffered a net loss of RM135.73 million from RM1.05 billion in revenue. The group's pre-tax loss was RM108.18 million, of which RM68.68 million was from its drilling division.
Also on the cards is the potential listing of Sapura Energy's exploration and production segment, which is expected to materialise by year-end. This is another move to strengthen its balance sheet.
Credit Suisse, which has an "outperform" call on Sapura Energy with a target price of 70 sen, says the "highly dilutive" cash call might seem negative on the surface.
"We believe it is necessary and will place Sapura Energy in a much better position to secure higher-quality contracts  in the sector's upcycle. More importantly, this move will keep its bankers happy and help boost Sapura Energy's bankability in the future.
"We understand that management is planning to further strengthen its balance sheet to address a larger volume of work. Sapura Energy intends to further reduce its net gearing ratio to 0.6 times to 0.7 times," says Credit Suisse.
Save by subscribing to us for your print and/or digital copy.
P/S: The Edge is also available on Apple's AppStore and Androids' Google Play.