This article first appeared in Enterprise, The Edge Malaysia Weekly, on September 11, 2017 - September 17, 2017.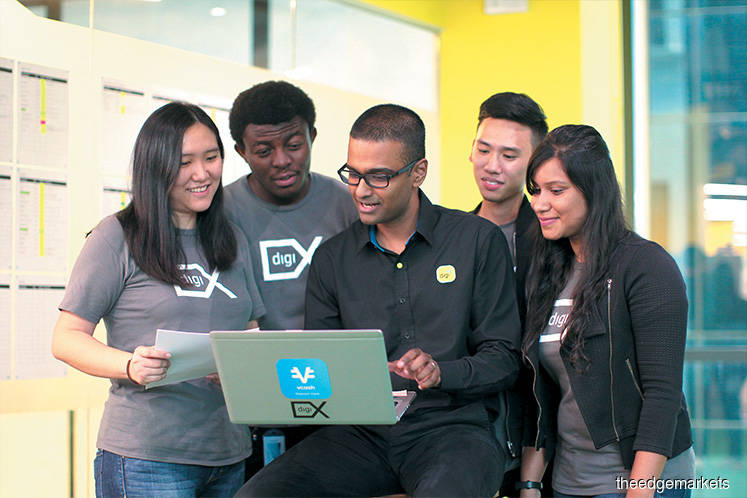 Technology is changing the telecommunications industry. Global telcos are evolving from pure commodity players into venture capital companies investing in areas such as Internet of Things (IoT) devices, vehicles and big data to ensure their survival and growth.
These companies are doing so either by stepping up their mergers and acquisitions (M&A) or launching innovation and venture capital arms. For instance, US conglomerate Verizon Communications acquired Yahoo! and Telogis over the past two years while Comcast Corp has closed more than 90 deals in the last few years, moving into cybersecurity, virtual reality and IoT.
In other parts of the world, Singapore Telecommunications, Deutsche Telekom and Telefónica have established innovation arms to identify start-ups with good potential in areas of interest. Telcos in Malaysia are no exception. DiGi.Com Bhd set up its innovation arm, DiGi-X, in June last year.
The telco has allocated some 30% of its resources to its innovation arm to accelerate the process of venturing into new businesses, says DiGi-X chief digital officer Praveen Rajan. "Our mission is very clear — to bring in new revenue."
DiGi-X represents a fundamental shift in the way the telco operates. Where before, you needed to sign up with DiGi to access any of its services, now you will be able to purchase its products regardless of the telco you are with.
"This opens up new doors for our parent company because now we can approach a wider range of customers. Later, we can probably start talking about connectivity as well," says Praveen, meaning that after it has secured customers for its services, it can promote DiGi's telecommunications services to them.
Venturing into IoT devices and e-Wallets
While he does not disclose how much the group has injected into the innovation arm, nor the revenue it is looking to generate from the start-ups it invests in, he reveals that DiGi-X has been identifying real business opportunities since last year and has settled on a few.
One such opportunity is related to connected vehicles. DiGi-X recently launched iFleet, which provides companies with free IoT devices to track their vehicles' location, speed, frequency of braking and other key information for a monthly subscription fee.
While this technology is not new, iFleet's approach is. Praveen points out that a lot of market players simply sell the hardware to customers with a limited warranty period. In addition, the pricing is not displayed online. Also, since none of them are telcos in their own right, they have to approach one for connectivity and may not get the best deal in terms of rates.
iFleet, on the other hand, does not require customers to pay for the hardware up front. It only charges a monthly fee for its use. Also, the device comes with a lifetime warranty. All prices are published on its website and customers can apply for the service online. "We believe this will encourage a lot of small and medium enterprises to subscribe," says Praveen.
The company is looking to reach out to companies with commercial vehicles, especially logistics companies. Later, it plans to move into the private vehicle market.
DiGi-X is looking to get into the e-wallet and payments market by launching its own mobile wallet. "We have not announced anything yet, but we are currently doing a pilot project. Our wallet will allow you to top up your money with us and buy things from vendors using a QR code on your smartphone. Like iFleet, this service is for everybody and you do not need to be a DiGi subscriber," says Praveen.
After launching the mobile wallet, DiGi-X aims to make it the fastest growing QR code payment service provider in Malaysia. Praveen is fairly confident because he is looking to leverage DiGi's existing resources.
"We have been providing connectivity, including internet access and SIM cards, for 60% of the payment terminals in Malaysia. If you walk into 10 restaurants, six of them are powered by our SIM cards," he says.
"We have been doing this for many years, but it is not something we openly talk about. Now, instead of just providing connectivity, we can move up the value chain by providing e-wallet and payment services."
A good start
Although the success of these products and services remains to be seen, the establishment of DiGi-X signals its parent's commitment to transform its business. DiGi is the only telco that has set up a completely different team to explore new ideas and it has taken care not to park the innovation arm directly under the group.
In the second half of last year, the telco took about 10 to 15 people out of the organisation and put them in a different box, which is DiGi-X. They were given the leeway to figure out how to go about setting up and operating the new arm.
"It was not the usual way of 'Please go and do this or that'," says Praveen. "Although we cannot break every rule, we are given a lot of autonomy to run on our own and make decisions fast. We are also measured slightly differently from the staff at our headquarters. We have different targets, different goals, and our aim is to create new businesses.
"At one end, you have the headquarters focusing on our core businesses in a very structured way. At the other, you have the start-ups. We are somewhere in between."
WHO IS PRAVEEN RAJAN?
A leader is a key success factor of any company and Praveen Rajan is not the exception to the rule. An electrical and electronics engineering graduate, he started his career at a web development agency. There he worked on, among other things, the country's first online banking portal — Maybank2u.com — which was launched in 2000.
Praveen left the agency to start his own business a few years later. He managed to raise RM2 million to set up a mobile blogging company, which allowed users to take a photo with their mobile phones and send it to an email address. The photo would then "magically" appear on their personal websites. "It was cool at the time and we provided our services to telcos as well," he says.
Praveen was one of the early users of the internet in Malaysia as his father — a journalist with national news agency Bernama — came home one day with a modem and CD and hooked it up. This was early days, when users had to install dial-up software on their desktops and connect it to a modem to access the internet.
"Our family was one of the few in our neighbourhood to have internet access because of my dad. After that, I started to learn coding and stuff. This led me to join the web development company and later start my own business," he says.
However, Praveen was probably ahead of his time as his venture did not quite work out. "We had some traction, but it was not enough to sustain the business," he says. Also, his relationship with his partner soured.
"The hardest part of the venture is getting along with people. That is why I always tell my team, if you cannot make things work with your partners, no one is going to help you solve it," says Praveen.
"I remember that at one point, my partner and I did not see eye to eye on where the company was heading. So, I left."
He knew someone at DiGi and decided to join the company for a few years. Little did he know that he would serve the company for 10 years, mainly on the marketing side, before being picked to head DiGi-X.
"At the time, I thought DiGi was pretty innovative and I liked the people. I also needed a break because I had lost money in my own business. I needed a landing ground for a couple of years. I told myself that I would stay for three years then get back out there again and start something new. I did not expect to stay until today," says Praveen.
"I think the challenge is not knowing exactly where to go next. It is more of doing my best and allowing opportunities to open up. Then, it is a matter of timing and whether I want to seize it or not."
But Praveen has always known that he wants to lead rather than follow. "When people ask me where I want to be three years from now, I always joke, 'I want to be your boss'."
And then it happened.