This article first appeared in The Edge Malaysia Weekly, on November 1, 2021 - November 07, 2021.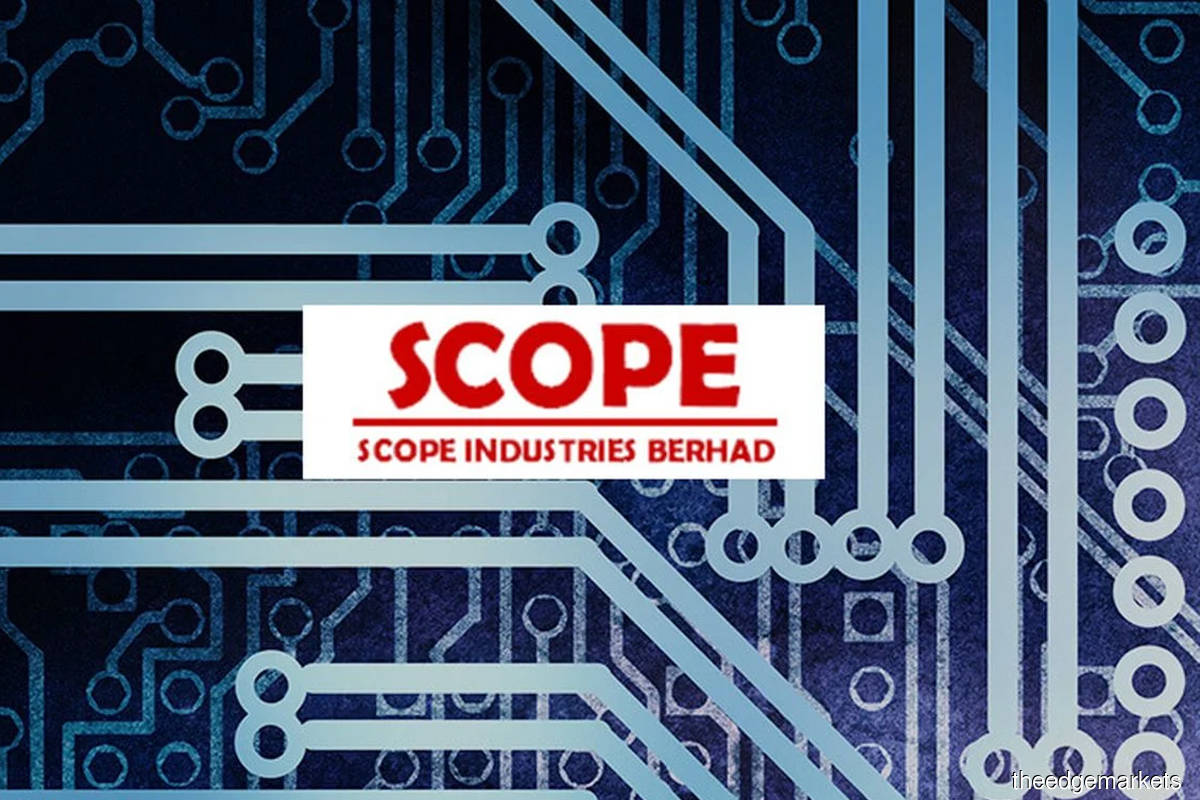 AS manufacturing sales gain traction, Perak-based Scope Industries Bhd wants to focus solely on its electronics manufacturing services (EMS) business, with plans to divest its oil palm plantation land in Sabah.
"We are trying to get out of the plantation business. We are in the advanced stage of disposal. The value will be substantial as part of the land is just next to a township. So, there is potential for property development," its executive chairman Jim Lee Min Huat tells The Edge in an interview.
Scope currently has about 4,300 acres (1,740ha) of land in Kinabatangan, Sabah. The diversification into the plantation business was undertaken seven years ago. As its plantation performance has not been very encouraging, it hopes to take advantage of the current commodity boom to sell the land at a better price. The land had a net carrying amount of RM60.36 million as at end-June 2020.
"I came from a plantation background. I thought I could do it, but the segment is not doing fantastic. Crude palm oil (CPO) prices were not good until recently. Why should we waste time? We should get back the money and do something else. I hope we are making the right decision," says 64-year-old Lee, who has been involved in property development and commodity trading for the past 20 years.
He adds that the plantation margin is not as good as that of the EMS segment.
According to Scope's annual report for the financial year ended June 30, 2020 (FY2020), 21.2% of its planted area had an age profile of more than 19 years, 38.4% between eight and 18 years, and 40.4% below eight years.
Scope, which is engaged in the trading and manufacturing of electronic components and products, especially printed circuit board assembly, has in recent years expanded into completed electrical and electronics product assembly for customers in the US, South Korea and India. Its main products include smart speakers, air purifiers and payment terminals at petrol stations. It is looking to diversify into other products such as temperature controllers.
"The electronic segment is very wide and it will continue to grow. If the retail side of the market keeps going up, then the supply of our consumer products will continue. We have been busy with job deliveries even since the Movement Control Order last year," says Lee, who is the second-largest shareholder of Scope with 7.98% equity interest after Wah Len Enterprise Sdn Bhd (8.53%).
Supported by Taiwan's Inventec
It is worth noting that most of Scope's major customers have been brought in by Inventec Appliances Corp, its third-largest shareholder with a 7.32% stake.
Inventec Appliances is a subsidiary of Taiwan-listed Inventec Corp, which manufactures computers, phones, notebooks and servers. It is also involved in cloud computing, wireless communication, intelligent devices and the Internet of Things.
In August, Inventec Appliances vice-president Hsu Ching-Chen was appointed to the board of Scope as a non-independent non-executive director.
Because of the relationship between Inventec Appliances and US-listed Sonos Inc, Scope has been supplying smart speakers to the latter in recent years.
"Sonos contributes substantially to our sales revenue. It is one of the reasons we managed to turn around," says Lee.
Scope returned to the black in FY2021 after two straight years of losses, registering a net profit of RM6.75 million against a net loss of RM28.69 million in FY2020. In FY2019, it incurred a net loss of RM4.84 million.
The bulk of its earnings in FY2021 was derived from the manufacturing segment, which saw a net profit of RM5.59 million, while the plantation segment contributed RM1.76 million.
Lee explains that the net losses were incurred during the transition period after Inventec Appliances emerged as Scope's substantial shareholder in April 2019. "We were busy when Inventec Appliances came in. It took us two years to renovate the plants and extend the existing building during the qualification period. During this period, the production lines were down and we lost sales revenue."
To cater for the strong orders, Scope is expanding its production capacity with the construction of its fourth plant in Parit Buntar, Perak, which will add an additional built-up of 154,000 sq ft, bringing the total to 299,000 sq ft.
The new capacity, with a total investment cost of about RM16 million, is expected to commence operation in July 2022. It will be funded by working capital raised from its recent rights issue, which raised RM64.81 million.
The company is keen to acquire more land adjacent to its existing plants if the opportunity arises.
Completed last July, Scope's rights issue was oversubscribed by 33.67%. Inventec Appliances showed its support by subscribing for 52.44 million rights shares, or a 4.55% stake.
"In the past couple of years, we have never failed them [Inventec Appliances]. We are spending money to build up to their requirement and they did see our commitment as well," says Lee.
Last month, Scope also proposed a bonus issue of free warrants on the basis of three warrants for every 10 shares held. Assuming the full conversion of all 346.10 million warrants at an exercise price of 30 sen per share, it will raise gross proceeds of about RM103.8 million.
As at end-June, the company's borrowings totalled RM3.6 million while its cash and bank balances stood at RM3.08 million, putting it in a net debt position of RM569,000.
With an expected improvement in earnings for FY2022, Lee believes the company will be able to transfer its listing to the Main Market in the next few years. "At the same time, we are looking for merger-and-acquisition opportunities, potentially EMS-related companies in Malaysia with which we can form business synergies," he says.
Scope was founded in 1991 by its managing director Lim Chiow Hoo, who held a 5.9% stake in the company as at Aug 30.
Scope's share price had risen 10.8% year to date to close at 36 sen last Thursday, valuing the company at RM415.32 million.