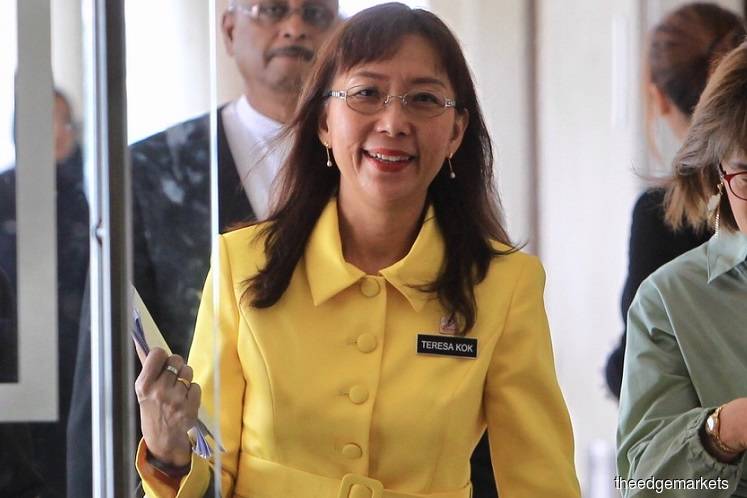 KUALA LUMPUR (Feb 26): The High Court has ordered Selangor PAS Youth Chief Syarhan Humaizi Abdul Halim to pay Seputeh MP Teresa Kok RM80,000 in damages, for the publication of an article on his Facebook account.
Justice Datuk Mohd Firuz Jaffril said the act by Syarhan, the defendant, met the three elements of defamation: that the article was referring to the plaintiff, that the article was published by the defendant, and that the words written were slander.
"I disagree with the assertion that the plaintiff's actions — her support for ICERD and her opposition to RUU 355 — show that the plaintiff is anti-Islam," said the judge.
Despite there being freedom of speech, Mohd Firuz said this freedom does not go beyond what is allowed under the law.
After considering the trend of damages awarded in similar cases, the judge said RM80,000 in general damages would be a reasonable amount, coupled with RM10,000 in costs.
"This sum of RM80,000 is not for the purpose of punishing the defendant, but rather an amount for the plaintiff to recover the damage to her reputation.
"The sum awarded is not for the enrichment of the plaintiff," said Mohd Firuz.
Lawyer K Murali, representing Kok, was present in court today, while lawyer Wan Rohimi Daud appeared on behalf of Syarhan.
Asked if the defendant intends to file an appeal against the decision, Wan Rohimi said he has yet to discuss it with his client.
"RM80,000 is a fair amount and it is considered fairly low. The judge said that the amount is not to punish the defendant but rather to allow some space for the plaintiff to recover her reputation.
"I have not discussed with my client on filing an appeal. We have 30 days to do so," he told reporters outside the courtroom.
Kok, in her suit filed on Feb 4, 2019, sought damages from Syarhan over the post on his personal Facebook page, claiming that the defendant had written and published an article implying that she was against Islam, a racist, a bigot and a dishonest minister.
She claimed that the article was bereft of the truth, vexatious, grossly negligent and malicious, and aimed to lower her esteem in the eyes of the public.