This article first appeared in City & Country, The Edge Malaysia Weekly, on August 6, 2018 - August 12, 2018.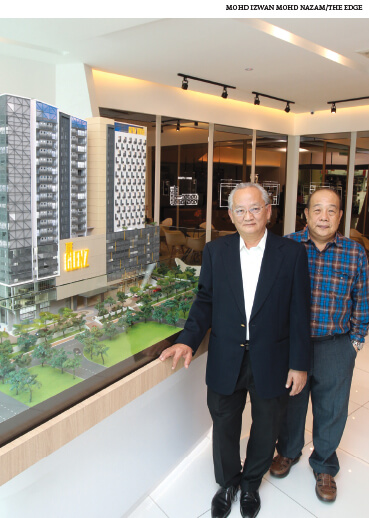 Fong (left) and Wong at The Glenz sales gallery
Founded in 1997, Sg Besi Construction Sdn Bhd was a big player in the construction industry before shifting its focus to development. Its biggest project is The Glenz, located in Glenmarie, Selangor, in Persiaran Kerjaya. The development was officially launched on Aug 3 and is slated for completion in August 2021.
In the past decade, the company has developed four smaller-scale projects, but its focus remains on construction. Clients include Infineon Technologies (M) Sdn Bhd, Maypex Ventures Sdn Bhd and Coca-Cola Bottlers (Malaysia) Sdn Bhd. After completing the RM25 million steel structure works for Sunway Putra Mall in 2016, it withdrew from construction and turned its attention to property development, co-founders and directors Fong Sui Leong and Wong Ngok Lim tell City & Country.
Currently, Fong and Wong are concentrating on The Glenz. Sitting on a 2.52-acre freehold commercial parcel, the 21-storey strata mixed-use development will comprise 430 office suites, seven 4-storey shoplots and a 130-room hotel.
"Although it is quite a small project, it is our biggest so far," Fong says.
The ground floor will have a 15,0000 sq ft space for a supermarket, he adds. "We want  people to have the convenience of being able to pick up their groceries before they go home from work so they don't have to make a special trip. With a supermarket here, they will be able to get all their shopping done before heading home. We are currently in discussion with a few supermarket operators."
The project's gross development value, excluding the 15,000 sq ft space, is about RM330 million.
The office suites will have built-ups of 485 to 1,173 sq ft with selling prices from RM412,250 to RM1.012 million while the shoplots will have built-ups of 5,328 to 6,922 sq ft for RM7.5 million to RM11.8 million.
Fong says the shoplots will be sold en bloc, and the businesses to be set up there must meet certain conditions. "Food and beverage outlets must be halal. We are trying to bring in some fast food outlets as there isn't one on the main road." Other businesses that he hopes will come in are traders such as car showrooms and lighting and interior furnishing businesses.
Sungai Besi Construction will retain the hotel, says Fong, but an operator will be brought in to manage it. "At the moment we are in discussion with a few [operators] and we are looking to finalise everything in the next six months or so."
On the eighth floor of the development will be a service deck with recreational facilities,  including a half Olympic-sized swimming pool and gym. The facilities, says Fong, will be maintained by the hotel in order to reduce the maintenance fees.
"We won't burden the owners [of the office suites] with the cost of maintaining the facilities. That will be taken care of by the hotel. However, whoever wants to use the facilities will have to pay separately, like a membership fee, but it will be priced very low," he says.
At the moment, the company is still working out the maintenance fee but Fong says it will be less than 35 sen psf.
There will be a space for conferences on the second floor of the development — which will be managed by the hotel as well — a bigger area 0f 5,600 sq ft and two smaller ones of about 1,000 sq ft each.
There will be ample parking for visitors, shoppers and workers, with one level of basement parking and seven levels of podium parking providing 1,224 parking bays. One parking bay will be allocated to office suites sized below
1,000 sq ft and two for units of 1,000 sq ft and above.
Through its strong construction background, the company has learnt which materials are long-lasting and require less maintenance. The development will not have centralised air-conditioning to avoid the additional cost of chillers. Each office suite will have a balcony with glass panels instead of a traditional railing. Fong says railings get rusty and become aesthetically unappealing after a few years.
Good location with reasonable pricing
Fong says Glenmarie is mainly an industrial area and there is a lack of commercial developments, which are more flexible and cater for many types of businesses.
The development is about 50m from an upcoming LRT3 station — Persiaran Kerjaya. "This is the only commercial project in Glenmarie that will have a LRT station so close by," says Fong.
The development is targeted at young entrepreneurs, small companies, small and medium-sized enterprises and professionals such as lawyers and doctors.
"Glenmarie is a very exclusive area and land prices are very high here. This is the only commercial building in this area, so there is no competition. Our development is priced reasonably," says Fong.
According to Metro Homes Sdn Bhd director See Kok Loong, residential and industrial developments are more common in Glenmarie.
As business these days can be conducted and connected via the internet, See says commercial developments can be located away from the city centre. With demand exceeding supply, there is always demand for commercial mixed-use developments in decentralised areas, including Glenmarie. He says it is a strategic location for businesses due to its proximity to Petaling Jaya and accessibility via several highways.
"Young professionals, start-ups and businesses would be interested in the area because everything depends on the internet [these days] and there is no need for them to have an address in Kuala Lumpur, unlike some industries such as banks and oil and gas. Furthermore, Glenmarie has several world-class golf courses and is near an airport," See adds.
Future plans
The Glenz is currently the company's only ongoing project but Fong says it is looking to develop more of its land bank next year.
"We own small pockets of land in the Klang Valley. After stabilising this project, we will move to our other land," he says.
The company is looking for more pockets of land in the Klang Valley, as well as in Penang and maybe Ipoh.
Sungai Besi Construction's first project as a developer was Melody Villa in George Town, Penang, in Lorong P Ramlee, comprising 53 apartments. "We designed it in a way that there was no need for renovation. It was very well received and we are planning to go back to Penang soon," he says.
Going forward, Fong says the company will focus on developing niche projects. "We will not take on multiple big projects. It is not our plan to jump on the bandwagon and do large projects for the mass market. We will specialise in unique developments that cater for specific markets."
The company's philosophy is quality over quantity with reasonable pricing, he adds, and an emphasis on good quality workmanship. Anything else would affect its name and branding.
On strategies to cope with the current market, Fong says every business has its risks but it must know its own products and have sufficient data. "As Sun Tzu said, 'If I know the enemy and myself, I need not fear the result of a hundred battles; I can win every battle'."