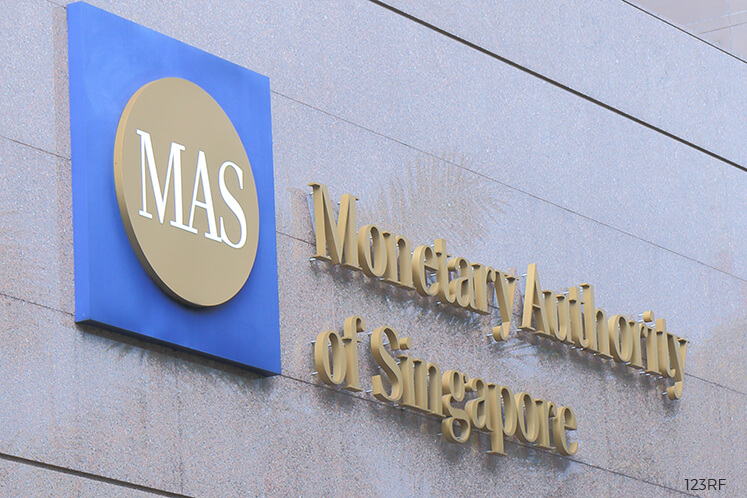 SINGAPORE (April 3): Singapore's central bank is expected to keep its exchange rate-based monetary policy settings unchanged at its April review, but some see the risk of tightening later in the year in response to rising inflation and as exports were on the mend.
Eighteen of 19 analysts in a Reuters survey predicted that the Monetary Authority of Singapore to (MAS) would keep policy steady at its semiannual review expected next week.
The MAS manages monetary policy by changes to the exchange rate, rather than interest rates, letting the Singapore dollar rise or fall against the currencies of its main trading partners within in an undisclosed policy band based on its nominal effective exchange rate (NEER).
The MAS kept policy unchanged at its previous review in October. It last eased in April 2016, its third policy easing since January 2015, when the central bank surprised with an off-cycle move after a collapse in global oil prices.
One analyst expects the MAS to ease this month, by re-centering the Singapore dollar NEER policy band lower, a move that would allow more room for the Singapore dollar to fall.
However, such easing expectations have receded since the start of the year as export growth improved and manufacturing activity surged, even as risks of global trade protectionism rose under US President Donald Trump's administration.
In a Reuters poll in January, 11 of 14 analysts had expected the MAS to stand pat in April while three predicted it would ease.
"There is very little domestic impetus for an immediate change in policy stance," said Selena Ling, head of treasury research and strategy for OCBC Bank.
"Both GDP growth and inflation are within policymakers' comfort zones."
The government's 1-3% economic growth forecast looks achievable, while a softening of the domestic labour market should allay any concerns about wage cost pass-through to consumer prices, Ling added.
The all-items consumer price index rose 0.7% in February from a year earlier, the fastest rise in about 2½ years. The core inflation rate hit a two-year high of 1.5% in January, before moderating to 1.2% in February.
While 14 of 16 analysts who gave baseline forecasts for October said they expect the MAS to stand pat, two predicted a tightening policy at that point.
"The current cyclical uptick in demand may need a few more months to trickle down to better jobs market conditions," said UOB economist Francis Tan, who expects the MAS to tighten in October by increasing the rate of appreciation of the Singapore dollar.