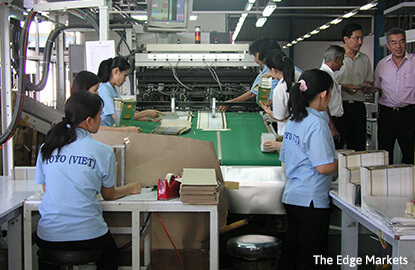 SINGAPORE (Jan 24): Singapore's industrial production in December is expected to have continued to rise on an annual basis, a Reuters poll showed, though there are doubts over the sustainability of the increase and risks to the outlook from the new U.S. administration's trade policies.
The poll of 11 analysts forecast manufacturing output in December to be up 9.5% on a year-on-year basis, according to the median forecast.
On a month-on-month and seasonally adjusted basis, however, manufacturing output is expected to have shrunk 5.8%.
In November, industrial production rose at its the fastest annual pace in 2-1/2 years, with an increase of 11.9%.
Analysts, however, are doubtful that the surge could be sustained, as the expected rise in December is seen as a seasonal pick-up in manufacturing, ahead of year-end holidays.
"We don't think this is a turnaround in the trend per se; we think this is going to be quite transitory, industrial production is going to soften going to 2017", said Mizuho Bank economist, Vishnu Varathan.
Varathan said the jury is still out on the sustainability and durability of the demand pick up, noting risks to the outlook from U.S. President Donald Trump's protectionist stance.