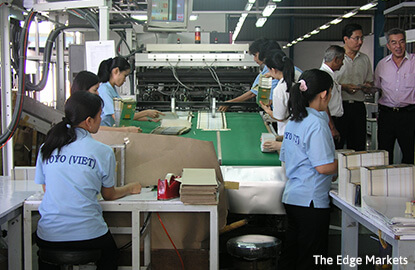 SINGAPORE (Feb 22): Singapore's industrial production in January is expected to have shrunk after a run of strong monthly rises, a Reuters poll showed, though analysts see the electronics sector extending its recent bounce.
A Reuters poll of 12 analysts forecast January industrial production to have contracted 2.6% on a month-on-month seasonally adjusted basis, after rising 6.4% in December.
Output was expected to be up 8.4% on a year-on-year basis, according to the median forecast.
"The reason why it's positive year-on-year and negative month-on-month is because December was exceptionally strong, so we saw it rising by 6.4% month-on-month and we've had two consecutive months of over 6% rise so this is a sequential correction", said Mizuho Bank economist, Vishnu Varathan.
Singapore's industrial production in December grew at the strongest pace in five years, thanks to underlying global shift toward new technologies contributing to the growth of electronics manufacturing in the city-state.
"The electronics side should still be the key driver, the issue is whether we see more broad based traction in the broader manufacturing industries beyond electronics", said Selina Ling, head of treasury research and strategy at OCBC Bank.