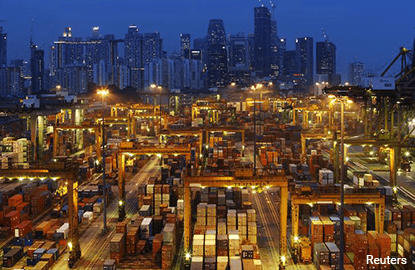 SINGAPORE (Feb 14): Singapore's non-oil domestic exports in January are expected to continue to rise year-on-year, driven by building momentum in manufacturing, a Reuters poll found on Tuesday.
Non-oil domestic exports in January were expected to have risen 7.0% from a year earlier, according to the median forecast in the survey of 11 economists.
"If we take a look at regional PMIs, China, Korea, Taiwan as well as the more advanced economies like US, Japan and even the euro zone, they are all suggesting that manufacturing is in expansionary mode", ANZ economist Weiwen Ng said, adding that "an upswing in the capex cycle" contributed to the increase.
Growth in electronics exports in particular is seen as a contributor to the rise in exports. Singapore factory output in December grew at the strongest pace in five years as electronics production surged.
Ng said electronics firms were capitalising on growth in the "internet of things" — devices connected to the internet — and the digitalisation of operations.
Singapore's exports in December rose more than expected at 9.4% from a year earlier thanks to a rise in shipments to China.
Other analysts however, say that a low base and the Lunar New Year contributed to the rise in exports.
"Part of it is that we had some pretty strong numbers and the timing of the Chinese New Year effect," said Credit Suisse economist Michael Wan. "I think some of it will moderate after we move into the first quarter of the year."
On a month-on-month and seasonally adjusted basis, non-oil domestic exports were seen down 0.7%, the poll found.
The data is due 0030 GMT on Friday.