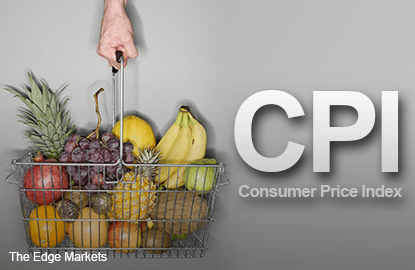 SINGAPORE (March 20): Singapore's consumer price index probably rose at the fastest annual pace in more than two years in February, a Reuters poll showed.
The poll's median was for an increase of 0.7%, compared with 0.6% in January. Economists noted that the index in February 2016 dropped 0.8% from a year earlier, so the base for comparison with last month is low.
A climb of 0.7% would be the highest since September 2014, when the index rose that much from a year earlier.
Also according to the poll, the Monetary Authority of Singapore's (MAS) core inflation measure likely increased 1.2% from a year earlier in February, compared to 1.5% the previous month.
This comes after Singapore's headline CPI in January grew at the fastest pace in two years due to increases in the prices of oil-related items and higher services inflation.
"(February figure) is just a continuation of the trend of dissipating disinflation" said Mizuho Bank economist Vishnu Varathan.
The central bank's core inflation measure excludes changes in the price of cars and accommodation, which are influenced more by government policies.
Headline CPI rose for the first time in two years in December. Now, analysts feel more positive about the economic outlook.
The city-state's economy grew stronger than expected in the fourth quarter of 2016, and export numbers are strongest in five years thanks to a sharp rebound in manufacturing in the electronics sector.
"Economic outlook has turned for the better... a turnaround, albeit still uneven, is in the making", DBS said in a research note.
Most analysts now expect Singapore's central bank to keep monetary policy unchanged at its next policy review in April.