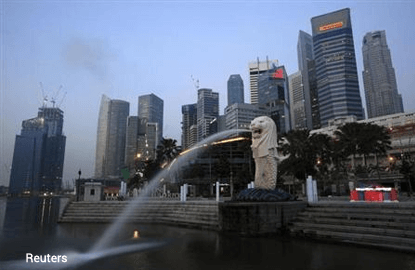 SINGAPORE (Jan 13): A rebound in Singapore's economy at the end of 2016 has reinforced expectations for the central bank to stand pat in April on hopes that its recent easings will support growth.
Eleven out of 14 economists in a Reuters survey said they expect the Monetary Authority of Singapore (MAS) to keep policy unchanged at its semiannual review in April.
One shifted from an easing call after Singapore's economy posted surprisingly strong growth in the fourth quarter and dodged a recession, helped by a surge in manufacturing.
"The outcomes of growth and inflation are pretty much in line with what the MAS expected," said Vishnu Varathan, senior economist for Mizuho Bank, seeing no compelling reason for policy easing.
Although three analysts expect the MAS to ease, two of them said the chances of easing have probably receded.
The MAS manages monetary policy by changes to the exchange rate, rather than interest rates, letting the Singapore dollar rise or fall against the currencies of its main trading partners based on its nominal effective exchange rate (NEER).
Analysts calling for an easing say the central bank will recentre the Singapore dollar NEER's policy band lower in April, which would give more room for the currency to decline.
"We believe both fiscal and monetary easing remain necessary," NatWest Markets economist Vaninder Singh said in a research note, citing factors such as weakness in services and slowing consumer demand.
"We hold this view, even before fully taking into account any possible impact on trade from the Trump administration's policy agenda."
There is heightened uncertainty around the outlook for international trade as policymakers and investors wait to see if U.S. President-elect Donald Trump carries through on his protectionist threats, when he takes office on Jan 20.
Many economists see the risk of Singapore's economy slowing further this year, after growth slipped to a seven-year low of 1.8% in 2016. Among 12 economists who gave 2017 forecasts, six expect growth of 1.4% or lower.
Currency and interest rates
One complication for MAS is that a loosening of its exchange-rate policy can add to upward pressure on domestic interest rates, as investors seek compensation for holding a weakening currency, some analysts say.
That dilemma is made more stark since U.S. interest rates are expected to rise further in 2017.
Andy Ji, currency strategist for the Commonwealth Bank of Australia, said the MAS faces a decision on whether to provide support to export-oriented sectors, or to businesses and households that would feel the pinch, if interest rates rise.
"It's still debatable whether a cheaper currency is going to help anything...given the global slowdown in trade," Ji said.
"I would be more concerned with the domestic part of the economy, construction and services," he added.
The MAS, which kept policy unchanged at its latest review in October, last eased policy in April 2016.