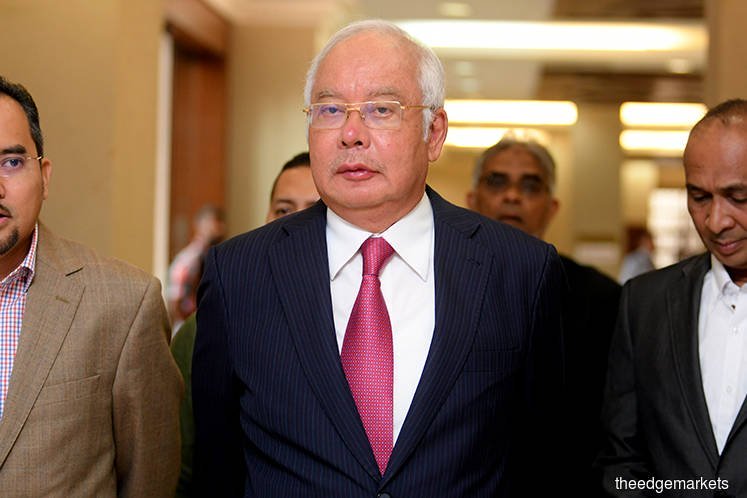 KUALA LUMPUR (April 29): It seems that oral submissions for former premier Datuk Seri Najib Razak's SRC International Sdn Bhd case have been deferred again for the second time, this time to June 1 to 3 – after Hari Raya Aidilfitri festivities.
This follows the application by Najib's defence team, led by Tan Sri Muhammad Shafee Abdullah, for an extension in handing over its written submissions, which was due yesterday, to May 15, citing the present extension of the movement control order (MCO) as the main factor.
However, according to High Court deputy registrar Mahyuddin Md Som, Justice Mohd Nazlan Mohd Ghazali only granted an extension for written submissions of up to May 5.
The prosecution had objected to the extension as submissions could be made online.
"As a result of the extension for written submissions being granted, all other dates for reply to written submissions and the other parties' reply have [also] been deferred.
"The new date for the hearing of submissions is June 1 to 3," Mahyuddin confirmed when contacted today.
It was reported on April 10 that Muhammad Shafee's firm had applied for an extension for the filing of written submissions, resulting in the deadline being pushed to yesterday, before the latest extension was granted.
The defence team closed the case on March 11, 2020 after 19 defence witnesses, including the former premier, testified.
Meanwhile, the prosecution had called 57 witnesses to testify.
Najib is facing an abuse of power charge regarding the approval of government guarantees for RM4 billion loans from Retirement Fund (Incorporated) or Kumpulan Wang Persaraan (Diperbadankan) (KWAP) to SRC, a former subsidiary of 1Malaysia Development Bhd.
He also faces three counts of criminal breach of trust involving RM42 million, and three counts of money laundering involving RM27 million and RM5 million on Dec 26, 2014 and RM10 million on Feb 10, 2015.