This article first appeared in City & Country, The Edge Malaysia Weekly, on October 31, 2022 - November 06, 2022.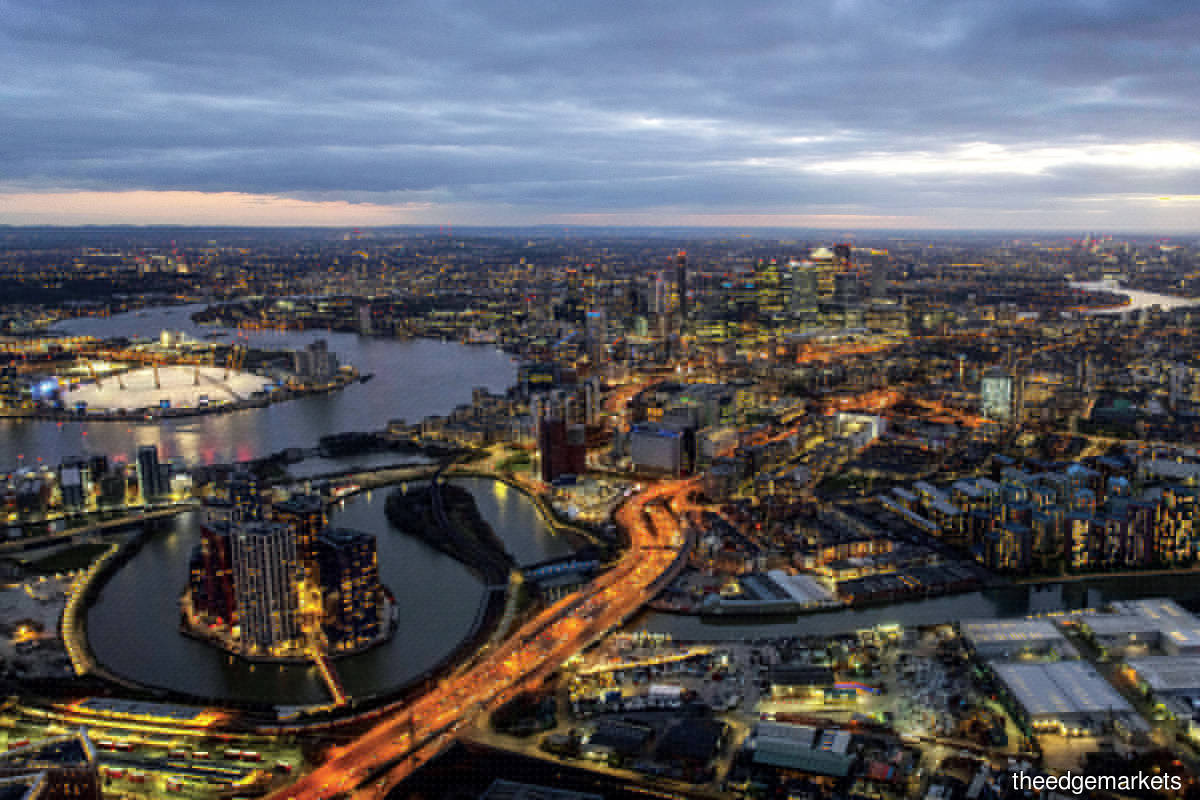 London is home to a population of over nine million, based on data from the Greater London Authority. In a bid to cater to the city's rising population, St William Homes LLP (St William), a subsidiary of Berkeley Group, is developing the 20-acre Poplar Riverside in Leven Road E14.
According to St William's representative JLL APAC sales director Anthony Jurenko, St William was formed in 2014 as a 50:50 joint venture (JV) between Berkeley Group and National Grid, the British multinational electricity and gas utility company. "Their vision is to develop sites that have been closed to the public for decades and reconnect them to the community. Today, St William is one of the largest companies in Berkeley Group's portfolio."
Poplar Riverside is on a 999-year lease starting in 2Q2024. The development will include 2,800 new homes, 90,000 sq ft of new commercial space for retailers, and a 10,000 sq ft public square called Shelduck Square.
"Poplar Riverside will be developed in phases, and Phase 1 will have nine towers and four residential projects, namely Calico House, Porter House, Bowline House and Sisal House. Phase 1 will feature 643 apartment units in total. Block 1 of Calico House comprising 156 units a take-up rate of 80%," says JLL Property Services (M) Sdn Bhd (Global Residential Agency) head of sales Chong Shu Ling.
Porter House: Riverside living
Block A1 of Porter House, which has a gross development value (GDV) of approximately £60 million (RM315.67 million), was officially launched in July this year. The 176-unit block has a take-up rate of 43%.
Porter House comprises two blocks, Block A1 and A2, with a combined 18,597 sq ft, which are expected to be completed by 4Q2025 and 2Q2026 respectively. Details for Block A2 are still being finalised.
The 14-storey Block A1 offers 75 units of one-bedroom and one-bathroom, 89 units of two-bedroom and two-bathroom, and 12 units of three-bedroom and two-bathroom apartments. The built-ups range from 503 to 1,111 sq ft, with estimated selling prices from £454,000 to £949,000. The indicative maintenance fee is estimated at £4.38 to £4.65 psf per annum.
Some units come with a private balcony. The residents' roof terrace on the second floor faces the neighbourhood's 2.5-acre landscaped park, called Leven Banks.
Jurenko says Porter House offers riverside living at its finest. "The concept is riverside living because you have a 500m river frontage and a beautifully landscaped riverside park. It offers an attractive daytime solution for tenants and residents in light of what has happened during the Covid-19 pandemic," he says.
With views of the River Lea, Leven Banks and Canary Wharf, Porter House is considered one of the most premium blocks in the township, Jurenko says.
Located within Porter House is the 16,000 sq ft Riverside Club, offering two floors of facilities including co-working space, a swimming pool, salt room, sauna, game room, cinema room and residents' lounge. The club was designed by London-based Bergman Interiors.
According to Chong, the estimated rental yield for Block A1's one-bedroom apartments is from 4.6% to 4.9%, two-bedroom apartments from 4.1% to 4.6% and three-bedroom apartments from 4.1% to 4.4%, as at early September.
Amenities abound 
Shelduck Square, located in Poplar Riverside, provides event space as well as 24-hour concierge service to tenants. Other facilities and amenities include a riverside pub, a commercial gym, a crèche, grocery stores, restaurants, cafés and retail stores.
The township will also feature over 6,000 sq ft of green space known as The Green Link. It connects to a park in Leven Banks, Shelduck Square and several gardens, providing green frontage for the cafes and restaurants.
Chong shares that St William will be building bridges across River Lea from Poplar Riverside, which are expected to be completed by 2025 or 2026, subject to third-party land owners and local authority agreements.
"There will be three bridges — the Mayer Parry Bridge, Cody Dock Cable Bridge and Poplar Reach Bridge. Walking to Canning Town station now takes [about] nine to 10 minutes. The Mayer Parry Bridge will reduce the walking time to Canning Town station. The developer will also provide residents with shuttle bus services to the station," she adds.
Chong says Poplar is an area known for its fashion and textile heritage and is home to a vibrant and creative community of independent retailers. "Poplar Works, which is adjacent to Poplar Riverside, provides more than 40 studio workspaces to independent and start-up businesses working in the fashion industry.
"Located within the Lower Lea Valley, which is currently undergoing rapid change, Poplar Riverside is well placed to benefit from the combined effect of the new Lea River Park and 2012 Olympic Legacy, which will transform this area of East London," she adds.
Poplar Riverside, which is situated in Zone 2/3, is located between Canary Wharf and Canning Town as well as on the banks of the River Lea. "In London, Zones 1, 2 and 3 are quite popular. Years ago, the government extended the area of Zone 2 and that started because of the Stratford Olympic Village, as Stratford used to be in Zone 3. So they extended Zone 2 to Zone 3, and therefore they have another category called Zone 2/3," explains Jurenko.
According to Transport for London (TfL), the government body responsible for London's transport network, London is divided into "zones" of one to nine, with Zone 1 being the city centre and Zone 9 being the outskirts. 
From Poplar Riverside, a bicycle ride to the Canning Town Underground station will take about six minutes, Canary Wharf 12 minutes and Stratford 16 minutes.
"Poplar Riverside is very close to Canary Wharf, which is one of the largest financial hubs in the world and is also home to HSBC, JP Morgan and Credit Suisse. So there are big financial [offices] very close by, which means the tenant pool is going to be very large," Jurenko adds.
Besides being located near London's financial centre, the township is also a short distance away from renowned educational institutions such as UCL's new East London campus at Queen Elizabeth Olympic Park, London College of Fashion, Queen Mary University and the Royal Ballet School.
London's other world-renowned universities, including King's College, the University of Westminster, the London School of Economics, and Central Saint Martins, can all be reached in less than an hour by the London Underground.
Shifting demands
Jurenko sees the development appealing to investors and buyers for own use. "There are also people who are buying for their children when they pursue higher education in London. If the children are still young, they (international buyers) tend to rent it out first. There have also been a lot of first-time home buyers and investors from all over the world. We've seen a complete variety of buyer profiles," he adds.
Jurenko also shares that tenants are choosing to rent new homes. "There are several factors that lead to that. We ran some numbers before and after the pandemic. JLL is constantly speaking to the tenants and occupants of buildings so we see [that] there's a large shift of [tenants] working from home."
He notes that before the pandemic, only 14% of tenants wanted to work from home at least once a week but the numbers have increased to 86% after the pandemic. "There has been that shift and large companies are offering that level of flexibility to their employees."
Chong notes that it is very easy to rent out apartments in the UK, so there is no need for guaranteed rental schemes.
She attributes the UK's lack of guaranteed rental schemes to the market's high demand and low supply of newly built residential properties, noting that developers face difficulties in receiving planning permission and approval from authorities.
Jurenko says there has been an undersupply of 323,000 homes in London in the last 10 years, and JLL forecasts an additional undersupply of 178,000 homes over the next five years. "The city needs 66,000 new homes a year but it's only delivering 40,000 [homes]," he explains.
Both Jurenko and Chong are optimistic about Porter House's future because, according to them, the London residential market will continue to appeal to international investors compared with other major cities around the world.
"As Europe's largest English-speaking city, it has a track record of strong price growth. Prices of property have gone up 198% over the last 20 years. We're expecting high rental and price growth for the next five years. The UK also has a transparent legal system, so that's really quite favourable for inventors looking to buy properties there," Jurenko concludes.