This article first appeared in Enterprise, The Edge Malaysia Weekly, on May 8, 2017 - May 14, 2017.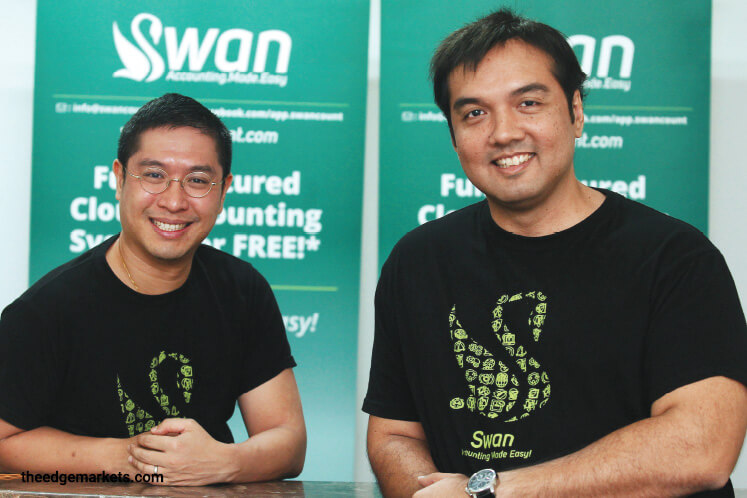 At 36, Reza Ismail sold his car and house to start something of his own. He wanted to establish an IT company that provided cloud accounting and finance software. 
But before he could do that, he needed to come up with his own products built on modern coding principles to differentiate him from his competitors in the market. He calls it multi-tenancy architecture — a new concept in Malaysia seven years ago.
"Basically, the architecture allows us to customise products according to our clients' needs. When their businesses grow, we can expand the capacity of the product so that they can continue using it, instead of buying a new product. This saves them a lot of money," says Reza. 
The concept was not only new to the general public but also those in the field. Few software developers had the expertise to do what he wanted. So, he built it himself.
And thus, Reza's entrepreneurial journey began. With only the money from the sale of his car and house to survive on, he started coding in his rented house. He worked for 18 months straight, getting only about three hours of sleep a day for the first 13 months. 
It was a gruelling life and he came close to giving up many times. But his family encouraged and supported him, so he bit the bullet and continued to code. 
He came out with his first product in that time frame and partnered Microsoft to add the cloud component to it. "I wrote five million lines of source code and I still remember all of it today," says Reza. 
His company, Rofarez Solutions Sdn Bhd, has made a few million ringgit in four years while its net profit currently runs into six figures. The CEO now has a team of eight working for him. 
He has also developed a range of products. In addition to automating the accounting and finance functions, his products can handle invoicing, billing, contact management and inventory.
One of the company's largest clients is Shell. The oil and gas giant uses its solutions to process transactions at 700 petrol stations nationwide. 
"Our company is not really big, but it is growing," says Reza. "Also, with the products and experience we have, we are now ready to promote our solutions to the market, especially the small and medium 
enterprises (SMEs)."
Turning point 
Reza recalls his turning point in 2010. One of the reasons he quit his job as a software solutions architect at a local airline was because he found the corporate culture too laid-back. He says it seemed as if people went there to retire rather than to better themselves and progress in their careers.
"The environment was so laid-back and I was so aggressive. While other people only did three projects in a given period of time, I did 12. And it was like, 'Dude, what are you doing?' The culture just did not fit me," says Reza.
Prior to that, he was a software developer manager with Mind Your Own Business (MYOB), an 
Australia-based company that provides tax, accounting and other financial services to SMEs globally. Working with its founder, Craig Winkler, Reza travelled around the world helping SMEs set up financing software and IT systems. 
The company had an aggressive corporate culture and people worked efficiently, which was right up his street. Unfortunately, MYOB merged with another company in 2006. 
"It used to be a small family-run company. But after the merger, it expanded so much and we shared offices with a lot of other people. The culture became very corporate-like and I just could not fit in," says Reza.
So, he resigned and returned to Malaysia to look for other opportunities. He worked with Transmile Group Bhd as a senior software development manager for a short while before going to Australia to start a web design and content management business with some friends.
The business failed, so he returned to Malaysia and took a job as a software developer with a local bank before joining the aforementioned airline in 2010. After leaving the airline, Reza felt lost and wondered what would happen next. 
Deep down, he knew that he wanted to start something of his own. He did not fit in at the large companies because he was an entrepreneur at heart and wanted to build his own business.
A leap of faith 
At the time, there was talk that the government would implement the Goods and Services Tax (GST) in 2014. Having worked for MYOB, Reza had witnessed how the business thrived in 2001 when the Australian government implemented GST. Finally, he thought, Malaysia was going to introduce the tax and he would have the same business opportunity.
"I learnt this from my ex-boss. He got his big break when GST was implemented in Australia. So, I thought, why don't I target the same opportunity in Malaysia," says Reza.
It was a risky bet as the GST implementation had not been confirmed despite the government announcing that it would be introduced in 2014. Also, he had a wife and children to support.
Nevertheless, Reza took a leap of faith and started Rofarez Solutions. His decision paid off and his company now provides cloud-based financing software to more than 200 SMEs and corporates locally. 
"I managed to fund myself for a couple of years from the sale of my car and house. The only thing I got from the business was the intellectual property and it is still the same now," he jokes. At the time of writing, Reza was still living in a rented house with his wife and children.
He attributes his success to his wife, Polly David, who supported him on his journey. It could not have been easy for her to see her husband jobless for 18 months and not generating any income while he spent all his time coding away at his computer and looking like a zombie.
"I was trying to build a financial software package from scratch. For about 13 months, I slept only three hours a day. My daily routine was mainly wake up, work, have lunch, work, spend time with the children, take a nap, get up and work again. I was coding all the time," says Reza.
There were times when he thought of giving up. He felt very much alone in his venture as most local software developers were clueless about the programming language he was using. 
"The programming languages I used included C Sharp, which was new. Most of the local developers did not learn it in school back then. But in Australia, you can find programmers who know the language everywhere. I took this for granted and discovered too late that it was hard to find such programmers here. By that time, I already had one foot in the business," says Reza.
He thought about giving up many times, but he also knew his idea had potential. It was just a matter of timing. Also, there was his family to think about. 
Reza decided to continue. In that 1½ years, he wrote five million lines of source code and created a brand new financing software, which today provides him a strong foundation on which to build and expand his business.
Screaming in a mosh pit 
Reza's challenges did not end after those 18 months. There were more speed bumps ahead. First, there was a lack of available funding. His nest egg was depleting rapidly and he did not have enough money to expand his business. Second, he was used to working behind the scenes as a software developer. Being in the front line was a totally different experience. 
"I was at the back-end for the last 20 years. I did not know anyone out there and had not met any investors. I was nobody, and going out and saying 'Hey, hey! Look at me!' was like putting up your hand at a rock concert," says Reza.
He met a few investors, but they were cautious and unenthusiastic. They wanted to know who he was. After all, he had appeared out of nowhere. And then, they asked about his product and clients. When he told them he had some clients, they were not impressed. Where were the others?
"Then when I brought in a few more clients, they asked about my revenue. The goalposts kept moving. It is natural for investors to be cautious about where they put their money, but it was a harrowing time for me," says Reza.
The first breakthrough came when Microsoft, which now provides the cloud platform for Rofarez Solutions' accounting and finance software, discovered him and invited him to participate in Demo Asia 2012, which was held in Singapore. It was a launchpad event for emerging technologies and trends. Companies were given the opportunity to launch their products in front of a global audience. 
"It was a big deal. Microsoft brought 14 companies to the event and I was the only one from Malaysia. I finally managed to get my first investor there — a Singaporean," says Reza.
That was when things started to happen and investments started pouring in. "I came back and said, 'Hey, I now have a Singaporean investor. Are you interested?' Suddenly, I was on a platform and finally, somebody saw me waving." 
Reza managed to secure funding from Kumpulan Modal Perdana Sdn Bhd, a venture capital firm that invests in small technology companies with high-growth potential. Cradle Fund Sdn Bhd, a non-profit agency under the Ministry of Finance, also chipped in.
He managed to secure RM1 million, which was not much. But it was enough for him to refine his products, expand the business and hire a partner to take some of the burden off him. The money was sorely needed.
New partner, old friend
David Chan, chief operating officer of Rofarez Solutions, joined the company in 2014. He is now in charge of after-sales service and assists Reza with the operations.
Chan, who comes from a sales and marketing background, says the company had already secured funding by the time he joined. "At least I could receive my salary for the next six months," he laughs.
Just like Reza, Chan took a leap of faith by joining the start-up. He did so because he had always wanted to work on something of his own rather than climb the corporate ladder.
"I came from the corporate world, where you take care of your own portfolio and stick to your job 
description. If you do that well, you will move up the ladder and get a different work portfolio. But it was not what I wanted. I was not unhappy, but I was not very happy either," says Chan.
He worked for several large organisations and SMEs before joining Rofarez Solutions as COO. He became a shareholder last year. 
On top of having a sense of adventure, it was friendship that led Chan to throw in his lot with Reza. They had attended the same college and university in Canada and were roommates as well as teammates on the football team. 
"We were defenders on the Malaysian team. We defended aggressively and we always won. We defended so fiercely that soon the Taiwanese and Hong Kongers did not dare to play with us," Chan recalls.
With his help, Reza could now focus on product development and sales. "To be fair, Reza solicited a lot of business. I came in to take on more of a supporting role. Usually, he designs and builds the solutions and I service the clients," says Chan.
"Sales are the lifeblood of any business. My main purpose is to take on as many of his tasks as possible to free him to solicit more business." 
It was not plain sailing for Chan either, partly because he was new to the industry and many of the clients were not tech-savvy. If they were located far away, he had to teach them how to use the company's software over the phone.
"You really have to go through the whole process with them — sometimes, to the extent of telling them to use 'ctrl C' to copy and 'ctrl V' to paste. When I started and was less experienced, I once spent eight hours on the phone with a client," Chan laughs.
Time to be more aggressive
Today, the partners are ready to push their products more aggressively to SMEs. That is because these business owners are very cost-conscious, says Reza.
He feels that he is offering them value for money. After all, the company's software can help SMEs streamline and automate their accounting and 
finance processes at a considerably lower price.
Reza says the lower cost is due to the utilisation of the cloud technology as SMEs do not need capital-intensive infrastructure such as a server to store and share information. The infrastructure is provided by international companies such as Microsoft and is considered highly secure. 
By doing this, SMEs can also save on manpower as they would not need to hire IT technicians to run and maintain their infrastructure or pay a third-party service to do it. "All they have to do is log in to our software and connect to the cloud by keying in the username and password. From there, they just have to key in their sales and purchases and everything will be calculated automatically. It is that simple," says Chan. 
The company's key selling point is its flexibility because of the multi-tenancy architecture. "It is like a building that has different parts and all of them are integrated. Because the parts are independent, you can always make the changes you want. You can change the walls, the roof and even the foundation," says Chan.
"Under the old principles of coding, you could maybe add a room or extend the room a little. But what you can do is so limited — unless you want to construct a whole new building."
Reza says the company's financing software is flexible and can grow together with its clients. "Say you have a grocery chain store and you have opened 10 new outlets. You can use our software. And when you expand and have 1,000 shops — even in Thailand or Indonesia — you can still use our software."