This article first appeared in Enterprise, The Edge Malaysia Weekly, on July 10, 2017 - July 16, 2017.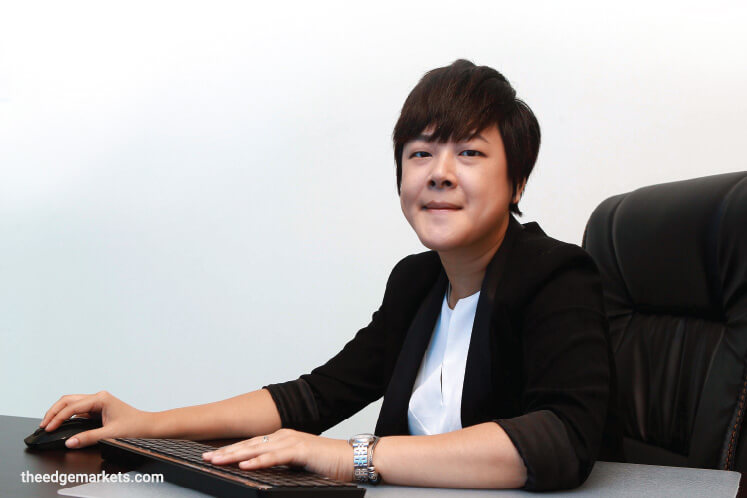 While many scientists prefer to work on their projects in a laboratory, Dr Lim Su Wen functions well both in and out of one. The 32-year-old, who has a doctorate in biosciences, oncology and cancer biology from the University of Nottingham, has built a business by figuring out what patients actually need and delivering it to them in the most cost-effective way.
"I have always wanted to translate scientific breakthroughs into marketable products so that people can benefit from our work. But the decisive moment that pushed me into the business world was when the father of a close friend of mine passed away," says the founder of Oncode Scientific Sdn Bhd.
He had been suffering from cancer. As this was her area of expertise, Lim was asked to talk to distinguished oncologists about treatment options and help motivate the patient. She saw just how helpless a family could be in such a situation.
"Like most families of cancer patients, this family tried different treatments until they ran out of options. Finally, an oncologist suggested that a genetic test may provide new insights into treatment options. Back then, the test was only available in the US and it cost about RM27,000. They decided to go ahead, but it was too late. He passed away barely a year after he was diagnosed," Lim recalls.
Her devastated friend berated her for not telling the family about the test earlier, believing that it could have saved her father. Lim felt so bad and sorry for her friend, as well as other families who had to endure similar traumatic journeys, that she decided to do something about it. Bringing the genetic test to Malaysia would be a good start.
"I am sure everyone knows someone who died of cancer. It is just too common nowadays," says Lim.
"Many of my friends consult me when they encounter medical issues, including cancer. I want to be prepared. If we build the facilities and develop the tests here, making them easily accessible and more affordable, we may be able to provide the best solutions to cancer patients."
Lim founded Oncode in July 2015. The company currently outsources tests to companies in countries such as the US or Australia, but it is set to offer a range of tests for cancer patients next month, many of which are the first to be launched in the country.
"Oncode does precision medicine. It is also known as genetic profiling or molecular diagnostics. In a nutshell, we screen the genetic profile of a patient and annotate which drugs are most effective and what they are significantly resistant to," says Lim.
This could address the distress of patients, who have to try one drug after another without knowing what the outcome would be. Currently, if a cancer patient shows no response to or suffers terrible side effects from a particular drug, the doctor prescribes another drug, without knowing whether it would work.
"More often than not, cancer patients suffer more because of the side effects from the treatment and the weakening of their immune systems after repeated cycles of non-targeted treatments than from the disease itself," says Lim.
"Most cancer drugs — including chemotherapy and targeted therapy — target certain mutations in the genes. Why not rule out drugs that will have insignificant response and start with one that will ensure high sensitivity for the patient? If we are going to proceed with something that decides the fate of our lives, we should map out guidelines with some tests instead of doing it blindly."
Oncode's target clients are clinicians at public and private hospitals as they are the ones who order tests for their patients. Lim says the team also deals with patients who come directly to the company through word of mouth.
"We will advise clinicians on the type of tests that a patient needs to do, based on his or her clinical background and previous pathology reports. Some patients may only need to do a single gene test while others may require a panel of gene tests. It depends on individual cases and the previous treatments the patient has undergone," she says.
Some of the services that Oncode will launch next month include liquid biopsy, next-generation sequencing (NGS), real-time and standard polymerase chain reaction (PCR) as well as microsatellite instability and fragment analysis.
"Liquid biopsy is the use of blood for genetic tests. We will look into the cell-free tumour deoxyribonucleic acid (DNA) that is present in the blood of a patient. It is minimally invasive as it only involves blood taking," says Lim.
"This approach is useful when tissue biopsy — using the tissue for genetic tests — is inaccessible. It is impossible to perform tissue biopsy under certain circumstances, for instance, when the tumour is embedded too deep inside an organ or when the patient's condition does not allow it."
Moreover, liquid biopsy is useful for disease monitoring. Lim says resistance or new mutations may occur when a particular drug is used on a patient for a certain length of time. The patient may stop responding to a drug after long use of it.
"By finding out the resistance or new mutations that the tumour cells acquire, the problem could be resolved by switching to another appropriate drug according to the tumour profile. Doctors will be able to target the root cause of a certain disease throughout the treatment process," she says.
There are some situations when a panel of genes are tested to ensure a complete understanding of a certain disease. Lim says this is when NGS comes into play.
"Most diseases, including cancer, are caused by genetic mutations in several genes. It is rare that only one or two genes are responsible for the occurrence of cancer, except for breast or ovarian cancer.
"Therefore, by screening the genetic profile of the relevant genes, one would know which mutations to target, or possibly which combination of drugs to use. Furthermore, it would map out a list of highly sensitive drugs for patients and rule out the high-resistance ones."
Depending on the different tests, the company provides standard, real-time and digital PCR. It is a technique used to focus on a segment of DNA and copy it billions of times.
Medical expenses often cost an arm and a leg. Lim says the price of Oncode's tests varies. A single gene test is about RM1,000 while panel tests may cost several thousand ringgit. More complicated tests cost more than RM10,000.
"It is more economical to do it in-house. Patients could expect our prices to be one-third to one-fifth what it would cost to outsource the tests," she says.
Cheaper does not mean a compromise in quality. Lim says the company is setting up a world-class precision medicine centre. Its laboratory construction and workflow will be based on proper clinical requirements, such as the ISO 15189 — an internationally recognised standard for quality management system requirements particular to medical laboratories — and Good Laboratories Practice, set out by the Organisation for Economic Cooperation and Development, to ensure the generation of high-quality and reliable test data related to the safety of industrial chemical substances and preparations.
"We were not accredited previously as we only outsourced the tests. We will attain these accreditations after we launch our in-house tests and operate for a certain period. All the tests that we will offer will be subject to internal and external validations prior to launching to ensure accuracy and reliability," says Lim.
"Although these accreditations and tests are expensive, we are committed to them as we will not compromise our credibility. We want to make sure that our services are on par with international accredited laboratories as we are dealing with people's lives."
Price was not the only reason she wanted to start her own company to provide these tests. She says outsourcing could never be a long-term solution due to potential issues such as delays in shipment or lost parcels, which may affect the freshness of the specimen or incur additional cost for the patients.
"Things will be so different when we have a local laboratory that handles these tests. Clinicians will be able to call us when they need an interpretation or clarification of the results. Genetic counselling will be easily accessible if patients need it. Our team of clinicians and scientists are ready to provide strong support for the clients," says Lim.
Having a local laboratory that performs these tests also means that the company can build a local precision medicine database (PMD). It will provide clinical annotations using bridge big data in molecular biology and clinical applications to deliver actual practice of individually curated medicine.
"Our own database is extremely important for reference and comparison, especially when it is a rare disease. We have been collecting patients' data for two years now. As we collect more data, the database will be stronger," says Lim.
Once the data have been acquired, the interpretation of the results, analysis and annotation are the toughest parts of the job. The company is leveraging a powerful PMD to analyse the data and generating the final report, which its pathologist will then proofread, validate, double-check and sign off on.
"The PMD will compare similar cases from around the world. It will provide critical information for us to analyse and compare. For example, it may show that 380 patients with this particular mutation have shown resistance to drug A after 12 to 15 cycles of treatment. And by switching to drug B, patients showed good response, with a 50% increased survival rate," says Lim.
"If we can gather more data, it will represent a greater section of the population and show higher accuracy. For those with rare diseases, the data may provide drastic changes to their treatment options and let them know they are not alone in the suffering."
Oncode's laboratory is fully automated, with minimal need for manual operations. This ensures higher accuracy and minimises human error. Lim says quality control procedures are designed with checkpoints at every stage of the process to guarantee precision and preserve quality.
"That said, we are also building our own laboratory information management system (LIMS) so that everything can be automated and monitored. Once the samples reach our laboratory, we will begin the sample tracking procedure," she says.
"The LIMS will monitor every process involved and notify operators about next procedure. It will also warn operators when something goes wrong as well as monitor the temperature of the lab and freezers."
All this requires a hefty investment. Lim acknowledges that this is a capital-intensive business. She has already raised a cool RM2.5 million, mainly from private investors. A huge sum was spent on the laboratory and equipment as many of the items were imported from the US and Europe.
"Our target is to raise RM8 million to RM10 million and the plan is to expand the business in stages so it will be more sustainable. Building a laboratory is very expensive as you do not want to compromise on the quality of even the smallest or most basic of equipment. Otherwise, it may lead to a catastrophe and end up costing a fortune," she says.
Business is picking up, but Oncode still spends more than it earns. Lim expects the business to break even two years after it launches its in-house test services.
"This is the nature of a diagnostic laboratory. It is tough and money-consuming in the beginning. When everything is up and running, things get relatively easier and profit grows from there," she says.
For Lim, juggling the roles of CEO, fundraiser, sales and marketing manager and scientist is challenging yet enjoyable. Her youthful looks, however, do not do her any favours in an industry where age is often equated with experience and thus, professionalism.
"Some people question my qualifications when I attend conferences or business meetings. I have to explain that I have a PhD and more than 10 years of research experience in oncology, cancer genetics and clinical diagnostics, and that I trained in Malaysia, Singapore and the UK," she laughs.
Another challenge is to raise public awareness of precision medicine. "When we started, it was new and uncommon in the country. Most people had not heard of it. We spent a lot of time organising continual medical education, exhibitions, public talks and meetings with clinicians to spread the word. We need a massive marketing effort to raise awareness," says Lim.
Oncode requires talent with a background in molecular biology, genetics, biotechnology, biomedicine, medicine, pharmaceutical science and bioinformatics. Acquiring and retaining talent is not an issue for the company, though.
"We have no problem acquiring staff as most science graduates still prefer to work in a laboratory setting, doing what they studied. However, hiring business development executives is a bit difficult as it requires the candidate to possess excellent communication and marketing skills and be well-versed in the medical jargon related to our products and services," says Lim.
Oncode has been approached by potential investors from countries such as Vietnam, Indonesia and the Philippines. Lim says the company is keen, but it has to ensure that the laboratory in Malaysia is up and running before venturing into foreign countries.
"We hope to build a good reputation before we expand into other markets. That will make penetration of a new market easier," she adds.
"We hope that what we have developed in Malaysia can benefit a larger group of people in the region. We believe healthcare should be a basic right instead of a privilege and that it should be accessible and affordable."
Oncode started with precision medicine in cancer, but will expand later to include cardiology, neurology, inherited diseases and other areas. The company aims to develop in-house tests that could be commercialised to meet the needs of clinicians. Lim also hopes to set up more satellite labs in the region.
"I am not a do-it-all wonder woman. I owe what I have achieved to a supportive family and business partners. They have walked with me through thick and thin. My friend's father who passed away before he could do the genetic test will always remind me to work harder. Being a scientist and an entrepreneur helps me bring useful tools to the people who need them," she says.