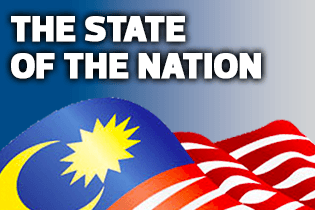 THE economy's gross domestic product (GDP) performance for the first quarter is a pleasant surprise to many as it registered a 5.6% year-on-year growth, coming in above the consensus estimate of 5.5%. It was below the 6.3% growth in 1Q2014 but this doesn't bother economists given the persistently lacklustre commodity prices, while energy prices have been weak since the second half of last year.
Data from the Department of Statistics reveals that the main driver of GDP growth in 1Q2015 had been robust domestic demand, as private consumption grew 8.8% y-o-y. This was spurred by consumers' buying spree in anticipation of the implementation of the Goods and Services Tax (GST), which kicked in on April 1.
While the 5.6% growth marks a good start for the year, it could be the best quarterly growth performance for the economy in 2015 as many expect GST to weigh on private consumption in the coming quarters.
"The 1Q GDP growth will be the highest for 2015 because of the economic distortion from the implementation of GST, where consumers increased consumption before the tax was implemented," says Affin Hwang Investment Bank economist Alan Tan.
JP Morgan says in a research report that it expects private consumption to ease this year as a result of GST, fuelled by factors such as the drop in commodity prices, tightening credit standards and softening in property prices.
"The dearth of high-frequency retail sales data makes it a challenge to track consumption but the proxy measures suggest that sentiment and consumer-related lending is slowing. That this has yet to show up in the personal consumption expenditure data is somewhat befuddling and may speak to the resilience of Malaysia's consumers," the report adds.
RHB Research Institute's Peck Boon Soon says the worst GDP growth numbers this year could be in 2Q as consumers and businesses may hold back on purchases given the frontloading of consumption in 1Q. He expects growth to stabilise in 3Q before picking up again in 4Q. But it is not expected to exceed the growth seen in 1Q2015.
Nevertheless, Bank Negara Malaysia governor Tan Sri Zeti Akhtar Aziz assures that the domestic economy is expected to be resilient and to remain on a steady growth path going forward.
GDP growth for this year is expected to remain unchanged at between 4.5% and 5.5%.
"Of course there will be some moderation in consumption [because of the introduction of GST]. But with the steady rise in income and wages, we also expect consumption to resume," Zeti said during the press conference to announce the 1Q2015 GDP numbers last Friday.
"The moderation in consumption could be from 8% to about 7% to 6%. But it is only temporary."
Robust domestic demand in 1Q2015 helped to ease the drag on net exports of goods and services, which contracted 10.2% during the quarter. Exports contracted in the first two months of the year before surprising economists by rebounding 2.3% y-o-y in March. For 1Q2014, net exports grew 8.2% y-o-y.
Affin Hwang's Tan says he was surprised by the decline in export growth, despite the healthy manufacturing sector. "If export growth doesn't pick up ahead, it could lead to higher inventory [for manufacturers] and that could lead to a slowdown in the manufacturing sector."
The sector expanded 5.6% y-o-y in 1Q2015, supported by strong production in the electronics and electrical cluster. This came above the 5.4% growth in 4Q2014 but below the 7% growth registered in 1Q2014.
Peck expects exports to be sluggish in 2Q2015 before registering stronger growth in the second half of the year.
"Exports to the US were significant in the first quarter despite the harsh winter. Europe seems to be recovering. This means that we could see improvement in exports during the second half of 2015. Same goes for Japan. But China's growth will continue to be a drag," he adds.
Meanwhile, the central bank believes the recovery in global markets will provide support to manufactured exports for the year.
The mining sector showed strong growth of 9.6% y-o-y, as production of crude oil increased by double digits on the back of a new oilfield in Sabah, which is producing 690,000 barrels per day.
Global crude oil prices have regained some ground since slumping to a low of US$46.59 per barrel in January. Since then, prices have shown some strength and even spiked to US$67.77 per barrel in April.
While this is still far from the peak of about US$115 per barrel in June last year, there have been questions on whether the recent strength in crude oil prices could lead to higher fuel prices and pose further threat to consumers who already have to deal with GST, which in turn could impact private consumption and create more inflationary pressure.
Headline inflation for 1Q2015 was lower at 0.7%, compared with 2.8% in 4Q2014, mainly due to the transport category on the back of a downward revision in domestic fuel prices.
"At the current levels of prices, we don't expect any significant adverse impact on private consumption and inflation. If crude oil prices exceed US$70 per barrel, then we will review its impact on private consumption and inflation," said Zeti.
Although inflation is expected to trend higher this year because of GST, the governor said the underlying inflation is expected to remain contained.
Peck highlights that an increase in crude oil prices would not necessarily mean an increase in pump price. He points out that in April and May, pump prices were not revised to reflect the movement in oil prices, which gained traction.
"Nevertheless, if fuel prices are increased in June, consumers will ultimately be the ones affected by these movements in oil prices," he adds.
This article first appeared in The Edge Malaysia Weekly, on May 18 - 24, 2015.