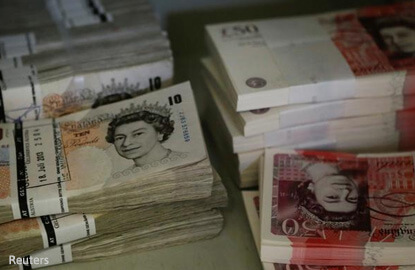 LONDON (Jan 17): The pound recovered from 3-month lows on Tuesday, rising 0.7% against a broadly weaker US dollar and 0.3% against the euro before a speech by Prime Minister Theresa May widely expected to lay out a "hard Brexit" scenario.
Options pricing suggested markets were still preparing for large swings in the pound over the next 24 hours: overnight implied volatility — which allows investors to bet or hedge against moves in the currency — was well above 20%.
Analysts from the major banks with the most data on investment flows say a lot of profit has been taken on the record-breaking bets against the pound over the past year, and official futures market numbers show short positioning is just two-thirds of that in October.
That leaves plenty of room for investors to bet against the pound on Tuesday, although early deals in London were dominated by players taking more profit on the bullish US dollar trades that have dominated the past two months.
"This (bounce) is chiefly a function of the US dollar move this morning," said Richard Benson, co-head of portfolio investment with currency fund Millennium Global in London.
"We have taken back all of the move from yesterday morning. The (May) speech has been so well telegraphed that I think people (betting against sterling) realise that is dangerous."
Sterling skidded to its lowest levels — bar a "flash crash" in October — in 32 years on Monday, hit by signs that May will say clearly Britain is set for a "hard" Brexit out of the EU single market.
The pound fell as much as 1.5% against the US dollar and 2.5% against the yen, falling to US$1.1983 and 88.53 pence per euro before making a steady recovery.
It traded at respectively US$1.2120 and 87.87 pence in morning trade in London. May is due to speak just before midday.
RBC strategist Adam Cole pointed to policy comments from Bank of England Governor Mark Carney on Monday evening as another possible factor in sterling moves.
Carney said the Bank, which has cut interest rates and pumped more money into the economy to protect it from the uncertainty around the Brexit talks, could tolerate above-target inflation but there were limits.
"Beyond politics, most other drivers are sterling-positive," Cole said, recommending betting on the pound against the euro this week.