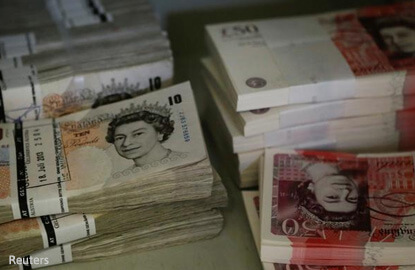 LONDON (Jan 24): Sterling pulled back after topping US$1.25 for the first time in five weeks on Tuesday, before a Supreme Court decision on the powers of parliament and Britain's devolved assemblies in upcoming Brexit negotiations.
The pound surged on Monday as investors priced in a defeat for the government in its appeal against a ruling that forces it to consult with members of parliament in Westminster before formally triggering EU exit talks in March.
The decision is due at 0930 GMT on Tuesday and is largely expected to uphold a High Court decision in November that said the government must get parliamentary approval before triggering Article 50 of the Lisbon Treaty, the formal means of exiting the bloc.
Much of the market analysis in the run-in to the decision has focused rather on the risks that the court could also give the devolved assemblies in Scotland and Northern Ireland the right to bloc the move.
"Sterling has appreciated by more than 400 pips versus the dollar since May delivered her Brexit speech last Tuesday, and we are likely to see another leg higher if the U.K.'s supreme court voted in favor of the parliament," said Hussein Sayed, a strategist with online broker FXTM.
"However, this wouldn't mean that Brexit won't come into action, it's just going to slow the process and add a few more complexities," he said. "I would consider selling a rally (in the pound) then buying the dips."
Expectations of a government loss — spreadbetter Betfair shows a 90% probability that the Supreme Court will endorse the earlier ruling — drove sterling as high as US$1.2546 in Asian trading, its highest since Dec 19.
It traded 0.5% off those highs at US$1.2473 in early deals in London — roughly where it finished the previous session. It was 0.3% weaker at 86.11 pence per euro.