This article first appeared in The Edge Malaysia Weekly, on May 16, 2022 - May 22, 2022.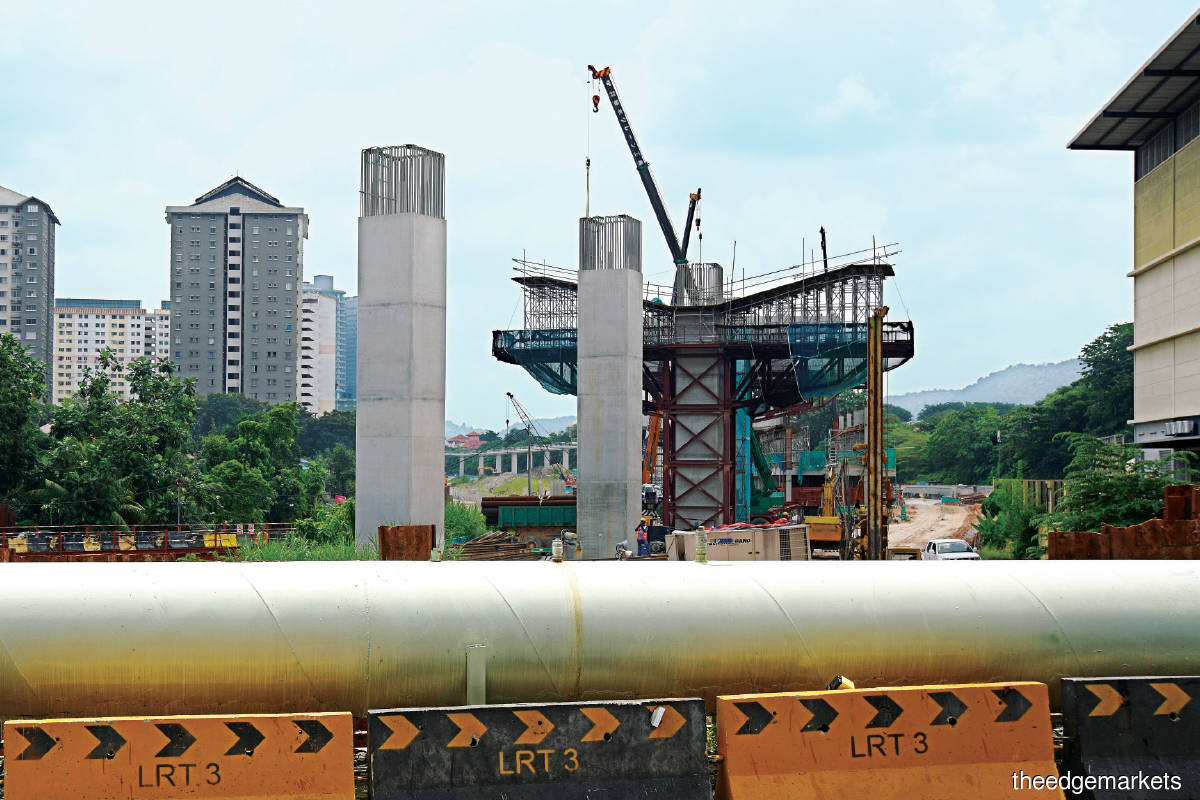 SUNWAY Construction Group Bhd (SunCon), the country's largest pure-play construction firm, is aiming to secure one of the two multi-billion ringgit civil packages in the Mass Rapid Transit 3 (MRT3) project.
According to group managing director (MD) Liew Kok Wing, if SunCon manages to clinch the Civil Package 2, which is estimated to be worth at least RM9 billion to RM10 billion, it will be the biggest contract win in its four-decade history.
"Among the five contract packages in MRT3, there will be five different winners, so each winner can only win one contract. SunCon will put some emphasis on Civil Package 2, but we will try to bid for Civil Package 1 too. Overall, I think we stand a good chance to win either one of the two packages," he tells The Edge in his first interview since taking over the helm from Chung Soo Kiong on April 1.
For perspective, construction of the 51km MRT3 Circle Line project will involve five work packages, comprising project management consultancy (PMC), three civil work packages, and one system work package.
SunCon has set its sights on the elevated portions, which include Civil Package 1 (6km elevated section plus main depot) and Civil Package 2 (27km elevated plus 1.2km ground tunnel).
Based on contract costs extrapolated from MRT2, some analysts have estimated that Civil Packages 1 and 2 are worth about RM2.5 billion and RM12 billion respectively.
The MRT3 project was recently approved by the government and the package tender for PMC was called on April 28. The tender for Civil Package 1 and 2 is anticipated to be called in June or July, with both contracts expected to be awarded by year-end.
At the MRT Circle Line Industry Briefing on April 12, MRT Corp CEO Datuk Mohd Zarif Hashim said the MRT3 project would be implemented using a model whereby the Tier 1-civil package contractors would need to finance the construction cost for the first two years.
"The one job that we are really eyeing is Civil Package 2," Liew says.
"If we assume that the winner needs to finance 10%-20% of the construction cost, that's about RM1billion to RM2 billion. If you look at the balance sheets of construction companies in Malaysia, not many players have the financial ability like us to fulfil these criteria. Therefore, I think SunCon is in a good position," he says.
A check with AbsolutelyStocks shows that SunCon is in a net debt position of RM151.4 million, with a net gearing of 0.21 times as at Dec 31 last year.
It is worth noting that the tendering consortium must have 60% bumiputera shareholding. Hence, SunCon will require a joint-venture (JV) partner for the MRT3 jobs.
"We need to identify a strong bumi partner, possibly a government-linked company. We are still exploring the options. It could be a combination of smaller bumi partners as well," says Liew, who is also SunCon's non-independent executive director.
The 53-year-old has been MD of Sunway Construction Sdn Bhd, a wholly-owned unit of SunCon, since January 2020. He began his career in 1993 as a project engineer of L&M Geotechnic in Singapore, before moving to Thailand as project manager in charge of infrastructure works for a low-rise luxury housing project in Bangkok.
Liew thinks the RM31 billion MRT3 marks a bright spark for the construction sector's recovery and is optimistic that further tender opportunities will pick up.
Besides MRT3, Liew reveals that the Bayan Lepas light rail transit (LRT) project in Penang — about 19km long and comprising 30 stations, with an estimated construction cost of RM8.5 billion — is another mega infrastructure project that SunCon is keen to pursue.
"We see continued opportunities in the continuation of large infrastructure projects for highways and rail. Based on our strong track record in constructing urban rail transit projects, such as the MRT1&2, LRT2&3 and BRT (bus rapid transit), coupled with our solid financial standing, we are well-positioned to bid for both the MRT3 and Bayan Lepas LRT projects," he says.
Earnings visibility for three years
SunCon's net profit grew 55% to RM112.58 million in the financial year ended Dec 31, 2021 (FY2021), up from RM72.78 million a year ago. The stronger earnings was attributed to the country's vaccination drive last year, which allowed faster resumption of economic activities.
Liew highlights that over the last three years, SunCon had exceeded its order book replenishment target and its outstanding order book stood at RM4.8 billion as at Dec 31 last year (see pie chart). These projects will keep the group busy in the next three years.
Meanwhile, SunCon's tender book stood at RM4 billion as at Dec 31 last year, as the group targets a minimum order book replenishment of RM2 billion to RM3 billion annually.
"Our order book of RM4.8 billion provides us with strong earnings visibility for the next three years. Domestically, we will continue to focus on in-house projects to be launched by our parent company, Sunway Bhd," he notes.
SunCon is 54.56%-controlled by Sunway, the listed conglomerate controlled by Tan Sri Dr Jeffrey Cheah Fook Ling. The prominent tycoon also owns a 10.7% stake in SunCon, held directly and via his investment vehicle Sungei Way Corp Sdn Bhd.
According to SunCon's Annual Report 2021, other top external shareholders as at April 1 included the Employees Provident Fund Board (9.18%), Amanah Saham (6.4%) and Great Eastern (3.2%).
Sunway Group's land bank currently stands at 3,334 acres with a potential gross development value of over RM59 billion, says Liew.
"These future developments play right into our strength of constructing hotels, medical centres, residential and mixed commercial developments, and will augur well to drive growth across SunCon," he adds.
With the full reopening of the economy and easing of border restrictions, many industries, including the construction industry, are facing acute labour shortage issues.
Liew says SunCon's ratio of foreign workers had reduced from 41% in 2018 to 25% currently. As at April 27, the group had about 330 directly-employed foreign workers, mostly from Indonesia.
As it will take time to fully address the shortfall in labour to meet business needs, he believes the labour shortage is likely to continue to weigh on the industry.
"Among the mitigation efforts we have undertaken is to manage the timeline of our projects with our clients and business partners, and to award contracts in smaller proportions so that our business partners can plan the work schedule in detail and allocate resources accordingly," he notes.
Succession planning a focus for the new chief
On his new role, Liew says one of his focus areas is succession planning.
"We are putting in a conscious effort to groom the next generation of leadership in SunCon and are inducting new members to ensure continuity of leadership within the key management team, as well as to give a fresh perspective to the organisation," he says.
Year to date, shares of Main Market-listed SunCon have gained about 6% to close at RM1.62 last Wednesday, giving it a market capitalisation of RM2.08 billion. The counter is currently trading at a historical price-earnings ratio of 18 times.
In a May 9 report, Kenanga Research analyst Lum Joe Shen maintains his "market perform" call on SunCon, with an unchanged target price of RM1.52.
He is of the view that the current high steel prices of RM3,400 per tonne and cement prices of RM350 per tonne will erode SunCon's margins in ongoing construction projects, more so in its precast division.
"Despite the challenges, SunCon still guides 5%-8% Ebit [earnings before interest and tax] margins for FY2022. The margin compression from high building material costs and labour shortages will be supplemented by upward margin adjustments for contracts completing this year, given that SunCon has been prudent with margin recognition for ongoing projects all this while," Lum writes.