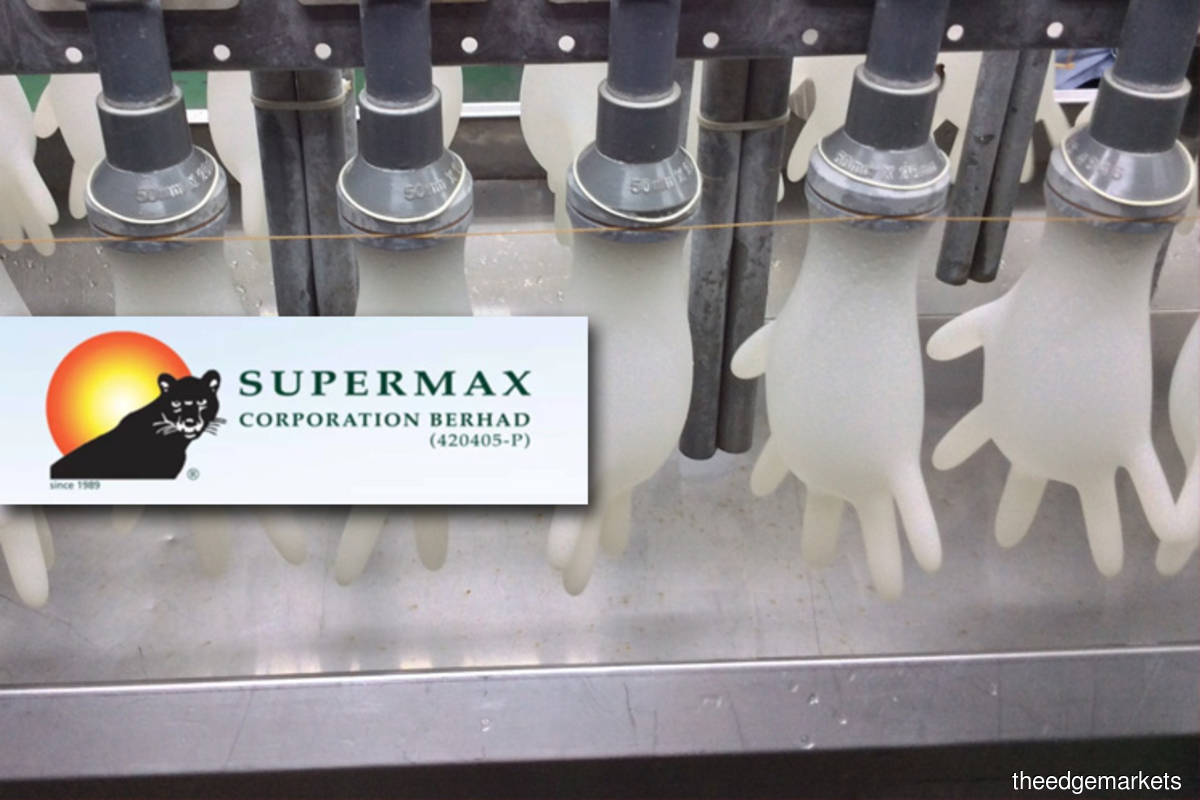 KUALA LUMPUR (Aug 27): Supermax Corp Bhd's share price rose as much as 15 sen or 4.87% to RM3.23 on Bursa Malaysia morning trade today after the rubber glove manufacturer declared yesterday a special dividend of 15 sen a share and reported a full-year net profit spike to a record high of RM3.81 billion from RM524.8 million a year earlier on Covid 19-pandemic-driven demand for gloves.
The special dividend brought Supermax's full dividends to a record high of 31.8 sen a share as investors closely watch the company's earnings against demand for gloves as a crucial personal protective equipment to curb the spread of the pandemic.
At 10.29 am today, Supermax's share price pared gains to RM3.20 after closing lower yesterday (Aug 26) at RM3.08, which is the stock's lowest closing price since May 8, 2020 when the stock finished at RM2.98.
Today, Supermax's share price at RM3.20 values the group at about RM8.32 billion based on the company's 2.6 billion issued shares.
Today, a common theme across analysts' research notes on Supemax is the expectation of declining average selling prices (ASPs) for gloves.
"Going forward, Supermax's ASPs should continue to decline due to incoming new glove supply capacity globally and slower customer buying patterns," CGS-CIMB Securities Sdn Bhd analyst Walter Aw wrote in a note today.
TA Securities Holdings Bhd analyst Tan Kong Jin wrote in a note today that despite new waves of Covid-19 globally, glove ASPs continue to be on a declining trend as more new capacity becomes available in the market.
"Meanwhile, (Supermax's) management expects the demand for gloves to remain buoyant beyond 2021 in preparation of possible more waves and increased healthcare spending budgets," Tan said.
Yesterday, Supermax reported that full-year revenue rose to RM7.16 billion in financial year ended June 30, 2021 (FY21) from RM2.13 billion a year earlier.
For the fourth quarter ended June 30, 2021 (4QFY21), Supermax said net profit rose to RM958.71 million from RM398.83 million a year earlier while revenue was higher at RM1.88 billion versus RM929.12 million.
According to Aw today, Supermax's full-year core net profit of RM3.9 billion is below CGS-CIMB's expectation of 97% of full-year forecast but above Bloomberg consensus estimate of 106% of full-year forecast.
CGS-CIMB reiterated its "hold" call for Supermax shares, with a lower target price (TP) of RM3.20 from RM3.50 previously, according to him.
"We cut our FY21-23F EPS forecast by 4.3-12.1% to account for the impact from the recent lockdown measures which led to: i) lower production volume, ii) delay in capacity expansion plans, and iii) idle costs (during the periods when it was unable to operate)," he said.
At TA Securities, Tan said Supermax's full-year RM3.81 billion net profit came in within expectations at 104.1% and 103.7% of TA Securities' and consensus forecast respectively.
"No change to our FY22-FY23 earnings estimates (for Supemax)," Tan said.
Tan said TA Securities maintained its Supermax share TP at RM2.71 with an unchanged "sell" recommendation.
Read also:
Supermax ends FY21 on strong footing, declares 15 sen special dividend