This article first appeared in City & Country, The Edge Malaysia Weekly, on July 12, 2021 - July 18, 2021.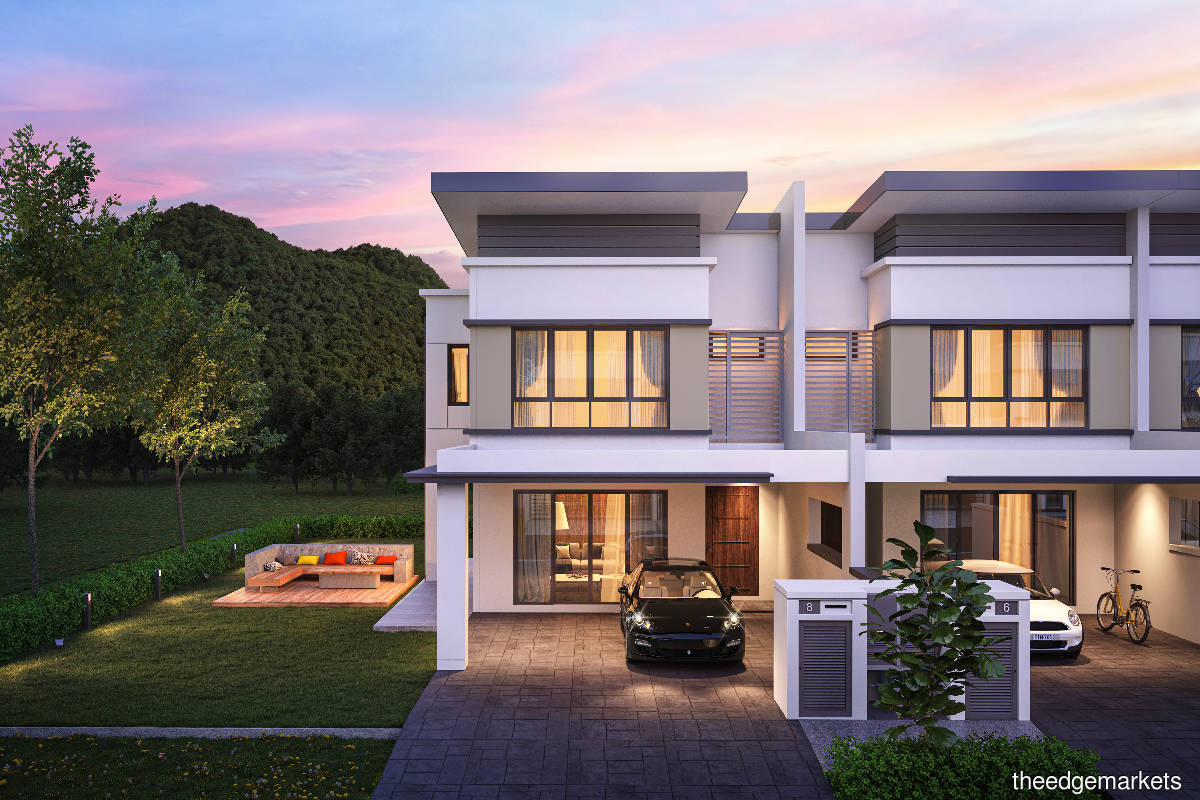 "Things are fairly alright here in Vancouver," TA Global Bhd CEO Tiah Joo Kim says in a Zoom interview with City & Country. "Despite the time difference and challenges, managing our businesses in two countries has been rather smooth; we have a great team in Kuala Lumpur." Tiah, who is also CEO of Canada-based Holborn Group, travels between Vancouver and Kuala Lumpur. 
He goes on to share the launch of the first phase of Idaman Hills in 3Q2021 and the group's plans for FY2021 and FY2022. 
Nestled near the scenic Mount Lambak, the upcoming Idaman Hills township in Kluang, Johor, will be the group's highly anticipated development for FY2021. 
"It is our chairman's (his father, Datuk Tony Tiah) hometown. As a family, we have fond memories of Kluang town. Thus, this upcoming launch is something meaningful to us," reveals Tiah.
He adds, "We would like to diversify our portfolio and bring our success back [to Kluang]. We are thrilled that we are able to bring the vision to life, and to add more vibrancy there. The development is named after [and is part of] our 'Idaman' series."
"We acquired the parcel in 2002. It is actually a forest with a deep valley. The contour of the land is not great, hence a lot of earthworks needs to be done." 
Spread over 95.16 acres, Idaman Hills has a gross development value (GDV) of RM336 million and will comprise six phases with a total of 524 residential units. The freehold township will be completed within five to eight years. 
The first phase — double-storey terrace homes called Aspen Residences — will be officially launched this month. "Aspen Residences is open for registration and we have received a good response so far," says Tiah. 
Aspen Residences 
Tiah says Aspen Residences will be suitable for "young families and upgraders who are looking for spacious homes". 
"Our primary target are owner-occupiers, followed by investors. For this launch, we are aiming for middle to upper-middle-income groups and professionals in Kluang.
"We are also aiming for professionals who work in Singapore, and those who are looking to purchase homes for retirement or investment purposes," highlights Tiah. 
Spread over 14.26 acres, the gated-and-guarded Aspen Residences has a GDV of RM37 million. The 66 double-storey terrace homes will offer "nature-inspired living" with a contemporary and green feel. 
With prices starting from RM496,800, the units will come in 4-bedroom, 4-bathroom layouts of 2,439 sq ft (intermediate) and 2,681 sq ft (corner). "Aspen Residences is located close to the green heart of Kluang district, Mount Lambak. The development offers a wealth of communal green areas and a recreational park, and is designed to reflect the lush greenery and to create an urban retreat in Kluang," says Tiah. 
He adds that residents will be able to enjoy 14 acres of dedicated green spaces in Idaman Hills. "Our family-friendly facilities there will include a tai chi plaza, children's playground, garden pavilion, community lawn, basketball court and outdoor gym." The mature Kluang town offers amenities such as banks; shopping outlets including Kluang Mall, AEON BiG, Econsave, Kluang Parade, Giant and Goodmart; as well as recreational parks such as Kluang Country Club, Mount Lambak Water Park, Kluang Recreational & Sport Centre, Kluang Stadium and Taman Tasik MPK Kluang. 
Nearby hospitals include KPJ Kluang Specialist Hospital, Kluang Hospital, Kluang Specialist Maternity Centre and Johor Maternity Specialist Centre, while educational centres include Seri Jubli International School, International Medical University Clinical Campus (IMU), SMK Canossian Convent, SMK Tengku Aris Bendahara Kluang and SMK Sultan Abdul Jalil. Other schools nearby are SMK Jalan Kota Tinggi, SMK Tinggi Kluang, Chong Hwa High School Kluang, SMK Seri Intan, SM Sains Johor (Primary School),  Sekolah Tinggi Kluang, SJKC Chong Eng and SJKT Kluang. 
Idaman Hills is easily accessible via highways, including the North–South Expressway, and is within easy reach of the railway station and bus terminal. 
TA Global aims to achieve a full take-up rate for Aspen Residences by year-end. "We are confident that the Idaman Hills project will be well received by home owners as the development has a superior location within Kluang. 
"The township is an ideal development, offering a balanced and holistic lifestyle at an affordable price. Given the superior location of the development and its price points, we strongly believe that house values will appreciate in years to come, attracting both home owners and investors to purchase our development," says Tiah. 
Plans for FY2021 and FY2022
Apart from Idaman Hills, TA Global will be focusing on its bread-and-butter products. "Generally, our development product range is in the upper-middle to high-end segments. In Kuala Lumpur, Ativo Suites @ Damansara Avenue's take-up rate is 90% and it is due for completion by end-2021, while ALIX Residences (in Dutamas) has a 70% take-up rate. ALIX Residences is currently under construction and completion is slated for end-2023," says Tiah. 
Founded in 2008, TA Global Bhd is known for developing landed residences, high-rise luxury condominiums, commercial projects and hotels in Malaysia, Australia and Canada. Some of its local projects include Idaman Residence, Ativo Plaza and Azelia Residence in Kuala Lumpur, and Damansara Idaman and Idaman Villas in Petaling Jaya. 
Tiah explains the group's strategies to overcome the current challenges: "The impact of the Covid-19 outbreak is undeniable and it will take time for the Malaysian economy to recover. The need to digitally transform has become more apparent during the pandemic. Our strategy has moved towards digitalisation to ensure that reliable information is more accessible online to increase buyers' confidence in our products and brand."
According to him, the group has benefitted from its online presence. "We have been very active in our social media to promote our products and have been finding ways to digitalise our products to appeal to our target customers. Potential buyers can attend Zoom meetings and take personalised virtual tours conducted by our sales team to have a better understanding of our products — all from the comfort of their living rooms." 
He adds, "We are also revamping our products in different location to meet demand in terms of unit size, selling price and affordability. Although we have always been focusing on the niche market segment of middle to high end, we also have plans to roll out some affordably priced properties in the near future to diversify our product offerings." 
"We place great emphasis on our products — from branding, designing and planning to marketing and selling the products to the market. Each of our products is tailor-made to suit our target audience; we ensure that each product is better than the last and is designed to meet the ever-changing customer demands in terms of practicality, value for money and sustenance," says Tiah. 
TA Global has a land bank of 710 acres, which are mostly in the Klang Valley (84%), with the remainder in Johor and other states. "Of the total, 145 acres are currently under planning and development, with a combined GDV close to RM15.5 billion. They are to be developed in the next five to 10 years," he reveals. 
Tiah also reveals more plans and launches slated for FY2022. "In light of the current pandemic, there are a lot of uncertainties in the real estate industry but we are confident that the market will become bullish again. We have many exciting plans coming up; TA Global will be launching its very own hotel brand soon, which will be recognised locally and internationally."
TA Global currently owns The Westin Melbourne and Radisson Blu Plaza Hotel in Sydney, Australia; Aava Whistler Hotel in Canada; Swissotel Merchant Court in Singapore; Swissotel Kunshan in China; Movenpick Resort & SPA Karon Beach in Phuket and Four Points by Sheraton in Bangkok, Thailand; and Aava Malacca Hotel in Melaka. 
"We are also planning to launch Ativo Annexe, which is part of the Damansara Avenue master plan, tentatively in 2022. The development will be connected to the upcoming Sri Damansara Sentral MRT station via a proposed pedestrian link bridge. 
The 15-acre Ativo Annexe, which has an estimated GDV of RM3 billion, will have components such as office and residential towers, a mall, a medical centre, serviced suites and senior living apartments. Meanwhile, the construction of the proposed link bridge connecting it to the Sri Damansara Sentral MRT station is slated to commence in the 4Q20201. 
"Our highly anticipated project in KLCC will also be launched tentatively in 2022. Known as TA3&4, the development will be located next to Menara TA One and opposite the iconic Petronas Twin Towers. It sits on 2.469 acres and has an estimated GDV of RM2.4 billion. The development will comprise two towers — 58 and 66 storeys — atop a 10-storey podium and will feature private residences, serviced apartments and a hotel," says Tiah.