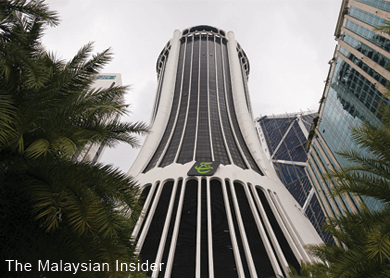 (May 12): Pilgrims' fund Lembaga Tabung Haji's sale of a piece of land it purchased for RM188.5 million from 1Malaysia Development Bhd (1MDB) merely a month after buying it, might end up with a loss due to newly-imposed tax charges, a PKR lawmaker said.
The Real Property Gains Tax (RPGT)'s revised rates, introduced in Budget 2014, means that Tabung Haji will need to pay taxes of up to 30% for the sale, not including a stamp duty fee, that would constitute between 3% to 5 % of the transaction, Rafizi Ramli said.
The PKR secretary general told The Malaysian Insider that Tabung Haji would also need to bear the legal fees for the sale, which could mean that the flip would "most probably" result in a loss for Tabung Haji.
"They have to be very transparent about the terms of the sale," Rafizi said.
Tabung Haji has said that it stood to make at least RM5 million in profit by selling the 0.63ha plot at the Tun Razak Exchange (TRX), a proposed new financial district of which 1MDB is the master developer.
The pilgrims' fund's purchase of the land in April was leaked last week and caused an uproar with depositors, whose savings with the fund are used to help them perform the Muslim haj, or pilgrimage in Mecca.
The deal was also severely criticised by leaders from both sides of the political divide, given that 1MDB's RM42 billion debt was a well-known fact, leading to speculation that the buy was a form of bailout for the government-owned investment firm that is due to service its interest payments.
Opposition members were also quick to point out that 1MDB had bought the land cheap, at RM64 per square feet (psf) from the federal government four years ago, but had sold it to Tabung Haji for the "exorbitant" price of RM2,773 psf.
Under public pressure, Tabung Haji chairman Datuk Seri Abdul Azeez Abdul Rahim (pic, left) at a press conference on Saturday said that on the advice of Prime Minister Datuk Seri Najib, the pilgrims' fund would sell the land with at least RM5 million in profit.
"We will find another land to invest in. This proves that this plot of land is not difficult to sell. We only held the title for a month and it is still profitable for us," Azeez had said, adding that there were three potential buyers being considered by the Tabung Haji board of directors.
Rafizi, however, said he did not believe that tax incentives offered for the TRX development would give any relief for Tabung Haji in its attempts to dispose of the land.
"There are tax breaks for corporate tax, but they have nothing to do with RPGT," he said.
The new RPGT rates were introduced in order to curb property market speculation.
Meanwhile, a real estate expert also said that selling the land for RM5 million more would yield "nothing" for Tabung Haji.
Zerin Properties chief executive officer (CEO) Previndran Singhe instead questioned why Tabung Haji was now selling the land which he thought was a good investment.
"I thought it was a good investment. Why do they have to sell it?" he said.
Even Azeez had earlier defended the buy, saying that Tabung Haji would have made an annual return of 9%. The original intention of developing a residential tower would have yielded a profit of RM180 million within three years, he had said.
Previndran also questioned if 1MDB did not include a "no flip clause" when selling the land to Tabung Haji.
He noted that master developers usually include a clause to prevent partners from flipping their ownership, or selling it off quickly for a profit.
Even if the no flip clause had a tenure, he added, it would normally last for at least two or three years.
Neither 1MDB nor Tabung Haji have responded to queries from The Malaysian Insider about the no-flip clause and the tax charges.
1MDB, a brainchild of Najib, currently sits on a sizeable debt of around RM42 billion and has admitted to cash flow problems in servicing its debt, while maintaining that it has enough assets to cover its debt.
Najib, who is also the Finance Minister, is chairman of 1MDB's advisory board. He has come under heavy criticism, including calls for his resignation, over the investment firm's lack of transparency.
1MDB is owned by the finance ministry and was started with RM1 million equity given by the government at the time of its inception in 2009.
Another government statutory fund, the pensioners fund KWAP, reportedly agreed to buy another parcel of land at 1MDB's TRX yesterday. According to The Star, sources said KWAP will buy the land at RM2,300 psf. – The Malaysian Insider