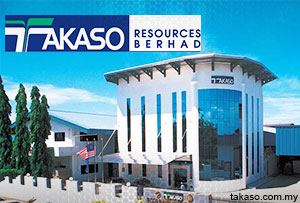 KUALA LUMPUR (Sept 29): Takaso Resources Bhd has proposed to fully acquire Dynavance Construction Sdn Bhd, which is involved in construction of superstructure work, external work and mechanical and electrical work.
Takaso, which is a condoms and baby products manufacturer,  said in an announcement today with Bursa Malaysia that it had on Sept 25 entered into a letter on intent (LOI) with Dynavance to acquire 100% equity interest in the latter.
Although the value to fully acquire Dynavance was not disclosed in the announcement, Takaso said Dynavance represents and warrants to deliver a minimum net profit after tax of RM12 million over 24 months from the completion of the sale and purchase agreement.
"The parties shall both sign a sale and purchase agreement in relation to the proposed acquisition within seven working days from the date of the LOI," it added.
Current projects in the pipeline by Dynavance include the design and construct of six blocks of low cost apartment at Rawang, with value of RM140 million.
The development in Rawang, which is named Laguna Biru, is slated to be commenced on Mar 2015 and it is estimated to be completed by May 2017.
Additionally, Dynavance is expected to complete another commercial project at Jalan Kampung Pandan, Kuala Lumpur. The project, which worth RM10.52 million, is named Elephant Gate and it is estimated to be completed by June 2015.
Projects that have been completed by Dynavance include Eastwood Terrance, Westwood Terrace and Casa Utame, with combined value of RM18.77 million, said Takaso.
The largest shareholder of Dynavance is Ong Kim Chong @ Ong Hwee Choo with 55% shareholding. Dynavance's three directors—Tan Poh Yot, Ong Kah Hoe and Ong Kah Wee each hold 15% stake in the company.
Dynavance was incorporated on Dec 17, 2003 and has commenced its business on June 2005. Apart from construction works, Dynavance also provides skill and general workmen, materials, plants and machineries.