This article first appeared in Enterprise, The Edge Malaysia Weekly, on November 11, 2019 - November 17, 2019.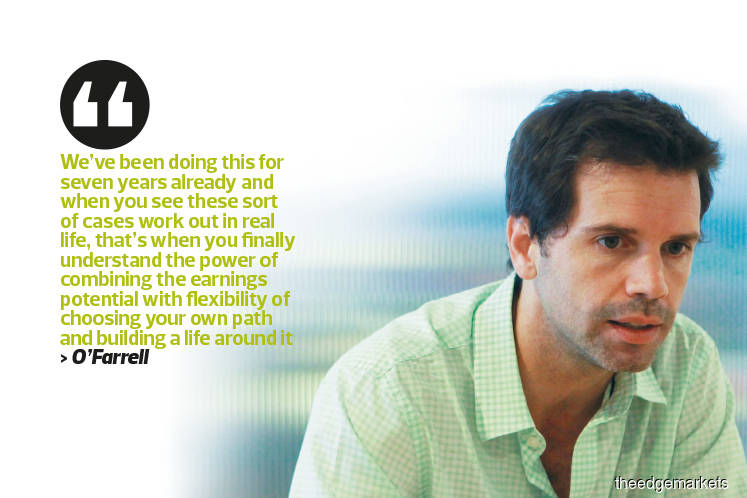 When Workana — a platform that connects freelancers with businesses — started out in Latin America in 2012, it was getting into a market that already had a number of more established companies such as Freelancer.com, oDesk and PeoplePerHour.
But co-founder Tomas O'Farrell believed it had a definite edge in the market. "What we were offering was a bit different from what most of these players were offering. We usually connect local clients with local freelancers. When we started in Argentina, we connected Argentinian clients with Argentinian freelancers. Then we went to Brazil, Mexico and Colombia, and did the same thing.
"What we found is that when companies are working with freelancers in their own language, time zone and currency, communications is a lot better. Clients are happier, freelancers are happier and rebuy rates are way higher," he tells Enterprise in an interview in Kuala Lumpur.
This is why O'Farrell thinks the company managed to become the number one remote working platform in Latin America by a very wide margin, although it was relatively late to the game.
"We realised that if it worked so well for us in Latin America, [then] the same business model would probably work somewhere else in the world."
O'Farrell and his team decided that their first port of call would be Southeast Asia, with Malaysia as the base. Why Southeast Asia? "We really liked the growth potential of the region and within that, we decided to focus on the English-speaking countries first — Malaysia, Singapore and Hong Kong — as this would be easier for us."
He says the team felt Malaysia would be the base for talented freelancers. "On a more personal note, I had a few friends who had actually lived in KL and they said I should definitely come here because Malaysians are very friendly and open, they make you feel welcome, their food is amazing and the quality of life there is very high."
The company opened its Malaysian office in April but has already signed up 10,000 freelancers from the region, 7,000 of whom are from Malaysia. "The first challenge was finding good freelancers and getting them to sign up on the platform. We were very surprised by the talent and quality of Malaysian freelancers. Their level of English is very high and the communication and client-facing side is also very good.
"We have developers, designers, writers, digital marketers … before coming here, people always said that for technical profiles, we would have to go to Vietnam and for admin[istration] assistance, to the Philippines. But we found that Malaysia has a good and interesting talent pool. They are winning projects and the clients are very happy, which for us is key."
Are these freelancers concentrating on jobs within the country or the region? "They're doing both: getting projects from Malaysian clients and other countries, mainly Singapore and Hong Kong."
Basically Workana's bet paid off. O'Farrell figured that this part of the world would be facing the same challenges as Latin America. "For starters, companies are finding it very hard to recruit talent. This is mainly because a lot of the people now entering the workforce don't really want to work full time for any employer.
"Maybe about 100 years ago, people worked for the same employer their whole lives. Then this sort of changed and people started to move around, changing jobs. But they were still working for somebody else for their entire careers."
Working for somebody else gave them two things: security, but at the cost of little flexibility or autonomy.
"What is happening now is that people are valuing independence way more. That's why you have more and more people joining the workforce, saying, 'I don't really want to work full time for somebody else. I want to be independent and work on my own'," O'Farrell points out.
But this cuts both ways, he adds, because hiring full-time staff members limits a company's options to the people who live around where the company is located. "So when you expand that scope and say, okay, instead of targeting only people that are willing to travel to, say, Mont'Kiara, for this particular position, I'm willing to open that position across Malaysia, for example, you get access to a wider talent pool.
"That's why companies started using freelancers and remote workers. They see that the talent pool and the options they have of hiring, increases tremendously," he says.
Although many people want the autonomy of freelancing, many have not succeeded in doing it on their own. "The problem with freelancing is there is a lot of friction, especially in terms of getting paid. Freelancers don't really have an accounts receivables department that can start chasing companies for payment. And they need that money to pay rent and buy stuff."
Another major complaint most freelancers seem to have is how long it takes to get paid. "Usually the larger the company, the longer the paying terms. And freelancers don't really have the cash flow to support all this."
O'Farrell says going through a platform like Workana removes that particular friction. "Because once the freelancer starts working, the client has already put in the funds for the whole project. We just hold it in escrow and once the project is completed, we release it to the freelancer. So they can just focus on the work."
The other big problem is in finding the clients. "It's always through word of mouth and you can start growing your network, but it's very slow. It's very hard and it changes dramatically depending on where you are located. If you're a freelancer living in KL, for instance, you have way more options than if you're a freelancer in Ipoh.
"Before, you had only two options: you could either pursue a challenging career, which usually meant you had to move to KL or some other place, or you could stay with your family and friends back home, but choose a different career."
With Workana, he says, they can have their cake and eat it too. "They can stay in their hometown with their friends, family and network but still have access to challenging projects and keep learning and growing their careers."
O'Farrell says most of the jobs offered on the platform are IT-based. "So developers, programmers to programme websites, to develop an app for you, do a desktop application or a plug-in, that sort of thing. The second most popular job is in design. So somebody to create a logo, a brand image, edit a video, provide images for your Facebook feed, that sort of thing.
"The other thing is digital marketing. That is, somebody to do paid marketing campaigns for you, do a social media calendar, do some SEO (search engine optimisation), things like that," he says, adding that demand for content-type services is also growing on the platform.
He points out that Malaysian companies have embraced this concept. "That is one of the things that we sort of knew, but until you test it out, you're not really sure."
Do companies here have the same challenges and the same friction; the same problems in finding talent that he saw in Latin America? Yes.
Would they be open to hiring freelancers they have never met in person? How can you trust that they will stick around the complete the project?
This is where the Workana model helps a lot. "Usually, freelancers ask for an advance of up to 30% upfront and you don't really know what is going to happen once you've paid them. We take away this uncertainty."
Basically, no money is paid until the project is completed. Then, it is paid in full.
The other headache is knowing whether the freelancer is any good. "Let's say I am an SME owner. I am not a technical person and I do not understand Java or PHP or whatever. This is similar to the experience I have going to a mechanic when my car breaks down. The guy says a pipe is broken and it's going to cost this much. And in the end, he gives me a box with greasy parts which could be from a tractor or a microwave. Most SME owners have the same feeling when they're hiring a developer, especially if they're not technical people."
O'Farrell says there is a skills rating for freelancers on Workana, so their reputation is open and public. "When a project is completed, both parties rate each other. When you start, you have no rating. You have to create your reputation. But in time, you do have one and the great thing about it is, we collect a lot of data on the freelancer. So we know what projects they excel in, which works very well in matching the client with the correct freelancer."
Obviously, one size does not fit all. "Some clients may be looking for somebody who works very quickly while others may want the best quality possible and are willing to pay top price for it. Some clients may be price-sensitive and are only looking for somebody junior and are willing to take a risk on somebody who doesn't have a strong profile yet.
"Those are three different clients that we should be able to match with three different freelancers," he explains.
O'Farrell says most SME owners are operating amid the chaos. "They are juggling so many different projects and don't have the time or resources to do certain things. So what happens is most likely they don't pursue them. They have got these ideas to test, but they don't. So they stay pretty much where they are. But they really want to keep on growing and expanding their business."
Here is where Workana comes in. "We give them a very simple, easy and low risk way of trying it out. If you go to an SME and tell them that the old model doesn't work and starting tomorrow they shouldn't have an office, everything would be remote and they would be working on their phones, they would flip out. It's too wide of a change at once.
"But if you tell them that one of their problems is that their website does not work on cellular phones and suggest they use a freelancer to make it compatible on mobile, it's an easy project to start with. So they give it a try and see how it goes and if it works well, they would be more comfortable hiring them for other jobs," he says.
Or maybe the company gets a lot of orders during weekends when they are short on staff members. "So you could hire freelancers to staff the customer service department for those time."
Another scenario has to do with social media postings. "Maybe the company doesn't do social media postings at all. So they can hire freelancers to do it and start to get more engagements, which translates into new sales and new customers."
O'Farrell's says Workana's main challenge is to educate the SMEs to figure out these win-win low-risk jobs in the beginning. "This is so they can get a taste of how it could all work. And slowly, but surely, if we do that, and if the freelancer is good and the matching is properly done, it takes off on its own."
The dealmaker is the demonstration of a clear productivity increase. "In the end, one of the things that define an SME is how quickly they can move."
He says it usually takes two to three months to hire a full-time staff member. "But when you post a project on Workana, you start getting proposals from candidates immediately. Most projects get started within 48 hours."
How does Workana make money? "We charge a commission on whatever the clients and the freelancer agree upon. We charge both sides but this actually goes down in time. The more a client and freelancer actually work together, the more our commission goes down. It starts out at 20% but, in the end, it is only 5%."
Isn't 20% a little on the high side? O'Farrell does not think so. He says when compared with an SME's hiring options, it is undoubtedly the cheapest alternative.
As for the freelancer, once they start growing and acquiring a reputation, they start to attract so much work that most of them get more than they can handle. "So they turn around and hire other freelancers to join them so they can access even bigger projects. It's a very nice cycle.
"We've been doing this for seven years already and when you see these sort of cases work out in real life, that's when you finally understand the power of combining the earnings potential with flexibility of choosing your own path and building a life around it. It's magic."
O'Farrell has his favourite stories of either clients or freelancers who have made good on the platform. For instance, there was an Android developer in Sabah who did not want to move to Kuala Lumpur or Singapore to have a challenging and fulfilling career.
"He signed up with us and now he's developing apps from Sabah. He can make a very good living and doesn't have to leave his family, his network and connections behind. So that sort of thing which promotes work-life balance or subjective wellbeing, well, it's magic."
Another case is of a Malaysian who moved to Hong Kong for a job. When he got there, he found out that it was not all it had promised to be so he quit and decided to start his own company. He found a company in Taiwan that manufactured water purification devices and decided to start selling it in Hong Kong.
"He had just arrived, he had no network and he didn't know anybody. He started hiring freelancers. He hired one to do an initial video showcasing the product, he hired another to translate the content from English to Chinese. He started all those sort of things based on freelancers and was able to launch this business very quickly.
"This guy was one of our first clients in the region," O'Farrell adds.
One thing many people are worried about is the lack of health benefits and retirement savings associated with the gig economy. While O'Farrell agrees that this is a concern and the infrastructure around this type of job needs to be worked out, he feels that there is a more immediate problem that countries such as Malaysia need to address: youth unemployment. "Freelancing gives you a good avenue for helping that."
Another thing freelancing disrupts is the way education is delivered. "Previously, you studied non-stop for like four to five years in university and then pretty much never studied again for your entire life. Now they are breaking that into different models. So instead of spending five years only studying, you learn something and test it out in real life. And as you advance in your career, you keep on with the micro courses. You keep on specialising, you keep up with what is the latest thing in the market and all those things are definitely positive."