This article first appeared in Enterprise, The Edge Malaysia Weekly, on August 5, 2019 - August 11, 2019.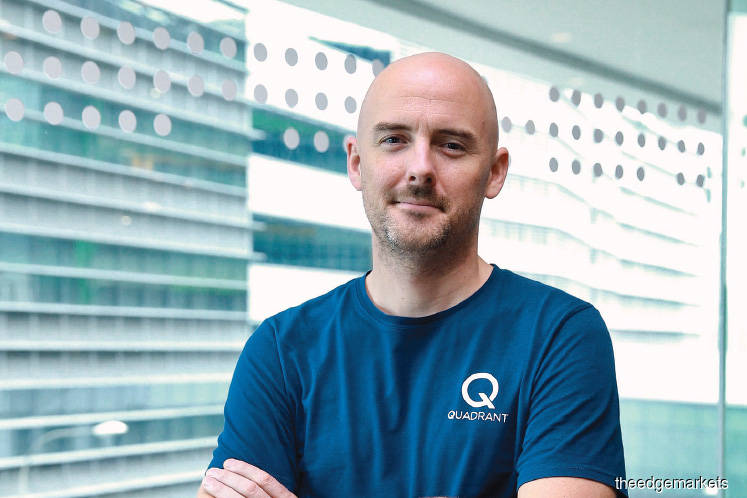 Small and medium enterprises (SMEs) should pay attention to the authenticity of the data they purchase from third-party providers to avoid making losses, says Quadrant founder and CEO Mike Davie.
He points out that some of the data collected and provided by external parties could be forged and tampered with. "Imagine that you are making a million-dollar decision based on the data. You could lose a lot of money if it is not reliable."
Many businesses in the US have lost money because of unreliable data, says Davie. "In that country alone, businesses lose US$9.7 million a year on average and have lost US$3 trillion in total. The impact of poor data on businesses is bigger in the US as the economy is more data-driven."
As founder of Quadrant — a Singapore-based company that gathers and provides location data to corporates and businesses — Davie has had first-hand experience of unreliable data. "That was back in 2017. We had a bunch of data providers, each of whom claimed to own the rights of the data they wanted to sell us. In the end, we found that the data from all these sources were identical," he says.
"How can this be? With so much data being gathered through millions of devices, it is really hard to get exactly the same results. We were sceptical of the data and knew there was a problem there."
Davie suggests that SMEs ask third-party data providers various questions to verify the authenticity of the data. "Businesses should ask data providers where they got the data from. They should avoid leadless data, or data with no clear sources. And they should ask the providers about their methodology, that is, how they know the data provided is the data you need," he says.
The government could help improve the situation by implementing rules and regulations that require businesses to specify how they obtained their data and how it will be used. The General Data Protection Regulation, which went into effect in the EU in May last year, is a good example of proper regulation.
Third-party data providers could utilise blockchain technology to record data and let their clients verify it. This is what Quadrant is doing, says Davie.
"When we take data off a device, we put it on blockchain. Our clients can use our technology to run a test and verify whether the data we collected has been tampered with. Even a small error would show up on the test. For instance, if you put a three-hour movie on blockchain, our clients would know even if a single pixel is changed," he adds.
"However, such a process would require us to constantly put data on our blockchain. And our clients would need to take the initiative to verify the data using our technology."
Reliable data is useful
When used properly, data can help SMEs grow their business and market their products and services more efficiently to the right consumers, says Davie. For instance, Quadrant did a simple analysis two years ago at Pavilion Kuala Lumpur and Suria KLCC to discover their catchment areas.
By utilising the location data, it was discovered that 15% of the people who frequented Pavilion came from a 5km radius. On the other hand, 44% came from within a 10km radius and 28% from within a 15km radius. The remaining 13% came from further away.
As for those who frequented Suria KLCC, 10% came from within a 5km radius, 34% from within a 10km radius and 34% from within a 15km radius. The other 22% came from further away.
The results showed that most of Pavilion's customers came from within a 15km radius of the shopping mall. Hence, it would need to find ways to attract customers from further away if it wanted to improve its business and compete with Suria KLCC.
"This is a simple example of what location data could help you achieve. In Malaysia, we are helping a local soft drink company to understand the number of people who frequent the convenience stores of a particular company and the behaviour of those consumers," says Davie.
He adds that the location data comes from various mobile applications. "Our main partners and data suppliers are mobile app publishers. We install a software development kit, which is essentially lines of codes, in their app to acquire users' locations.
"Some of these apps provide free services. So, monetising data is one way for the developers to generate income."
Davie says the data collected by Quadrant is associated with the advertising IDs of smartphone users and the company does not hold users' personal information. Location data is especially useful for businesses in the retail, food and beverage and tourism sectors, he adds. For instance, the owner of a hotel could leverage such data to find out who the targeted customers are before placing online advertisements.
"The business owner could find out who likes to go to hotels, beaches and resorts and advertise products and services to them. The click rate [of the advertisements] is usually higher when you target the right people. It helps you to be more cost-efficient in conducting your marketing campaign," says Davie.
New business alliances could be formed when location data shows that a partnership between two or more businesses could benefit each other and consumers, he adds. "Let's say you operate a gym and you can see what kinds of restaurants your customers frequent before and after their gym sessions. If they go to health food stores nearby, you can collaborate with some of the stores. It will be good for you and your customers."
Low awareness
However, SMEs in the region have been relatively slow to utilise data to help them improve and expand their businesses, says Davie. "The data economy, which means people trading data in the market, has been growing over the years. However, a lot of businesses in the region still do not know how to access it or what to do with it."
The market needs to be educated on this, he adds. "Businesses need to understand what kind of data they can get out there and how it can help them solve their challenges. They have to know how to access this data, authenticate it and analyse it."
Is data too expensive for SMEs and businesses in general to access? Davie does not think so. "It depends on what kind of data they want. But in general, it is affordable."