This article first appeared in The Edge Malaysia Weekly, on December 13, 2021 - December 19, 2021.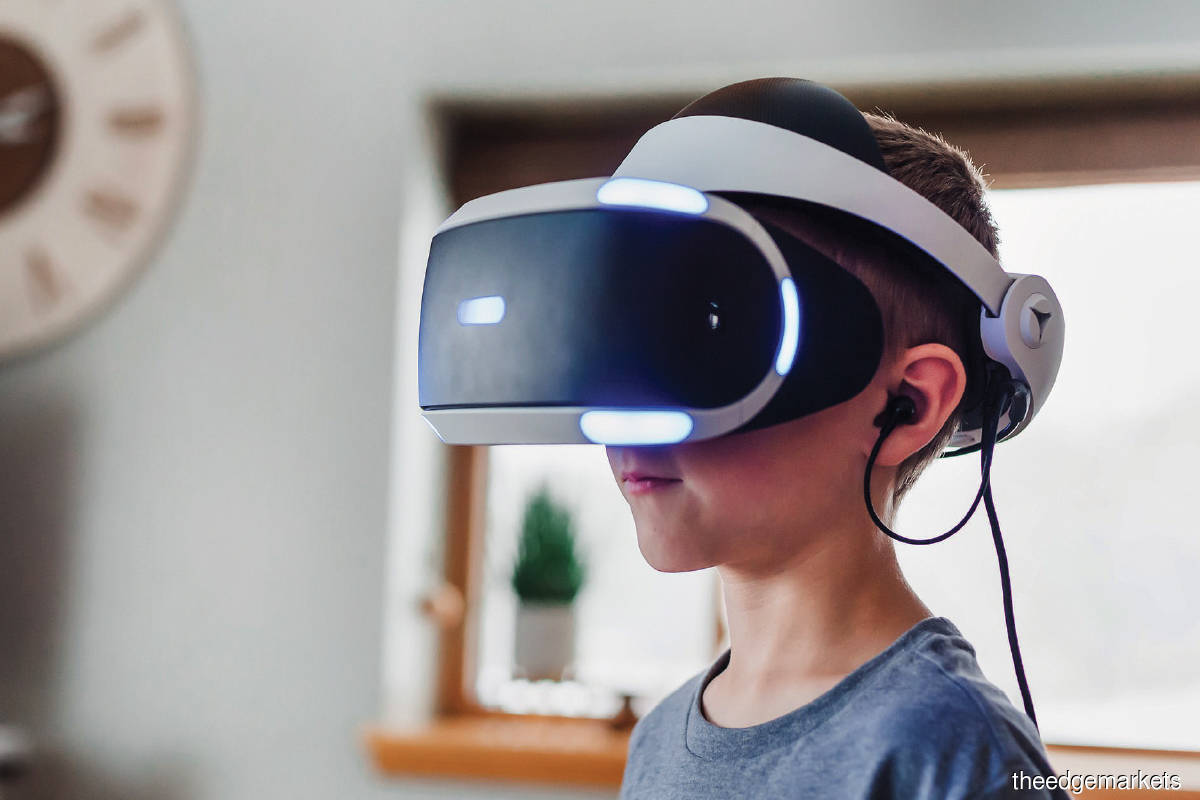 TWO months ago, I wrote in this column about the rebadging of the social media platform formerly known as Facebook. The beleaguered firm had decided that a name change might help shed its image as a toxic platform known for amplifying hate speech, fake news and for using surreptitiously gathered data to boost engagement and advertising revenues.
The key to Facebook's makeover was its pivot to the metaverse, a combination of virtual reality (VR), augmented reality (AR) and video, where users "live" within a digital universe. The term "metaverse" — a portmanteau of the prefix "meta" (meaning "beyond") and the suffix "verse" (shorthand for "universe") — was coined by Neal Stephenson in his 1992 science fiction novel Snow Crash, where humans, as avatars, interact with each other as well as with software agents, in a three dimensional, or 3D, space that uses a metaphor of the real world.
The metaverse is a key building block for the next new phase of the internet, or what some tech pundits have dubbed Web 3.0. I will not bore you with jargon or tech gobbledygook, but a way to look at Web 3.0 is to start from the beginning. Some of you are old enough to remember the pre-internet days — before we could surf the World Wide Web. Back then, our dumb phones did not allow us to access instant messaging and emails, watch movies, TV or live sports, or listen to music. In the early days of the internet, navigating information was cumbersome and excruciatingly slow. By early 2000, platforms such as Amazon and Google emerged, which made the internet easier to navigate and use. The arrival of social media a few years later, followed by smartphones pioneered by Apple Inc's iPhone, made it even easier for us to stay connected and marked the start of Web 2.0.
Now, a new Web 3.0 internet era is dawning. "The metaverse will not fundamentally replace the internet, but instead build upon and iteratively transform it," notes Matthew Ball, managing partner of venture capital firm EpyllionCo and author of the upcoming book The Metaverse: And How It Will Revolutionize Everything. He likens the Web 3.0 transition to the handover from the early internet to the current mobile internet in the aftermath of smartphones. 
Mobile internet did not change the underlying architecture of the internet, Ball notes. Indeed, the vast majority of internet traffic today, including data sent to mobile devices, is still transmitted through and managed by fixed infrastructure, he says. Yet, the mobile era is still recognised as iteratively different from the early internet. That is because the mobile internet has led to changes in how we access the internet, where, when and why, as well as the devices we use, the companies we patronise, the products and services we buy and the technologies we use. 
"The metaverse is a natural progression of the current internet," Haim Israel, head of global thematic investing for at Bank of America in Tel Aviv, tells The Edge in a recent phone interview. "We already live in the metaverse, but it is a two-dimensional, or 2D, metaverse. We are already shopping online, banking online, even socialising online."
As we move from a 2D metaverse to a more immersive, compelling experience of a 3D metaverse, Israel says we will get a lot more applications and be able to do a lot more things, just as our experience dramatically improved when we transitioned to the mobile internet nearly 15 years ago.
Unlimited opportunities
The metaverse is no pie in the sky. It is not something that might some day in the future generate revenues. If you have played video games, you have already been inside the metaverse. Those video gaming companies are already churning profits from the sale of gaming software and services. The real metaverse is much more than just Roblox, Fortnite or Minecraft or some of the other well-known versions of virtual worlds. The big money in the metaverse will not be generated if you started wearing Facebook's Oculus or HTC Corp's virtual reality headgear, which make us all look slightly goofy, but it will come from the use of the metaverse by industrial companies as well as in education and training.
Just how big is the commercial opportunity? Tech fund powerhouse Ark Invest estimates that revenue from the virtual worlds could approach US$390 billion by 2025, up from around US$180 billion this year. Bloomberg Intelligence forecasts that the total market opportunity for the metaverse will more likely be in the region of US$800 billion by 2024. It is still early days, but new use cases are emerging almost every other week that could render those forecasts as far too conservative.
"The metaverse will be as transformative and valuable as the emergence of mobile internet, and the fixed-line internet that preceded it," says Ball. "It will touch every industry and profession, enlarging or disrupting today's leaders, and leading to countless new companies and technologies."
So, what are we are likely to see as Web 3.0 or the metaverse is rolled out over the next few years? "We will need faster computing power, data storage, telecom infrastructure, cloud computing infrastructure and, of course, applications and software," notes Israel. That means huge opportunities for companies such as graphic chip maker Nvidia Corp, Unity Software Inc, Roblox Corp and Epic Games. For access to the metaverse, there will be makers of VR headgear such as Oculus and Taiwan's HTC as well as AR makers of glasses such as Apple Inc and mixed reality gear makers Amazon.com Inc and Microsoft Corp.
Edison Lee, an analyst at Jefferies & Co in Hong Kong, says: "AR is likely to be bigger than VR, but VR could materialise sooner, as it requires no 5G and there is a big gaming user base ready to migrate." 
Monetising the industrial metaverse
The most important and overlooked part of the metaverse opportunity is commerce. It is not that you and I will purchase self-driving Teslas or Apple's iCar or a driverless BMW in the metaverse, but it is companies such as Tesla Inc or BMW AG using metaverse applications to improve productivity, manufacturing processes and industrial design. The metaverse will allow companies to become more efficient, cut costs, innovate and become more globally competitive. Companies are using the metaverse to mimic production processes to see what they will look like in the real world. Right now, the only way to test the efficiency of a new assembly plant is to set it up and see how it works. Setting up manufacturing plants is not cheap. By virtually trying out different processes on the metaverse, industrial companies can save a lot of time and money. The industrial metaverse is not a moonshot, says Israel. It is taking shape now. "Over the next three to four years, we will see widespread applications across the industrial arena," he says.
Nvidia rolled out its own industrial metaverse, called Omniverse, a year ago. Omniverse gives 3D designers a shared virtual world from which they can collaborate across different software applications and from different geographic locations. Swedish telecom equipment firm Ericsson is using the Omniverse to build digital twins for its 5G networks. The company is building city-scale digital twins to help accurately simulate the interplay between 5G cells and the environment to help optimise 5G performance and coverage.
BMW recently signed an agreement with Nvidia to build a metaverse that enables it to see what future mobility will look like. Nvidia is helping other automakers reconfigure their electric vehicle (EV) plants and autonomous vehicle (AV) assembly lines. Roblox is working with South Korea's Hyundai Motor Co in the metaverse to help test new vehicles virtually. Nvidia is also working with defence equipment maker Lockheed Martin Corp on its manufacturing processes. It is also working with the US Department of Agriculture Forest Service and the Colorado Division of Fire Prevention & Control, to run simulations of wildfires with its Omniverse. Nvidia will use variables such as wind direction, topography and whatever information is available to develop a digital twin of a wildfire and predict how it will play out. Athleisure firm Nike Inc is using the metaverse to design and test new sneakers.
It is highly unlike that one company will dominate the metaverse or Web 3.0. "The big success of the internet was because it was always an open platform," says Israel. "Anyone can build a website or an app for a smartphone. Anyone can come up with their own content and services. That's what will happen with the metaverse as well.
"The metaverse is about creating experiences. It is the internet for Gen Z [people born between 1997 and 2012]. If one platform is not being updated, Gen Z will just move on. New technologies, new things will come along. The only way to rejuvenate Web 3.0 is by keeping it open."
Crypto currencies key to Web 3.0
Another important area of Web 3.0 is payments. "We will buy stuff online for use online," says Israel. If we are going to live more of our lives online and it is on an open-source platform, which can be accessed by people from all over the world, it is likely that the payment method will be digital or cryptocurrencies rather than dollars or euros or yen. "Because there is no unified global platform that everybody can agree on, it is more likely that blockchain will be the key platform," he says. Already, the main way to pay for virtual goods such as non-fungible tokens (NFTs) is cryptocurrencies (cryptos). Cryptos are the natural way to make payments in the metaverse. Everybody on earth, wherever they may live, has access to them. No one central bank controls them. And as people start using cryptos in the metaverse, it is likely to change the whole narrative around digital currencies.
How can you profit from the coming metaverse boom? You can try buying stocks that have exposure to the emerging technology. In the aftermath of Facebook's decision to rename itself Meta in late October, its shares initially surged 13%, only to fall later. Other so-called metaverse "plays" saw their own shares do the same. One way to bet on the rise and rise of the technology is buy into one of the many broad-based metaverse-focused exchange-traded funds (ETFs) that have been listed over the past six months. The biggest of them is the Roundhill Ball Metaverse ETF (ticker symbol: META), which is based on an index that was created by EpyllionCo's Matthew Ball.
Among its top holdings are Nvidia, which supplies computing power to support the metaverse and has the largest weight in the index, or more than 7%. Among other major components of the ETF are software powerhouse Microsoft, which also makes the Xbox gaming console; e-commerce giant Amazon.com, which has a growing cloud gaming footprint; the world's largest gaming firm; China's Tencent Holdings Ltd; Metaverse software firm Roblox; cloud computing services firm Fastly; and gaming engine firm Unity Software. Also on the index are Apple; Meta Platforms Inc, the social media firm formerly known as Facebook; and Singapore-based internet firm Sea Ltd.
Most of us have lived through the first two iterations of the internet. Now, the third one beckons. "The metaverse will be the biggest disruption that humans have ever experienced," says Simon Powell, an analyst at Jefferies & Co in Hong Kong. "It is a wrapper that will roll up other digital platforms." The opportunities to monetise Web 3.0 are likely to be far bigger than e-commerce, search advertising and social media, which were at the centre of the first two phases. 
Assif Shameen is a technology and business writer based in North America