This article first appeared in The Edge Malaysia Weekly, on November 1, 2021 - November 07, 2021.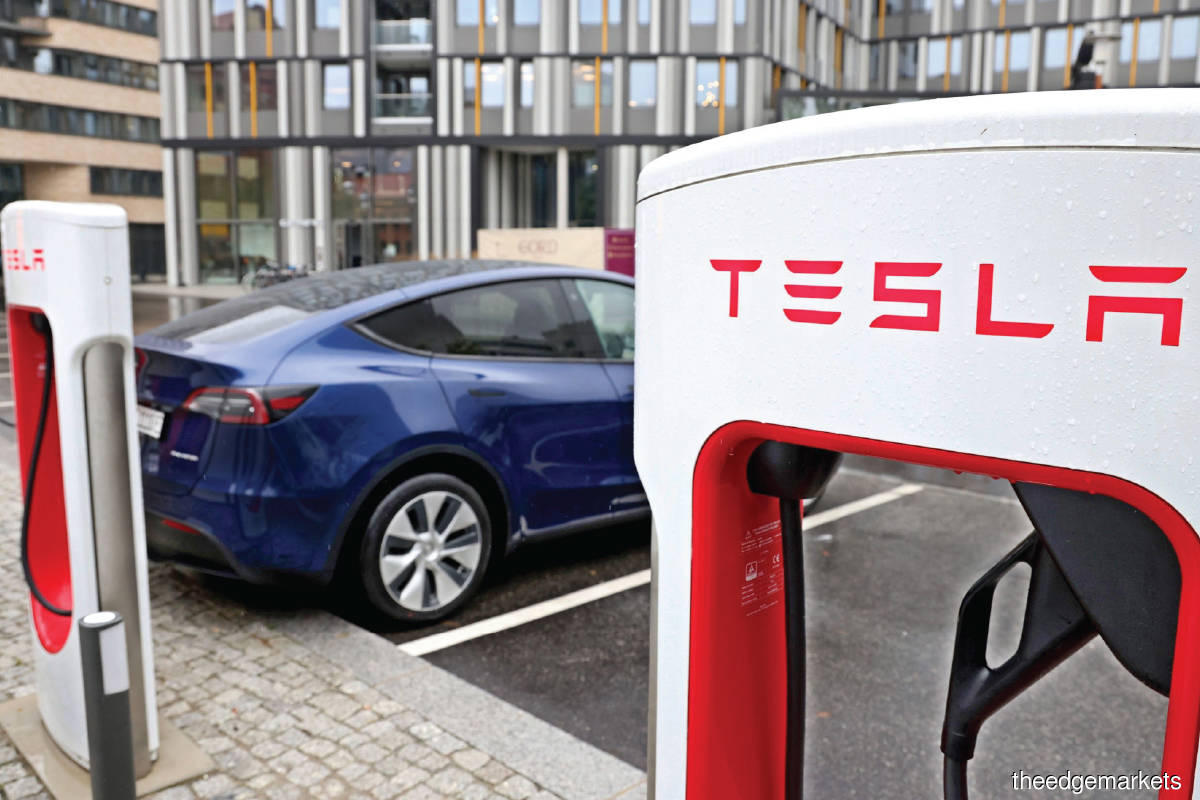 ON the morning of Monday, Oct 25, electric vehicle (EV) pioneer Tesla Inc joined Google's owner Alphabet Inc, software behemoth Microsoft Corp, iPhone maker ­Apple Inc, e-commerce powerhouse Amazon.com Inc, social media giant Facebook Inc and Saudi Arabian oil giant Saudi Aramco as only the seventh listed company to have traded with a market capitalisation of over US$1 trillion (RM4.15 trillion). A key catalyst for the whopping 14% rally that sent Tesla's stock above US$1,000 and its market value above US$1 trillion was the news that US car rental giant Hertz Global Holdings Inc would buy 100,000 Teslas at list prices by the end of next year to rent out to clients.
Hertz's huge order is seen as a sign that EVs are now finally going mainstream. Analysts expect Tesla to deliver up to a million cars this year, a 100% increase over the 499,000 units it shipped last year. In the July to September quarter, its deliveries were up 73% while the top five global automakers' were down 27% owing to a shortage of chips and other components. In 2022, as its gigafactories in Berlin, Germany, and Austin, Texas, ramp up and its Shanghai plant reaches optimal capacity, it is likely to deliver nearly 1.35 million EVs.
Global EV sales surged 160% in the first half of this year to 2.6 million despite supply chain issues and a severe shortage of semi­conductors, a key component, as well production and distribution issues due to the Covid-19 pandemic. EVs will make up just over 3% of all cars sold in the US this year and about 12% of cars sold in China, the two biggest markets.
Tesla's gradual climb from a start-up just 11 years ago to its current trillion-dollar giant status has not been smooth. Indeed, it had several brushes with bankruptcy along the way. In 2016, the company's finances were so precarious that founder Elon Musk approached Apple CEO Tim Cook to explore the possibility of the iPhone maker acquiring Tesla but Cook refused to take his calls. As recently as August 2018, with Tesla's stock in a funk, Musk was having trouble raising capital to tide the company over until increased production could bring more cash. The CEO tweeted in desperation that he was "considering taking Tesla private at US$420 [or a split-adjusted price of US$84 at the time]. Funding secured."
Unfortunately, Musk had not even given serious thought to privatising the firm, nor had he negotiated any deal with Saudi Arabia's sovereign wealth fund or secured any funding. The Securities and Exchange Commission fined him and Tesla US$20 million each, asked him to step down as chairman while allowing him to keep his CEO position, and forced him to stay off Twitter. Musk hunkered down, raised US$13 billion in capital in four separate tranches and started delivering on his promises. Tesla stock is up 1,100% since that controversial tweet three years ago.
Readers of this column may recall my pieces on EVs and Tesla over the past five years. "Tesla is one of the most misunderstood companies on Wall Street," Cathie Wood, chief investment officer of ARK Invest and one of the biggest bulls on the iconic EV maker, told me when I last wrote about the company in this column. "Tesla is not just a technology company or one that just makes cars," she said. "It's also a battery company, a utility company and is now designing its own artificial intelligence chips." Tesla stock was hovering around a split-adjusted US$50 at the time. Back then, Wood had an US$800 split-adjusted price target on the EV pioneer. After the stock exceeded her overly ambitious target in March, she made an even more bullish prediction: Tesla stock will rise to US$3,000 by end-2025. It would need to triple from here over the next four years and exceed a market value of US$3 trillion.
Right place at the right time
Tesla's stock has been on a tear since May 2019 when it was hovering around a split-adjusted US$36. It is now up over 28.6-fold. An investment of US$35,000 in the company two and half years ago would have grown to over US$1 million today. A maverick's grand vision for electric cars, the availability of cheap capital and an auto industry ripe for disruption after the 2008 global financial crisis all helped Tesla get to where it is today. In a way, it was in the right place at the right time. Investor interest in sustainable investing and themes like climate change reached new peaks in the aftermath of the Covid-19 pandemic last year, according a recent report by Morgan Stanley. Eighty-eight per cent of millennials — or those between the ages of 25 and 40 — surveyed in the US were interested in investments that address climate change, the study noted. ­Tesla remains the car most aspired by affluent millennials in America.
How does Tesla's US$1.04 trillion valuation compare with its peers'? General Motors Co (GM) is currently valued at just US$79.7 billion, Ford Motor Co's market cap is US$62.4 billion, Volkswagen AG's US$145 billion, Daimler AG's US$103.6 billion, Bayerische Motoren Werke's (or BMW) US$67.2 billion, Japan's Toyota Motor Corp's US$287.4 billion, South Korea's Hyundai Motor Co's (which also controls Kia Motors) US$44.3 billion, and China's Geely Automobile Holdings Ltd's US$33.4 billion. Indeed, the rest of the world's listed automakers combined are currently worth US$970 billion even though traditional internal-combustion engine carmakers are increasingly accelerating their own EV rollouts.
Tesla sees itself as a clean energy and tech play rather than just a car firm.  Investors used to compare Amazon's market cap with the total global book business or the combined value of all large booksellers and publishers around the world. What they got wrong was that books were a mere stepping stone for Amazon to become the "Everything Store". Whatever you want to buy, from toilet paper to a US$100,000 Rolex watch, Amazon will sell it to you, and if it doesn't have it in its own inventory, a third-party seller will be willing to sell it on Amazon's platform, and the firm that once sold just books will happily earn a nice commission on the trade. If you got Amazon's ecosystem strategy wrong, you missed out big time. In the aftermath of the tech bubble burst in 2000, Amazon's stock plunged over 95% to under US$5. It is now hovering around US$3,500.
iPhone-like margins
Gene Munster, a veteran Apple analyst who is now a partner at Loup Ventures in Minneapolis, tells me that Tesla's ability to command iPhone-like gross margins and build an Apple-like ecosystem has been a key ingredient in its success story. Tesla's gross margins in the last quarter were a record 28.8%, up from 25.8% in the June quarter. Among traditional auto companies, a 15% to 20% gross margin is considered very good. Munster believes in three to five years, Tesla will be able to deliver Apple-like 40% gross margins on its cars. Unlike other automakers who sell through franchised dealerships, Tesla sells cars directly through an international network of its company-owned showrooms and galleries, in urban centres around the world. That helps keep costs low and margins high.
Tesla also forgoes all spending on traditional advertising budgets and relies purely on word of mouth. That gives it better margins and spare cash to reinvest in research and development or R&D. Last year, it invested US$2,984 on R&D per car sold and spent almost nothing on advertising. In comparison, GM splashed out US$394 per car on ads and forked out US$878 per car on R&D, Toyota splurged US$454 on ads and US$1,063 on R&D, while Ford spent US$468 on advertising and US$1,186 on R&D. Stellantis NV, the Dutch holding company formed late last year following the merger of Fiat Chrysler (which also owns Jeep and Alfa Romeo) and France's Group PSA (owner of Peugeot, Citroen, Opel and Vauxhall) spent US$664 per car on ads and just US$784 on R&D. Musk once remarked that Teslas' being driven around streets of San Francisco or New York by their owners was the only advertising the company needed.
Next up: Tesla's move to Full Self-Driving (FSD) or driverless cars, says Dan Ives, an analyst for Wedbush in New York. Tesla has had some form of a "driver-assist" Autopilot function powered by cameras and sensors in its higher-end models for nearly three years now. But the adaptive cruise control Autopilot system, which can steer, brake and accelerate a car on its own, has been fairly controversial, to say the least. Tesla's cars driven on Autopilot, for some reason or other, just keep crashing into other vehicles when this technology is on. For its part, Tesla insists that its cars are far safer with the technology switched on than they are when it is not.
Two years ago, George Brian McGee, a finance executive in Florida, was driving home in a Tesla Model S operating on Autopilot when he dropped his smartphone during a call and bent down to look for it. Unfortunately, neither McGee nor the Autopilot noticed that the road was ending and the car just drove past a stop sign and a red light, smashing into a parked car and killing Naibel Benavides, 22, a university student. The US National Highway Traffic Safety Administration is investigating the Autopilot technology.
McGee claims he would not have bent down to pick up his phone if the car hadn't been on the Autopilot function. He believed that the software designed by Tesla would see things like a stop sign, a red light or the car he collided with. Detractors say the Autopilot software and its more advanced FSD computer and software are just not ready for prime time and only lure drivers into a false sense of confidence, which can lead to fatal accidents.
Competition ahead
Regulators aside, competition is coming. Volkswagen now has a slew of EV models on sale globally. GM, Ford and Mercedes-Benz's holding firm Daimler AG are doubling down on their EV strategies and introducing new models while others like Toyota, which until now has focused on hybrid models, have gotten the message and are switching to battery electric models. Start-ups such as Lucid Air, which raised money from blank cheque SPACs or special purpose acquisition companies, are ramping up as well. Lucid will make its first car delivery on Oct 30. But its Air Dream Edition, which features a 118kWh battery pack with 520 miles of per-charge range, is an expensive luxury sedan that will cost nearly US$170,000, or 50% more than a top-of-the-range Mercedes-Benz S-Class model in the US.
Over the past decade, Musk has successfully sold a dream of affordable EVs. Having pushed nearly a million cars over the past 12 months, he must now turn his focus to the long-term goal of selling 20 million cars a year and getting over 25% of revenues from businesses other than EVs. A cheaper mass market model costing US$25,000 with the option of the more sophisticated Autopilot software or indeed even FSD hardware and software could be on the streets by early 2024. The market is betting that he can do it. It promises to be quite a ride for Tesla investors.
Assif Shameen is a technology writer based in North America