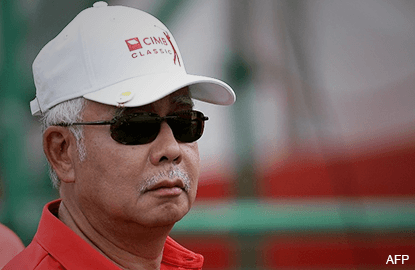 PUTRAJAYA (Nov 2): Prime Minister Datuk Seri Najb Razak reminded government servants today that the rewards they will enjoy from Budget 2016 were a direct result of the goods and services tax (GST) as well as subsidy cuts by his administration.
He said the government's "proactive measures" enabled him to announce an annual pay rise, a minimum retirement fund of RM950 and minimum salary of RM1,200 for civil servants.
"We are able to give all of this to you because we took proactive steps, because we gave due consideration, we built up the economy's resilience, the government's income especially, when we introduced subsidy rationalisation measures and the GST.
"We had promised, when introducing the GST, that we would return it to the people. When I announced the budget, that was what I was able to do.
"Alhamdulillah, this includes the 1.6 million civil servants," Najib said in his speech at the monthly gathering of the Prime Minister's Department in Putrajaya.
He said the measures allowed the country to weather the current economic uncertainty better than it had during the 1997 Asian financial crisis.
Najib had previously described GST as the "saviour" of the economy, and praised the government for its courage to implement the unpopular consumption tax.
In Budget 2016, he estimated that GST raked in RM27 billion for the government this year, and would bring in another RM39 billion next year.
Today, the prime minister urged civil servants to continue working hard for the country.
"I hope government servants will step up their efforts and productivity and strengthen cooperation between us, the ministry and the public administration.
"That way, Malaysia will be more successful regardless what it faces," said Najib.