This article first appeared in Enterprise, The Edge Malaysia Weekly, on November 11, 2019 - November 17, 2019.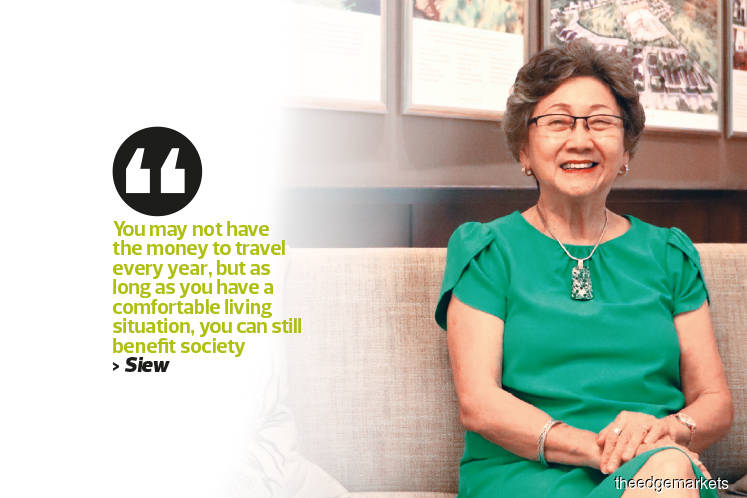 Life does not end after retirement. In fact, this period should be seen as a new lease of life, a time for people to enjoy life after working hard at their careers and raising their families. They should also use the time to give back to society, learn new skills and add value to their lives.
That is the philosophy of Siew Yin Leng, 76, and she wants to encourage Malaysians to adopt it too.
Siew used to be a nurse. After working in hospitals for eight years, she joined Royal Selangor International Sdn Bhd as a company nurse. She managed to learn on the job and became a salesperson and staff trainer while she was there. Then, she moved to Ipoh and learnt about the construction business from her husband.
When Siew was 50, she started Perak-based developer Total Investment Homes Sdn Bhd with her husband. Two years ago, she launched the GreenAcres Retirement Village in Ipoh — the first of its kind in Peninsular Malaysia — based on her conviction that senior citizens deserved to have such facilities.
"When I was young, there were 13 mouths to feed in my family. We were taught to be thrifty. At the age of seven, I was selling ginger in the market. Whenever there was work to do, I would do it. That was how I became a workaholic," says Siew.
That energetic spirit explains her passion for transforming Malaysians' views on retirement. She talks admiringly about her friends and acquaintances who do social work after retirement.
"After retirement, there is still a lot of life left to live. You may not have the money to travel every year, but as long as you have a comfortable living situation, you can still benefit society. Go to orphanages and talk to children or play with them. Visit an old folks' home and chat with them," says Siew.
"At the temple I go to, the ladies who clean the toilets and cut the vegetables are volunteers. We need brain food so we do not retire into nothingness. If you are active, you can still contribute to society."
That is why she insists on having retirement homes in Malaysia. These homes are common in countries with ageing populations such as Australia and the US. And these are not old folks' or nursing homes, but specially built residences for seniors who are able to live independently in a community.
There are basic levels of care and service whenever the seniors need it, as well as community activities such as workouts or trips so they do not feel lonely. Many retirement homes offer independent living or assisted living options.
"In 1992, I realised that there was potential in bringing retirement homes to Malaysia because I visited quite a few of them in Australia and realised how much love and care the residents received," says Siew.
More than 10 years ago, her mother moved to a retirement home in Australia. "When my brother took her to visit a retirement village, she came out giving two thumbs up. Before that, my brother wondered how he would bring this topic up with my mother because you cannot say such things [to an elderly person in Asia]. Luckily one day, a friend who was bringing his mother to see a retirement village dropped by my mother's place and asked if she would like to come along," she says.
That lifted a huge burden off her brother's shoulders as he was worried about their mother, who was in her nineties and needed care. Siew and her brother often visited their mother at the facility. Her observations there further strengthened her conviction that retirement homes would become necessary in Malaysia as the country moved towards becoming an ageing nation by 2035.
"There were 10 Asians in my mother's retirement home. One of them, who lived to 104, stayed in a room further down the hall. When it was time to eat, he would knock on my mum's door and call out, 'Time to eat!' The residents took care of one another," says Siew.
She was impressed by the communal feeling among the residents. They had activities and social events to attend, while living in close proximity with their friends.
"That gave me a lot of encouragement. Here, you have people of your own age around you. They are facing the same problems, such as the normal aches and pains. Their children have grown up and they are left alone," says Siew.
Watching them, she realised that one could age gracefully in the company of others rather than living alone and watching the clock tick away.
It is tough being ahead of your time
Siew had wanted to start a retirement home in Malaysia for a long time, but she did not think the market was ready. She only became confident of launching GreenAcres five years ago.
The first sign of an ageing population is the growing number of empty nesters. "We see a lot of people whose children have gone overseas and do not come back. Their parents have retired and are living alone. Many of my former classmates are living alone," says Siew.
"There is a need for a retirement home so they do not have to grow old alone. Some of them say that even if they died, no one would know."
Another sign that the market was ready for this was the growing level of awareness of retirement villages in Malaysia, especially among those who had lived overseas. Siew left the country to study and work as a nurse in Australia for six years before returning home in 1968.
"At the time, we were the first batch of overseas students who came back. About 10 years later, you could see an influx of graduates, with more returning home over the years. Those people are ageing now and since they have been overseas, they know about retirement homes," she says.
But even when she was ready to launch the project, Siew was swimming against the tide. At first, she only wanted to open GreenAcres to Ipoh residents. But they did not understand the concept of a retirement home.
"The first thing on their minds was the typical old folks' home you find here. Many years ago, I was in an old girls' school meeting [at Methodist Girls' School]. I was telling them about our plans to build a retirement home and the pastor said to me, 'Please do not build another of those smelly old folks' homes'," says Siew.
"I was shocked. I told her, 'We are building a retirement village, not an old folks' home. It is a place where people can go after retirement.'
"In fact, someone told me that other developers thought I was mad. But to me, the conviction was there all along. I realised there was a market for it. It was only a matter of educating people. At the time, I did not envisage that we had to educate the market so much because we thought they would understand, having travelled overseas."
In the end, she opened GreenAcres to everyone. Now, the residents come from places such as Kuala Lumpur, Melaka and Brunei.
The company has launched two phases of development so far. More than 30 residents live in the retirement village that comes with a well-furnished clubhouse. The village is located in a beautifully landscaped neighbourhood.
Siew is not the only one with such plans. With an eye on the ageing population, several developers have jumped on the bandwagon and built various types of retirement villages in Malaysia. This includes Eden-on-the-Park in Sarawak, which was launched at about the same time as GreenAcres, luxury retirement community Rei Seraya Residence in Kuala Lumpur and The Green Leaf in Sepang.
Building an ecosystem
Being among the first in market did not just require a lot of work to create awareness but also expertise. Siew turned to consultants and architects in Australia.
"The houses are purpose-built for senior living. There are things that regular developers do not have. We make sure that there are no hazards that can cause one to trip and fall. We put grab bars in the bathroom, a seat in the bathroom so they can sit and shower and emergency bells to ring if they fall down," she says.
GreenAcres is designed so that residents need to stop by at the clubhouse to pick up their mail. "It is a subtle way of keeping an eye on them to make sure they are well. If we have not seen someone for a few days, maybe we will call them up. It is a sense of bonding and belonging. It is very crucial and calming for them to know that they have neighbours who care," says Siew.
GreenAcres will add an aged care facility in the next four years. The facility is for seniors who require medical attention and are unable to live independently.
The retirement village provides lifetime leases on its units, with prices starting from RM310,000 for the lease deposit. The monthly charges — including maintenance fees and a sinking fund — starts at RM368, depending on the size of the units. The deposit will be returned when the resident terminates the lease.
Siew hopes that more Malaysians will be open to the idea of retirement villages. "We hope Malaysians will be aware that there is life after 60. If you are healthy and mobile, you should be happy. Make yourself useful. When you are happy, your children will also be happy. My vision is for people to be happy in their old age and enjoy themselves," she says.