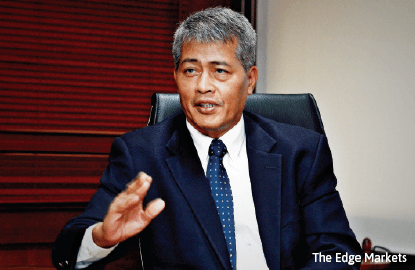 This article first appeared in The Edge Malaysia Weekly, on October 19 - 25, 2015.
Only three of the four shortlisted candidates have put in bids for 1Malaysia Development Bhd's (1MDB) power assets held under its subsidiary Edra Global Energy Bhd.
"1MDB is pleased to announce that we have received, on Oct 16, final, binding and fully funded offers from three strategic investors, comprising both domestic and international parties," said 1MDB in a press statement last Friday.
However, the strategic investment fund did not reveal the identities of the three bidders.
Nonetheless, Tenaga Nasional Bhd (TNB) announced to Bursa Malaysia that it had submitted a "conditional offer" to 1MDB. This means TNB will contend with two international bidders for the power assets.
1MDB aims to enter into a definitive agreement with the chosen party by the end of the year, following an evaluation and negotiation process.
At press time, it was not known which of the international bidders had pulled out of the race. Apart from TNB, the other short-listed candidates were reportedly Hong Kong-listed CGN Meiya Power Holdings Co Ltd, Qatar's Nebras Power QSC and Saudi Arabia's Aljomaih Group.
CGN Meiya had announced to the Hong Kong Stock Exchange on Oct 9 that it would no t bid after it had shown interest. However, industry sources say the parent company, China General Nuclear Power Corp Ltd, has submitted a bid instead. The Chinese prefer to use an unlisted entity to make the bid to minimise regulatory requirements.
TNB's bid will be closely watched by its shareholders and the Malaysian public. If the national utility pays too high a price for the power assets, it could be seen as a bailout — a fear that has already sparked a round of selling in its shares. 1MDB overpaid for the power assets when it spent over RM12.5 billion from 2012 to 2014; hence, there are concerns that TNB might have to bear the brunt, considering 1MDB is cash-strapped.
Note that TNB and 1MDB share a common shareholder — the Ministry of Finance. TNB's single largest shareholder, Khazanah Nasional Bhd, is in fact 1MDB's sister company by virtue of their parent being the MoF. Khazanah owns a 29.66% stake in TNB.
The national utility, however, points out that only non-interested parties will be allowed to vote on the acquisition. Hence, the Employees Provident Fund, TNB's second largest shareholder with a 16.3% stake, holds the crucial vote in deciding the deal.
"As the sole off-taker of all power generated in Malaysia, TNB is the best and most logical buyer of these assets," TNB president and CEO Datuk Seri Azman Mohd explains in a press statement.
Justifying the rationale for the bid, he says the acquisition "will add a significant contribution to our power generation capacity in Malaysia, will be an important addition to our business as it will further enhance TNB's earnings and cash flow. Broadening our domestic and overseas power generation base gives us more opportunities for revenue growth and for adding significant shareholder value".
Highlighting why  TNB is the most suitable bidder, Azman says, "As the country's largest power producer, no other bidder knows these assets better than TNB."
At the same time, the national utility made it clear that the offer was subject to a slew of conditions, including the finalising of the confirmatory due diligence and execution of the share purchase agreement.
"1MDB must provide further information on operations; [and] key conditions must be met," TNB said in the statement, noting that there was "no assurance that a transaction will be concluded" and that the final offer would be "subject to independent and third party evaluation".
The valuation of the power assets is expected to range from RM15 billion to RM20 billion. According to industry sources, TNB is believed to have put in the lowest bid. However, it is the only candidate capable of bidding for 100% equity in the Malaysian power assets since foreigners are limited to controlling only 49%.
As far as earlier reports go, the international bidders have sought a waiver to acquire more than 50% of the power assets but it is understood that none has been given yet. This means that the bid might not be as simple as picking the offer that places the highest valuation on the power assets. Of great importance would be how much cash 1MDB can raise from the sale so that it can pare its borrowings.
In this regard, TNB seems to have an advantage over the international bidders.